Stanley Cup Playoffs: Who Will Go Farther, the Rangers or Flyers?
Bruce Bennett/Getty Images

The New York Rangers are in a surprising predicament: they are the current leaders of the Eastern Conference with 91 points in 67 games played.
A string of recent losses has been disappointing for the club, but with a seven-game home stretch on the horizon, the Rangers have a chance to drastically improve their play.

The Philadelphia Flyers, while battling injuries and shaky goaltending, have remained a threat in the East. The Flyers are currently seventh in the NHL with 83 points, fifth in the Eastern Conference.

Ilya Bryzgalov has struggled all season to find his comfort zone in Philadelphia, but that day may finally have arrived, as he has posted two impressive shutouts against the Washington Capitals and Florida Panthers in his last three starts.

For once, Flyers fans are even chanting Bryzgalov's name in cheer instead of jest.

Both teams regularly battle for advancement in the postseason, but the Rangers may have their best chance in nearly 20 years with their current roster.

The Flyers are still trying to return to the Finals after their last appearance in 2010 against the Chicago Blackhawks. They were defeated in the series 4-2, and as always, goaltending was an issue.

Bryzgalov may have won a Stanley Cup championship with the Anaheim Ducks, but he wants to earn one as a starter with the Flyers.

Henrik Lundqvist, playing arguably the best of his career, is looking for his first taste of a Championship.

Who will go farther, the Flyers or Rangers? Let's take a look at multiple aspects of each team and compare.

Note: All statistics are current as of Mar. 10, 2012.
Begin Slideshow

»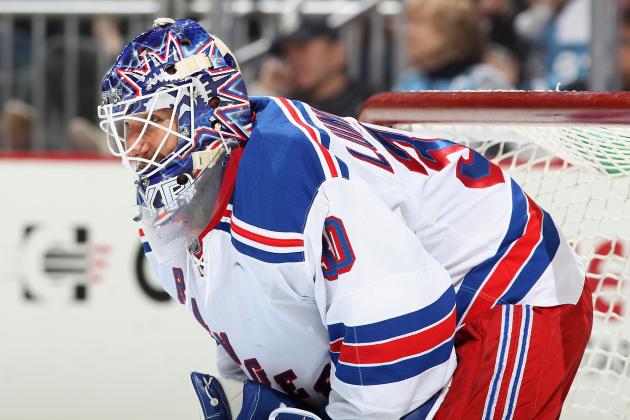 Christian Petersen/Getty Images
Henrik Lundqvist
Henrik Lundqvist appears to be at the prime of his career this season. With 31 wins under his belt, he currently leads the NHL with eight shutouts. Combine his scary .936 save percentage (second in the NHL), and 1.86 goals-against average (second in the NHL), and it's easy to see why "The King" is a leading contender for the Vezina Trophy.

South of the New Jersey Turnpike, you'll enter Philadelphia Flyers territory, where Ilya Bryzgalov has been the enigmatic goaltender in hot water for most of this season. But with two shutouts in his last three starts, Bryzgalov may finally be finding his game at one of the most valuable times.

In the postseason, Lundqvist has led the Rangers as far as the Semifinals in 2007 and 2008 against the Sabres and Penguins, respectively. The Rangers have made the postseason four times since the lockout—but failed to qualify in the 2009-2010 season.

Bryzgalov, while winning a Stanley Cup Championship with the Anaheim Ducks in 2007, remained on the bench when they defeated the Ottawa Senators, playing backup to Jean-Sébastien Giguère. But he did perform in the quarter- and semifinals, recording three wins.

As the starting goalie for the Phoenix Coyotes, Bryzgalov brought the Coyotes to two back-to-back postseason appearances in 2010 and 2011. Each time, the Coyotes were eliminated in the quarterfinals—including a sweep in 2011.

But with the offensive talents of Jaromir Jagr, Claude Giroux, Scott Hartnell and Wayne Simmonds—just to name a few—Bryzgalov has his best chance yet to make a deep playoff run.

EDGE: Lundqvist
It's hard to deny that Lundqvist may very well be the best goaltender in the NHL this season. Bryzgalov is finally getting hot, but his stats are still not even close to Lundqvist's.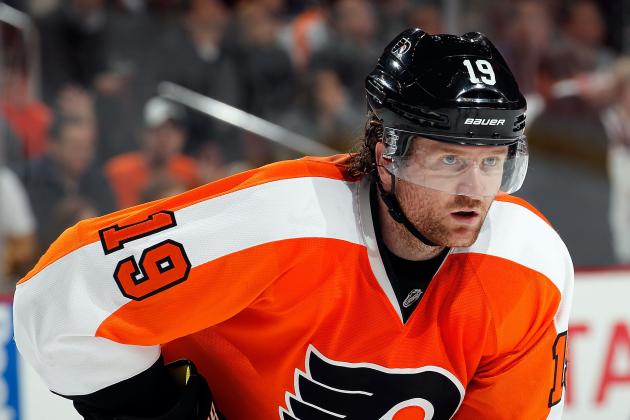 Paul Bereswill/Getty Images

Unless you're a Flyers fan, you probably hate Scott Hartnell. He just has that edge and personality that rub so many people—and players—the wrong way.

But there's no denying that Hartnell is having a career-best year with 32 goals as of Mar. 10. He has great chemistry when paired with Jaromir Jagr and Claude Giroux, and this $4.2 million-annual-cap-hit player is certainly earning his paycheck.

There have been some surprises this season, as Hartnell clearly is producing for the Flyers. Many were ready to say that he was an overachiever and would go into a decline past the All-Star break, but that doesn't look like it's happening whatsoever.

And while Claude Giroux hasn't quite had his goal-scoring prowess that he possessed before his concussion, he's undeniably a threat on the ice. Giroux has racked up 55 assists already (first in the NHL), and one can only imagine where he would be if he never sustained any injuries this season.

Many picked Giroux to be the leading contender for the Rocket Richard Trophy, but now it looks to have Steven Stamkos' name (48 goals).

Wayne Simmonds, who was acquired as part of the blockbuster trade of former-Flyer Mike Richards to the Los Angeles Kings, has paid huge dividends for Philadelphia. Simmonds typically finds himself battling in front of the crease, providing opportune goalie-screens and juicy deflections. In many ways, he's what Jeff Carter used to be, and maybe even better.

Simmonds has 22 goals and 19 assists.

For the New York Rangers, their offense is certainly more diverse than it has been in recent seasons. Players like Marian Gaborik, Ryan Callahan and even Brad Richards have lit up the lamp on a pretty consistent basis.

Callahan is having a career-best season in New York, with 26 goals and no signs of slowing down.

Gaborik can be extremely lethal when he has the breakaway or a clear line of sight to the net. He currently has 32 goals, 16 short of Stamkos, who leads the NHL with 48. Gaborik is still 10 goals shy of his career-best 42 as a member of the Wild, but this may be the year he at least ties it.

The maturation of Derek Stepan and Artem Anisimov can't be underestimated either, who represent a combined total of 29 goals.

Surprisingly, two defensemen make up the top-10 goal scorers for the Rangers: Michael Del Zotto and Ryan McDonagh (with seven and six goals, respectively). It's always nice to have that offensive spark from the blue line.

Overall, the Flyers have more offensive depth, with 11 players representing at least 10 goals scored. The Rangers only have six.

EDGE: Flyers
The Rangers have great scoring players, but the advantage is clearly with the Flyers. Jagr may be in his twilight years, but he remains a dangerous player who can outdeke just about any goalie. There's no doubt he's passing on some of his skill to the younger core in Philadelphia.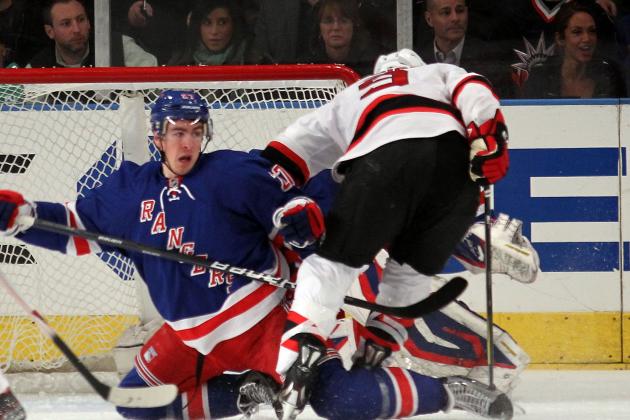 Bruce Bennett/Getty Images
Ryan McDonagh
The New York Rangers have an excellent shutdown defense that rarely makes painful errors.

The Rangers have yet to give up 5 goals in a single game this season.

They are second in the NHL with only 140 goals-against, while the Philadelphia Flyers are 21st with 188.

Emerging-superstar Ryan McDonagh is second in the NHL with 160 blocked shots, and Dan Girardi, who participated in the 2012 NHL All-Star Game in Ottawa, has 155 (sixth in the NHL).

It's also tough to beat the Rangers on the penalty-kill, which has slipped marginally in recent months, but is still good for an 87-percent rating (fifth in the NHL).

The Rangers' top four defensemen are a lock with McDonagh, Girardi, Marc Staal, and Michael Del Zotto. But the third line that has seen various defensemen such as Anton Stralman, Jeff Woywitka, Steve Eminger, Michael Sauer (out indefinitely with a concussion), and Stu Bickel is really a wash. "

Stralman has improved his play and adapted fairly well to Tortorella's high-intensity system; while Woywitka and Eminger have battled injuries and fight for a roster spot.

The recent addition of John Scott from the Chicago Blackhawks is largely puzzling: sure, he has the physical presence, but there is enough of that with Brandon Prust and Mike Rupp. Scott barely has seen the ice and is largely invisible.

Things aren't quite sunny in Philadelphia when it comes to defense. The Flyers have given up at least five goals a staggering 12 times this season. Predictably, 10 times out of 12, the Flyers lost.

The Flyers have also given up 193 goals, the tenth-most in the NHL.

They also have a pretty poor penalty kill percentage of 81.4, also tenth-worst in the NHL.

But it's not all doom-and-gloom for the Flyers defensively. Matt Carle is near the top in NHL defensemen with 132 shot blocks, and even has 29 assists. Nicklas Grossmann is also a confident shot-blocker, with 122.

Pavel Kubina and Kimmo Timonen have also been valuable defensive assets for the Flyers.

There's no question that the concussion that has taken Chris Pronger out of the lineup is devastating to the Flyers' defensive efforts. It's impossible to replace Pronger on the ice, and I think the Flyers have done a decent job trying to make do with what they have.

Pronger is most definitely going to see his name in the Hockey Hall of Fame one day soon. He's a member of the Triple Gold Club (players and coaches who have won an Olympic gold medal, a World Championship gold medal, and the Stanley Cup), and an undeniable presence on the ice at a height of 6'6" and 220 pounds.

They won't even replace him as captain, despite the fact that it is looking very likely that Pronger may never return.

EDGE: Rangers
It's pretty cut and dry here—numbers don't lie, and the Rangers have a death-grip on defense.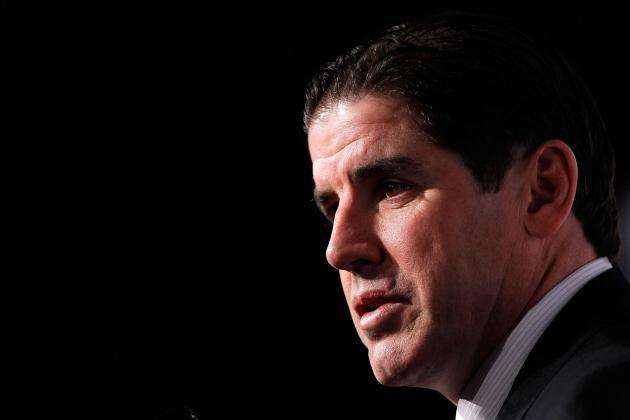 Kevin C. Cox/Getty Images
Peter Laviolette
John Tortorella, head coach of the New York Rangers, and Peter Laviolette, head coach of the Philadelphia Flyers, are each fiercely competitive. Both rule their club with an iron fist and demand results every day, more so than most.

When Tortorella was brought to New York, he was tasked with improving a hockey club that seemed to have lost its way since the lockout. General manager Glen Sather looked no further than Tortorella, who represents a "no-nonsense" mentality and who completely transformed the Tampa Bay Lightning from the dumps to Stanley Cup Champions in 2004. Tortorella also walked away with the Jack Adams Trophy that year as well.

He's expected to perform just as well in New York, and after several seasons under his belt, it looks like the Rangers have finally adapted to his game style. He rarely gives credit to his players, and instills a "never good enough" attitude even when they walk away victorious.

Tortorella is also far from media-shy, as is evidenced by this clip (warning: not safe for work—language) after an infamous post-game media session when he still coached the Lightning.

Laviolette is a bull in his own right, charging at his players and opponents whenever he deems necessary. He's intensely protective of his players, and similar to Tortorella, just wants a yes or a no on player health status.

Laviolette also wears his emotions on his sleeves, infamously documented during this year's HBO 24/7 special.

Both coaches have had to undergo their share of injuries this season, especially concussions. Tortorella has faced concussions of star defensemen such as Michael Sauer and Marc Staal, and Laviolette with Claude Giroux and Chris Pronger.

And while New York has not had the goaltending circus like Philadelphia, give Laviolette credit for sticking with his instincts, trying to work through the challenge than abandoning ship. They could have easily targeted a replacement goalie at the trade deadline, but the Flyers seem determined to make Bryzgalov work out instead of an expensive date.

Each coach has the vision to be successful and win the Stanley Cup. Tortorella brought it all home for the Lightning in 2004, and Laviolette led the Carolina Hurricanes to a Stanley Cup Championship in 2006. Most recently, Laviolette led the Flyers to the Stanley Cup Finals in 2010.

They are also routinely fighting for the title of most wins for an American-born NHL coach as well.

These are two of the best coaches in the league, and there really isn't a true victor here.

EDGE: Equal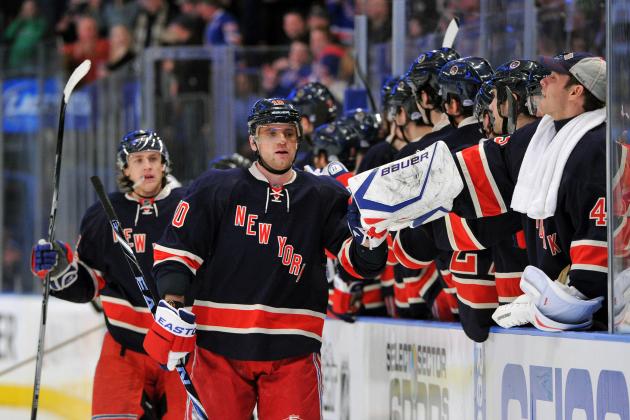 Christopher Pasatieri/Getty Images

New York Rangers

The postseason takes on a dramatically different level of intensity for any hockey club worthy to contend for the Stanley Cup, but make no mistake the New York Rangers and Philadelphia Flyers will each make a deep run.

The Rangers have consistent, solid goaltending in their favor and shutdown defense. Finding the back of the net can be a challenge for the Rangers, and they aren't known for high scoring games in their favor. They've only been able to score at least five goals eight times this season.

But a high scoring game isn't necessary for a victory, as is evidenced by their standing in the NHL. They still are finding ways to emerge victorious, and have a total of 10 shutout victories this season (second in the NHL).

Among several causes for concern is the shaky third-line defense for the Rangers (as discussed earlier in this feature) and injuries.

Currently, Michael Del Zotto, Michael Sauer, Brandon Dubinsky and Ryan Callahan are all battling injuries ranging from minor (day-to-day or even "playing-injuries" as is the case with Callahan) to season-ending, in the case of Sauer. No one is counting Sauer out of the season yet, but on a realistic note, the postseason begins in about a month and Sauer is still a ghost.

But most importantly, the Rangers powerplay percentage is abysmal, now second-worst in the NHL at 13.8 percent. Only the Phoenix Coyotes are worse, at 12.8.

Realistically, we can expect the Rangers to at least make the semifinals in 2012. This is a much better team than the first-round exits they have been in recent years.

The only two factors stopping the Rangers from going far in the postseason are a failure to score and injuries.

The Rangers were shutout twice in February, and only managed to score one goal in two of their past three games.

If injuries disappear for the Rangers and scoring becomes more consistent, the Rangers truly do have a chance at reaching the Finals. Lundqvist is prepared to make the run, and knows this is his best chance yet. If Marian Gaborik or Ryan Callahan wants to win a Stanley Cup Championship, this is the year they must make it happen.

Reaching the Conference Finals is a very realistic possibility for the Rangers this season.

EXPECT: Conference Finals or Cup Final
The Rangers may very well make it to the Stanley Cup Finals this season, but it won't be easy and they need to tighten up their game across the board. It's completely reasonable to expect the Rangers to at least reach the Semifinals this year.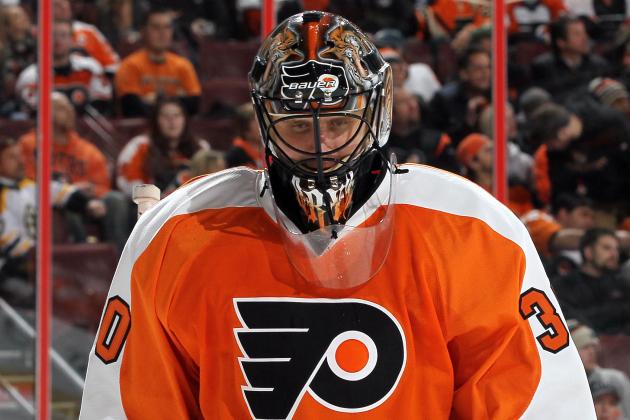 Jim McIsaac/Getty Images
Ilya Bryzgalov
Philadelphia Flyers

When it became apparent that Bryzgalov was struggling in Philadelphia, I said all along that this is not the real Bryzgalov. There was no way he would go from the success he was having in Phoenix to a repeat loser as a Flyer.

True, Bryzgalov does give up weak goals. And the media circus that surrounded him once HBO's 24/7 special aired didn't help matters. But Bryzgalov has undeniable skill and talent that is not going to waste in Philadelphia.

He remains the biggest x-factor for the Flyers, because much of their postseason chances ride on his confidence and success.

The Flyers have no trouble scoring. As noted earlier in this feature, the Flyers are second in the NHL in goal scoring with 218. They have some of the most talented offensive players in the game with Claude Giroux, Scott Hartnell, and Jaromir Jagr.

Defense is one rusty aspect of their game, but it's far from horrible. But with a 2.81 goals-against average overall, the Flyers need to score at least three goals to win. That makes it awfully tough on Bryzgalov and Sergei Bobrovsky.

Realistically, I expect the Flyers to be lucky to make it past the quarterfinals unless they can really tighten up their defense and improve in goal.

I know Bryzgalov is finally getting his act together between the pipes, but if they end up facing the Penguins or Bruins, they are done.

The Flyers may surprise us all and make a return to the Finals, but there are too many roadblocks in Philadelphia for that to be realistically possible.

EXPECT: Conference Quarterfinals or Semifinals
As I said, the Flyers may shock us all and go all the way to the Finals. They have the offensive talent, and if goaltending tightens up at the perfect time, it could be extremely dangerous for every opponent the Flyers face. But spotty defense remains a plaguing issue and if Bryzgalov and Bobrovsky fail to deliver, this is going to be a quick postseason exit.