Cincinnati TKO's No. 14 Georgetown: The Bellingham, Washington Report
March 9, 2012

Chris Trotman/Getty Images
If you're reading this article, chances are you are like me—a big Cincinnati Bearcat fan.  But if you don't know much about UC, let's do a quick review.
You've heard of Bob Huggins, right?  He was the man who showed up at Cincinnati in 1990 after a decade of futility and built a perennial winner—starting with a trip to the Final Four in his third season at the helm and then two more Elite Eight appearances in the next four seasons. 
Huggins was big on toughness, getting every ounce of ability and heart out of his players, and controlling what you can control—defense and rebounding.  On the nights you aren't hitting shots, you've got to have constants in order to pull out the tough win.
In the late 90's, a scrawny former high school point guard named Mick Cronin, the son of highly successful coach high school Hep Cronin, landed a job as video coordinator with the Bearcats. 
Mick soaked up every last bit of wisdom and toughness from Huggins as he became a full-time assistant coach.  A few years later, Cronin had the opportunity to study under Rick Pitino, the man who has taken three different schools to the Final Four and won a national championship. 
So, if you're scoring at home, Mick Cronin grew up the son of a prolific high school coach, then studied under two of the most successful college basketball coaches of the past thirty years. 
Cronin finally got his call to run a program when Murray State brought him aboard back in 2003.  He promptly took the Racers to the NCAA Tournament two out of three years, including one season in which his shorthanded squad pushed highly-ranked North Carolina to the brink in a tough Round One loss.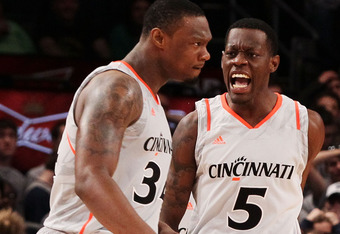 Jim McIsaac/Getty Images
Meanwhile, Huggins was falling out of favor at Cincinnati.  We needn't go into why.  Either way, UC needed a new head coach.  Cronin was brought in for an interview and it was obvious right away that this guy was The Guy.  Cronin was a lifelong Bearcat fan, and declared that this was his dream job.  He said he would do whatever it took to get the program back to national prominence--whatever it took, no matter what. 
So, having taken the job in March with no roster, he worked two cell phones to death just to come up with enough players to field a team.  Oh, and I should also mention that UC's scholastic pedigree had been highly scrutinized, so the athletic director also tabbed Cronin with the responsibility to not only find bodies, but find bodies that would get good grades.
Well, Cronin found enough players, but as you can imagine, they weren't the most talented.  UC finished with just two wins in the Big East back in 2006-07.
Cronin wasn't deterred.  He stuck with the plan. 
And, after a few more tough-to-swallow seasons, he finally climbed the mountain last year, leading the Bearcats back to the NCAA Tournament for the first time since Huggins donned the sweatsuit on the sidelines for UC.  The 'Cats even won their first round game over Missouri handily before falling to eventual national champ UConn.
Fast forward to today.  UC defied the odds to finish 12-6 in the Big East this season, earning the four-seed at the conference tournament in New York.  The reward?  14th ranked Georgetown in the quarterfinals—a team Cronin had defeated three straight times and five of six, including handing the Hoyas their lone home loss this season. 
Surely UC couldn't knock off Georgetown four straight times, right?
Wrong.  Despite connecting on only two of 21 three-point attempts, the Bearcats found a way to vanquish John Thompson III's well-oiled machine 72-70 in double overtime. 
The star of the game was senior Yancy Gates, the man whose decision to stay at home and go to UC may have just saved the program.  The same man, yes, who starred in the infamous brawl against Xavier back in December.
The bottom line is this.  While most of the nation has overlooked the job Mick Cronin has done at Cincinnati—especially considering the of-late debacles at past-perennial winning programs like Georgia Tech, Maryland, Oklahoma, Oklahoma State, etc.—the fact remains that a win like today's forces those pundits to take notice. 
The more big wins Cronin piles up—if he's fortunate enough to do so this postseason—he will have secured himself a spot next to some of the best coaches in college basketball.