Atlanta Hawks Trade Rumors: Hawks Must Trade Disgruntled Josh Smith
March 9, 2012
Christian Petersen/Getty Images
When someone doesn't want to be in a certain place, the best way to fix the situation is to remove them. It's why the Atlanta Hawks have to trade disgruntled forward Josh Smith from their team. 
According to blogs.ajc.com:
By the end of last season Smith wanted out of Atlanta because he believed he was singled out for unfair criticism by coaches and media. Those concerns have died down for the most part this season but now Smith believes he needs a fresh start with a franchise where he can better reach his potential on and off the court, according to one of the people with knowledge of Smith's thinking.

The person said one of Smith's complaints is that he believes the Hawks didn't do enough to promote him for selection to the All-Star team, which he thinks contributed to lesser players being voted to the team by Eastern Conference coaches. Smith, an Atlanta native who has played his entire eight-year career with the Hawks, also would like to play for a franchise he believes is more committed to winning a championship.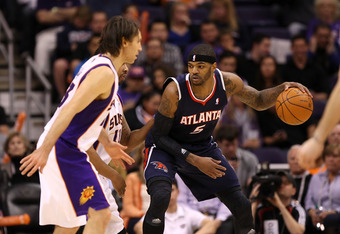 Christian Petersen/Getty Images
From that same Hawks blog, they are reporting that the Hawks have taken calls from teams that are interested in adding Smith, with one of the teams being the Golden State Warriors. 
Smith is having a great season this year, averaging 17.1 points, 9.8 rebounds, 3.5 assists and 2.0 blocks per game. However, if he is not in a healthy situation in Atlanta, then the team and the player are not helping each other out by sticking with each other.
The Hawks are 23-16, which is good enough to put them in the Eastern Conference playoffs with a nice eight-game cushion without falling out of the playoffs. However, the Hawks are only 5-5 in their last 10 games. 
If they trade Smith, they can get back another player that has the same skill set while getting rid of a player who does not want to be there. 
Plus getting rid of Smith will take $13.2 million off of the Hawks payroll next year. 
It's never easy to trade a superstar. However, when they make it known that they want out and demand to be traded, it puts the organization in a tough spot where they have to move that player.