Chicago Blackhawks: Michael Frolik Is GM Stan Bowman's Most Fruitless Signing
March 8, 2012

Jonathan Daniel/Getty Images
Chicago Blackhawks GM Stan Bowman has been taken to task for several of his free-agent signings last summer. Perhaps his biggest error comes not in players he added, but one he kept in the fold.
Re-signing Michael Frolik after he finished last season with the 'Hawks has been a dubious move in the light of how his season has played out. On a roster where several players have been criticized for not producing, Frolik should be at the top of the list for scrutiny.
Frolik and goalie Alexander Salak came over from Florida for Jack Skille, journeyman Hugh Jessiman, and prospect David Pacan just over a year ago. At the time, it looked like he pulled off a great deal. Heading into the season, it still looked like a great deal.
Six months later, the package Chicago received doesn't look so hot.
Salak has been a massive attitude problem in Rockford and doesn't seem long for the organization. Frolik is currently watching games as a healthy scratch. He has been held out of 10 of Chicago's 18 games since the All-Star break. In his last 30 games played, he has a goal and four assists.
There has been no sign of the player who put up 21 goals in each of his first two NHL seasons. A struggling Frolik had eight goals in 52 games when the Blackhawks picked him up. He's had eight goals in 83 games since the trade.
Frolik seems to still give his best on the ice when he has played. However, that hasn't resulted in points.
Some late-season and playoff chemistry last spring with Dave Bolland and Bryan Bickell prompted Bowman to make signing Frolik to his three-year, $7million contract this summer priority over hanging on to Troy Brouwer. The checking line looked fantastic for a few weeks to open this season, then went belly up.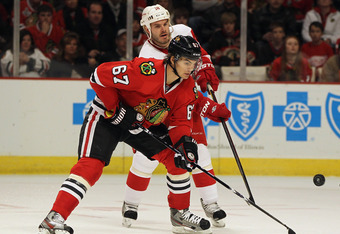 Jonathan Daniel/Getty Images
Bickell, who last occupied Joel Quenneville's doghouse, has managed to escape and has now resumed checking duties with Bolland and Andrew Shaw. Frolik now sits while the 'Hawks get a look at Jimmy Hayes.
Skille hasn't set the world on fire in his tenure in Florida. On the other hand, he's making a third of what Frolik is pulling in for similar production.
Frolik's raise in pay could certainly have kept Brouwer in the Indian head sweater if Bowman had chosen to go that way. At last check, Brouwer was having a season in Washington that is in line with his work in Chicago.
If Frolik had 18 goals and 12 assists as Brouwer has with the Capitals, his $3 million salary this year could be considered money well spent. Frolik has five goals and nine assists.
Andrew Brunette was a $2 million investment that hasn't quite panned out, but he has been more productive than Frolik. Steve Montador came at a steeper price, but as a UFA there was some inflation to be expected.
No-one was competing with the 'Hawks for Frolik, yet he still got a substantial raise after a season well below his established norm. Bowman was banking on Frolik to at least come close to his past production, or to help hold down a solid checking line.
Frolik got a big boost in salary and hasn't done either of those things. Now, he and his $3 million salary for the 2011-12 season sit in the team box.