Jermain Defoe: 5 Reasons Harry Redknapp Is Crazy Not to Start Him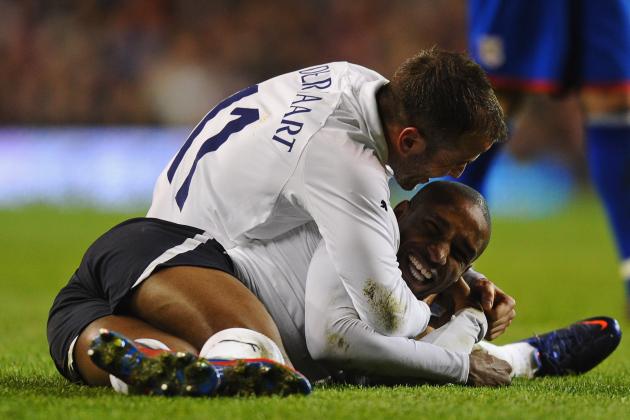 Mike Hewitt/Getty Images

Jermain Defoe goes quietly about his business, scoring key goals in key games for Tottenham, but it's about time he got the respect and playing time he deserves.
Without Defoe, Tottenham could've very easily lost to Stevenage in their FA Cup replay at White Hart Lane.
Stevenage came out the hungrier team, grabbed a quick lead, and from there, only Defoe looked truly hungry enough to open the scoring for Spurs, which he did in the 26th minute.
Gareth Bale provided enough inspiration in his return from injury to win the penalty that Adebayor converted to put Tottenham 2-1 up, but it was once again Defoe who scored the final goal to put the nail in the coffin and earn Spurs a win on a day where they hardly emerged as deserving victors.
Once again, Defoe showed Redknapp that quality that the Spurs gaffer seems to forget about week after week.
Here is why Jermain Defoe must receive more starts between now and the end of the season.
Begin Slideshow

»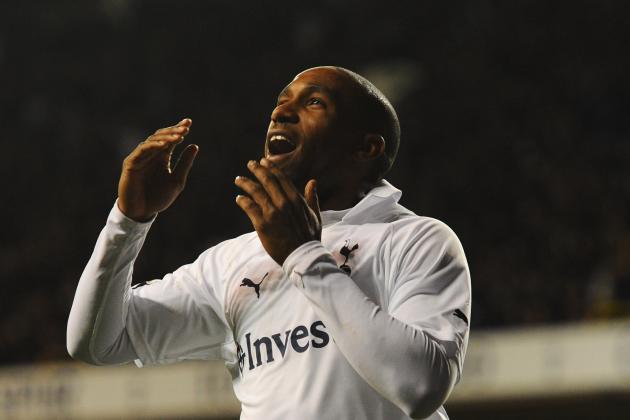 Mike Hewitt/Getty Images

After consistently struggling last season for Tottenham, Defoe has turned his fortunes around and has been a consistent goal scorer all season long.
Consider this: In eight league starts, Defoe has recorded six goals and two assists. Tottenham's record in games in which Defoe has started is six wins and two losses.
Those two losses came against Manchester City and Manchester United, while Spurs were able to record impressive wins over Liverpool and Arsenal in those wins.
Overall, Defoe now has 15 goals and seven assists in 29 games, with just 1,818 minutes played this season. That's a goal roughly every 120 minutes, or three goals every four games.
What Spurs fan would say no to that?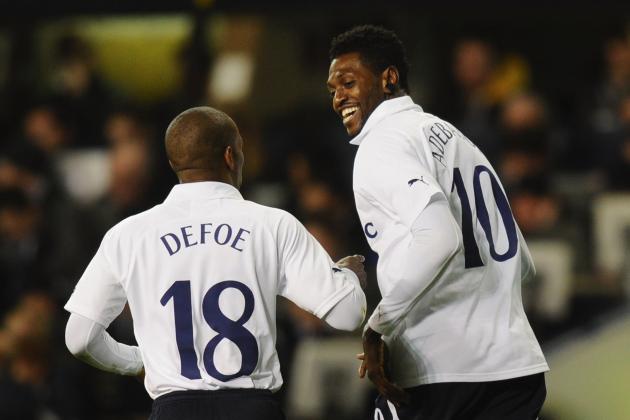 Mike Hewitt/Getty Images

I'm not simply talking about the communication and compatibility of the strikers. Tottenham are literally unbeaten when Defoe and Adebayor play together.
In fact, when Defoe and Adebayor line up alongside each other, Tottenham has never taken less than full points, picking up 18 out of 18 possible points.
A big reason why this happens is that when Jermain Defoe and Emmanuel Adebayor start up front, the rest of Tottenham's tactics fall into place.
Luka Modric and Scott Parker are free to control the midfield without having to adjust for Rafael van der Vaart, Gareth Bale is given more space to create play, Lennon has more targets to aim for, etc.
Put simply, having Defoe on the field gives Tottenham a second legitimate forward with the instinct and feel for goal. And that makes Spurs a much more dangerous proposition than they are when VDV starts, or when they utilize only one striker.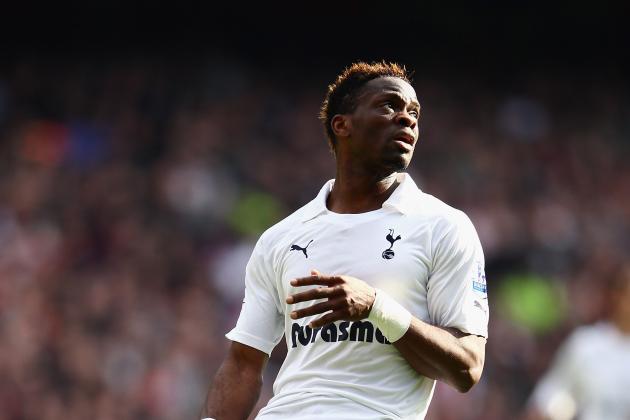 Clive Mason/Getty Images

Don't get me wrong. The resurgence in form that Louis Saha has experienced at Tottenham is commendable, and I hope he continues to improve and earn opportunities to play for Tottenham in future games.
But the idea that Louis Saha may be a better starter than Defoe just because he recorded a brace against Newcastle United a few weeks back is, quite frankly, ridiculous.
Already against Manchester United, Arsenal and even Stevenage away from home, Louis Saha has shown us just what kind of striker he can be for Spurs at the age of 33.
His instincts are still clearly very sharp, but his overall game, in terms of speed, power, dribbling, hold-up play, etc—all that has deteriorated significantly since his best days with Fulham and Manchester United.
Defoe is in his prime. Speed, power, dribbling—all these attributes which are slowly leaving Saha, Defoe still has in abundance.
If the choice ever comes down to Saha or Defoe, it is ridiculous for Redknapp to choose the former player in high-priority games.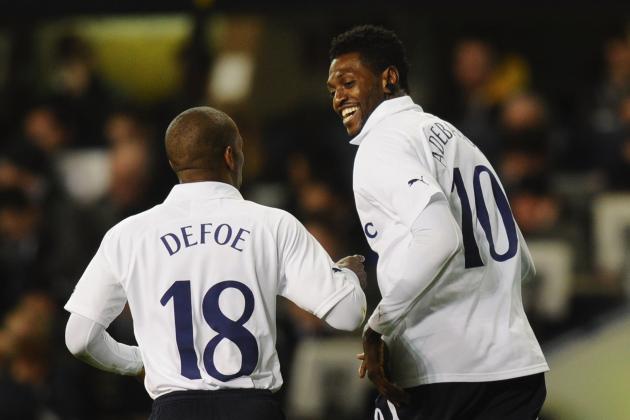 Mike Hewitt/Getty Images

After Spurs' 3-1 win over Stevenage, Redknapp did what Redknapp alway does when Defoe has a good game: He praises him, tells him to be patient, and backs him to break into the England squad.
Here's the problem, Redknapp: Defoe isn't going to impress the next England coach, or even Stuart Pearce for that matter, by scoring a double over Stevenage or scoring a garbage time goal against Manchester United.
If he's going to make the Euro 2012 squad ahead of a number of other England strikers, he needs to be scoring in games that are of high importance, and get regular playing time as well.
After all, if Defoe isn't good enough in Redkapp's eyes to warrant playing time against the likes of an off-form, recovering-from-injury Van der Vaart, as well as an over-the-hill Louis Saha, why should he be picked for England who have Darren Bent, Danny Welbeck, Daniel Sturridge and others?
Obviously, it isn't Spurs' concern whether Defoe gets picked for the England NT or not. But if Redknapp is going to continuously bring up the issue of Defoe's selection, the least he can do is back his own words up by giving Defoe the PT he needs to prove his worth to England.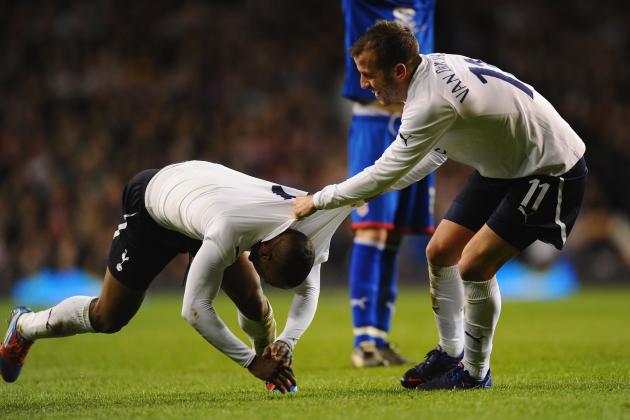 Mike Hewitt/Getty Images

It has often been said that when you can't decide who should play, the best thing to do is go with the player in the best form.
This may be reiterating what has been mentioned in the other slides of this slideshow, but on current form, it only makes sense to start Defoe ahead of anybody else (bar Adebayor).
Normally, Redknapp must choose between an on-form VDV and an on-form Defoe. But this weekend, in a tricky, very important tie against Everton, those won't be Redknapp's choices.
His choices will be an offensively-limited Louis Saha who will surely feel burdened by the prospect of playing against his former team (the way he was limited against United), Rafael van der Vaart who could probably start on the right of midfield to gain more of his fitness back, and an on-form Defoe.
The choice seems pretty straightforward to me.
Redknapp, for the sake of all the Tottenham fans who do not want to see what has been an excellent season fizzle out, please make the right choice and start Defoe against Everton this weekend.
Poor tactical decisions have been huge in our last two losses against Arsenal and Manchester United, and I really would hate to see another poor tactical choice cost us in a tough but winnable game.