March Madness: Whistling 98 for the Dancing 68—Referee Selection
March 8, 2012

Doug Benc/Getty Images
Each year at this time, college basketball teams are making their cases to enter the tournament.  There are 31 teams that get automatic bids, others that all year have been making their case and those on the edge, or bubble, that are hoping they are lucky enough to get the invite.  For those bubble teams, sometimes the conference tournaments solidify their resume.  By "Selection Sunday", 68 teams learn their fate and where they are seeded in the "Big Dance."
There is another team seeking selection into the tournament.  However, instead of 68 entities, there are 98.  While all are individuals, they work as a three man team.  They are the officials.  Throughout the season, the body of work each official puts in helps determine who makes it into the tournament.  The "better" officials, or more appropriately put, the higher-rated officials, are selected to work the tournament.
After 98 officials are selected, they are assigned to their respective cities to officiate the tournament games.  With the first round, the "First Four", two officials that made it into the tournament have never been in the tournament before.  This helps build their resumes for years to come and gives them experience in the tournament. 
These two officials perhaps are more difficult to decide on, just as the last four teams to make the tournament are.  They can be easily debated on and it doesn't necessarily mean those who didn't make it, didn't deserve to.  If there are two positions open and four people are deserving of it, two of the four are going to be left out.
It is the general practice of the NCAA to assign officiating crews in the tournament that do not give any edge to any particular team.  That means, in a potential matchup between an ACC team and a Pac-12 team, the officiating crew shouldn't be favored towards the ACC or the Pac-12.  Either all three officials assigned will be from different conferences or one from each conference to even it out with familiarity with the teams and coaches. 
The crews assigned also are ideally new to each other, meaning they did not previously work with each other during the season (ACC, Pac-12 and Summit conference officials as an example for a crew).  Of course, the closer to the championship game a team advances to, the higher probability they will be familiar with the officials.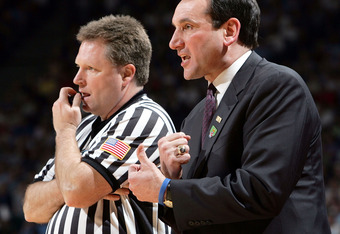 Streeter Lecka/Getty Images
Officials move on throughout the tournament much in the same way as teams do, by performance (and evaluation).  Just as a team wins in the second round, they advance to the third, so do the officials.  Officials who are evaluated higher than their peers move on to the next round.  By the Championship Game, the three highest-rated, and three best officials in the country, remain.  Seniority nor tenure play a factor in assignments.
The list provided below is not inside information nor official from the NCAA, but is this writer's predictions.  In any list, the first four officials are the referee (or crew chief).  The first list is Dayton, Ohio for the "First Four."  Ten of the twelve officials will move on.  The last two officials listed will only officiate this round.
DAYTON, OH
Jamie Luckie, Bryan Kersey, Antinio Petty, Doug Sirmons, Darron George, Ray Natili, Ron Groover, Gregory Nixon, Dwayne Gladden, Ed Hightower and then Kipp Kissinger and Terry Davis.  (As note, I would have three new officials in this round.  I would also include Lee Cassell, who would then replace Ed Hightower in this round only.)
PORTLAND, OR
John Higgins, Tony Greene, Mike Reed, Scott Thornley, Bert Smith, Rick Randall, Terry Moore, JB Caldwell, Joe Lindsay, Glenn Tuitt, Michael Eggers and Tim Gattis
ALBUQUERQUE, NM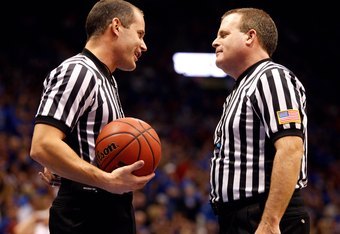 Jamie Squire/Getty Images
Les Jones, Pat Driscoll, Mike Roberts, Pat Adams, Dick Cartmell, Gary Maxwell, Michael Greenstein, John Hampton, Bret Smith, Bill Ek, Sean Corbin and David Hall
OMAHA, NE
Jamie Luckie, Michael Stephens, Bryan Kersey, Tony Padilla, Roger Ayers, Chris Rastatter, Glenn Mayborg, Raymond Styons, John Gaffney, Deron White, Donnie Eppley and Mike Scyphers
COLUMBUS, OH
Antinio Petty, Doug Sirmons, Don Daily, Ed Corbett, Joe Derosa, Michael Irving, Jeff Clark, Tim Nestor, Terry Oglesby, Darron George, James Barker and Patrick Evans
PITTSBURGH, PA
Doug Shows, Mark Whitehead, Mike Eades, Terry Wymer, Ray Natili, Anthony Jordan, Sean Hull, Rick Crawford, Jeb Hartness, Larry Spaulding, Ron Groover and Sean Casady
NASHVILLE, TN
Karl Hess, Mike Stuart, Gerry Pollard, Tom O'Neill, Paul Janssen, Kelly Self, Tim Clougherty, John Hughes, Tim Kelly, Bill McCarthy, Brent Hampton and Ed Hightower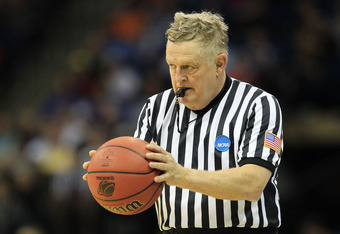 Ronald Martinez/Getty Images
LOUISVILLE, KY
Randy McCall, Brian Dorsey, Lamar Simpson, Mike Nance, Ray Perone, Gregory Nixon, Dwayne Gladden, Chris Beaver, Jeff Anderson, Guy Pagano, Earl Walton and Bo Boroski
GREENSBORO, NC
Verne Harris, Ted Valentine, James Breeding, Tom Eades, Brian O'Connell, Jim Burr, DJ Carstensen, Wally Rutecki, Lamont Simpson, Kevin Brill, Hal Lusk and Mike Sanzere
In the lists, one may notice an absence of two officials from last year.  The omissions are due to possible injuries.  Steve Olson and John Cahill both may have injuries suffered in February (although Olson returned to officiating at the beginning of March).  As note, John Cahill officiated the last two championship games and is regarded as perhaps the best official in the NCAA, or at least one of the best. 
This article will be followed up with officials who advance in the tournament.  Since they advance based on evaluations and performances in the first rounds of the tournament, it is premature to guess who should advance.  But as people fill out brackets, it might be amusing to take a guess at this year's championship officials as well.  If forced to select now, the three officials I would select for the Championship Game would be Les Jones, Antinio Petty and Doug Shows (Pat Driscoll as alternate).
The purpose of this article was to play a bracket game similar to that of the teams, but with officials.  Whatever the opinions of the officials that readers may have, can be saved for another article.  The author of this article is working on improvements to officiating (including how games are assigned and ending the officials being associated with conferences).  Once Selection Sunday announces the complete bracket, another article will assign game crews for each game.
While generally if a fan knows an official's name, it is most likely because the official made a bad call or the fan perceives them to be poor.  That's fair.  The intent of this article is to look for tournament assignments.  If an official was omitted from the list and deserves to be included, please comment.  And if brave enough to try, comment on who preliminarily should officiate the Championship Game.  While it is easy to say who one doesn't want to see officiate in that game, it is much harder to say who should be in.