San Francisco Giants: 20 Biggest Barriers Standing in the Way of NL West Title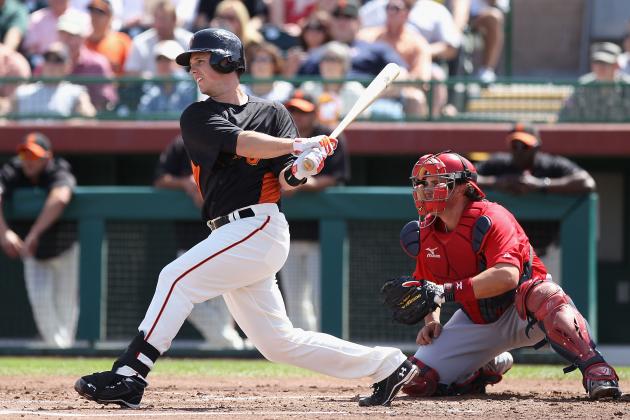 Christian Petersen/Getty Images

If 2010 was the year of unexpected success, and 2011 the year of inevitable letdown, what is in store for the San Francisco Giants in 2012?
On the positive front, they welcome outfielders Angel Pagan and Melky Cabrera to the team, albeit at the cost of Jonathan Sanchez, Andres Torres and Ramon Ramirez.
The Giants have two pivotal players who missed significant stretches of time last season ready to return and contribute. There is reason to be cautiously optimistic.
There is also reason for concern.
The National League's West Division has long been considered the easiest of the NL's three divisions. However, in recent seasons, several teams have become potential contenders. The Los Angeles Dodgers are ready to emerge from the shadow of Frank McCourt. The Arizona Diamondbacks are certainly looking for a return to October baseball.
Beyond the local competition, there are variety of external and internal factors in play that could hinder the Giants' quest to redeem their 2010 championship. Here are 20 hurdles the Giants will need to leap in order to earn the division crown in 2012.
Begin Slideshow

»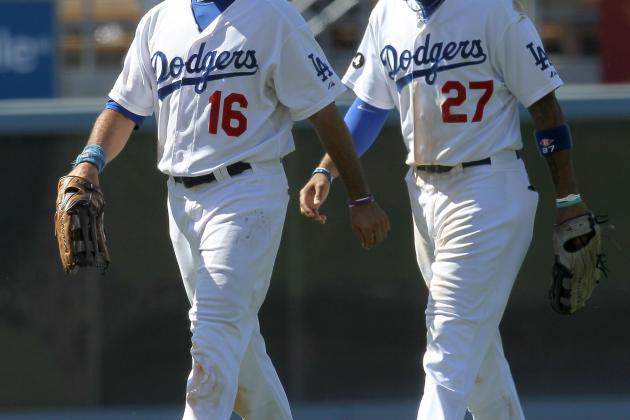 Stephen Dunn/Getty Images
Watch out for this duo in 2012.
The boys in blue are packing a double punch this season.
First up is Matt Kemp. His stat line for 2011 included 126 RBI, 39 HR, 115 R and a .324 average. Those numbers were good enough to make him runner-up as NL MVP, and almost snag a Triple Crown in the process.
Now armed with a hefty contract and lofty expectations coming into 2012, it will be a tall order to keep Kemp from tearing things up.
Andre Ethier wasn't nearly as impressive as Kemp in 2011, but he has the potential to be. With Kemp's bat around to pick him up, a Dodgers' lineup light on power is becoming increasingly dangerous. If Ethier has a breakout year behind another solid season from Kemp, watch out.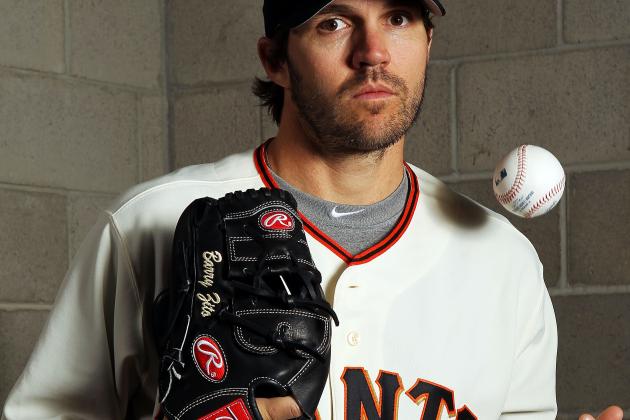 Jamie Squire/Getty Images
Can Zito channel his past self?
With Jonathan Sanchez off to Kansas City, one of the league's best pitching rotations is faced with uncertainty.
As things stand, the order at present is Lincecum, Cain, Bumgarner, Vogelsong and Zito. Putting aside any potential issues or injuries with the top three, Vogelsong and Zito are far from rock-solid. Vogelsong will be putting himself to the test to repeat what almost no one expected: his dazzling performance in 2011.
Zito faces an even tougher task: proving he's any good at all.
Having traded Zach Wheeler and Tim Alderson in recent seasons, the internal options to replace either arm are limited. Unless Brian Sabean picks at the low-hanging fruit of Roy Oswalt somewhere near the end of June, the Giants are risking a lot by counting on Vogelsong and Zito for two-fifths of their games.
Rob Tringali/Getty Images
The Diamonbacks got stronger this offseason.
Already established as the biggest local foe facing the orange and black, Arizona's front office went out and got even better.
Billy Beane, in the midst of his annual talent fire sale, sent ace Trevor Cahill south. Coming off a slump of a season (12-14, 4.16 ERA), a change of scenery may be just what Cahill needs. If he can return to numbers that reflect his strong 2010 campaign (18-8, 2.97 ERA), the Snakes' bite will be even deadlier.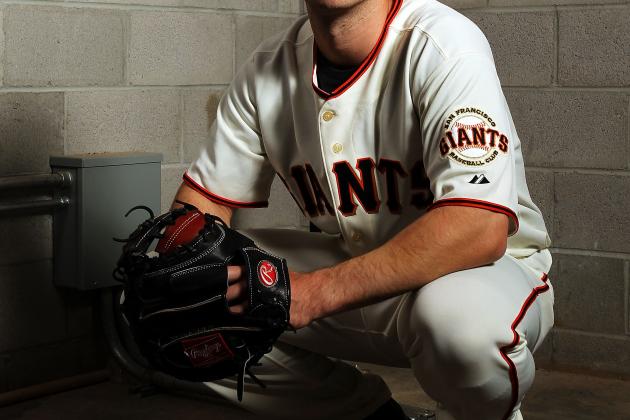 Jamie Squire/Getty Images
Posey can make or break the Giants' 2012 chances.
It's a tale as old as May 26, 2011. Can Buster be the player he was?
Signs point to yes, but nothing is certain until the young catcher actually plays some real baseball. Such a situation may occur as early as this weekend, where Posey can make his spring training debut in Scottsdale.
What's troubling about the Posey situation is the circumstances he inherits as he completes his convalescence.
For any athlete, returning from a gruesome injury is a mighty challenge. To do so with expectations riding sky high is nearly impossible. By not signing any premier offensive talent in the offseason, Brian Sabean has burdened Buster Posey with either playing at the caliber of his Rookie of the Year season or being labeled a failure.
Good luck, Buster.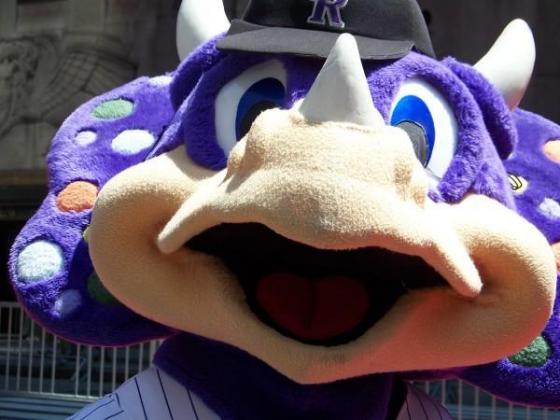 Beware the rise of the purpled ones.
The Colorado Rockies didn't have a sparkling 2011.
However, when your lineup includes the likes of Troy Tulowitzki and Carlos Gonzalez, you're never out of contention. Throw in the newly acquired Michael Cuddyer and a solidified rotation (including the near-miraculous return of Juan Nicasio) and you've got a threat in the NL West.
Oh, and accusing the Rockies of cheating with their humidor baseballs? Not likely to inspire a lot of good faith between the two clubs.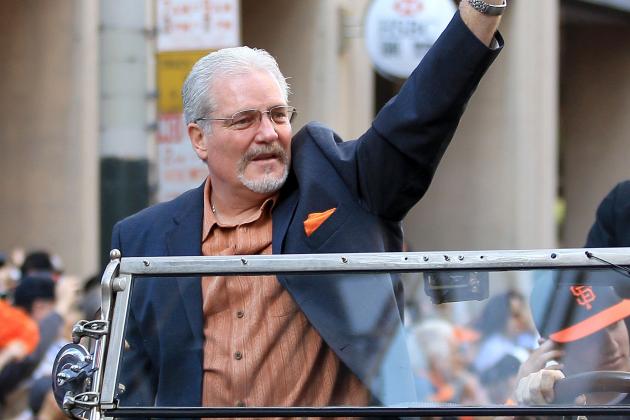 Ezra Shaw/Getty Images
Will Sabean do what it takes to get himself another World Series parade?
Bad things happen to good teams.
Perhaps no franchise learned this lesson harder last season than the San Francisco Giants. While no one is hoping or planning on catastrophe to strike, it may. Just because fans had to endure the agony of losing Buster Posey doesn't mean they're immune to another devastating blow.
Brian Sabean must be ready to trade talent.
We all love our players—stars and misfits alike. It's a general manager's job to field the best team he can, even at the cost of unpopular decisions. Unpopular does not mean stupid; it means sending away someone good to fill a glaring need.
Brian Sabean's chronic inability to pull the trigger on big deals may cost the Giants dearly.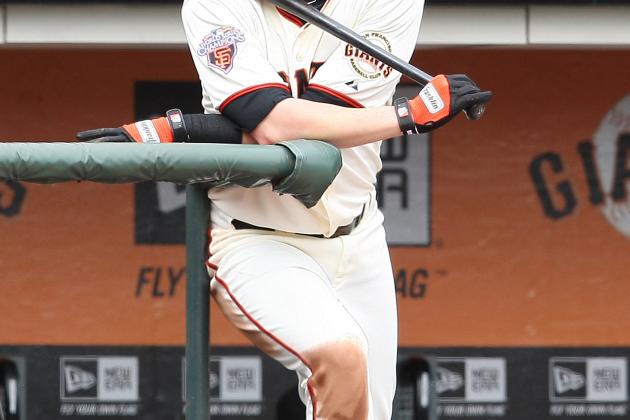 Tony Medina/Getty Images
Huff's fitness and effort will have a significant impact on the Giants' offense.
You're a hero one year, and a bum the next.
Aubrey Huff was riding high when 2010 ended. Perhaps a little too high. With his ring shining brightly, Aubrey Huff took the field at the start of last season and promptly started doing nothing.
By the time 2011 drew to its lackluster close, some were calling for Huff to be cut. That's how drastic his drop in production and effort was.
Now a new season dawns, and with it a fitter, more determined Huff. If he really has come into his contract year in good shape, he will go a long way towards quieting concerns over the patchwork offense in San Francisco.
If Aubrey 2.0 is more mirage than man, the Giants will be one bad contract and bench player closer to another losing campaign.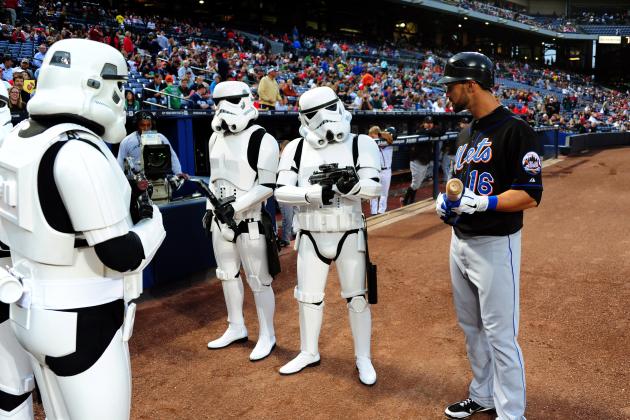 Scott Cunningham/Getty Images
"You are coming with us...to AT&T Park."
Team chemistry can't be quantified.
Thus, how Angel Pagan and Melky Cabrera will fit into the San Francisco Giants is essentially unknowable. We know Andres Torres was a beloved figure in the clubhouse, and that perennial fourth outfielder Nate Schierholtz will be eager to earn himself a starting position.
Will Pagan and Cabrera be the missing pieces to a division title? Possibly.
But remember: for every great game Jonathan Sanchez pitches for the Royals, and every top-10 play Andres Torres makes as a Met, those performances will be judged against the contributions of their successors back in the Bay.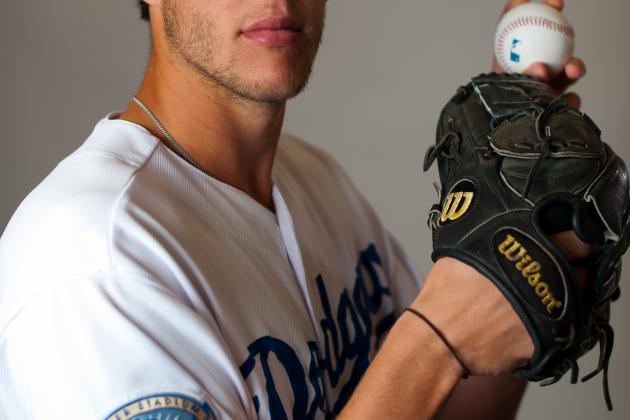 Rob Tringali/Getty Images
He's back, and he brought his Cy Young award along for the season.
Clayton Kershaw is a Giant killer.
He went 5-0 with a 1.07 ERA in six starts against the Giants in 2011. He tacked on 49 strikeouts for some lemon in the wound.
You expect to win when your ace takes the field, but Tim Lincecum lost all of his starts again Kershaw. If the Giants' bats can't find a way to get to him, the hurt will only keep coming.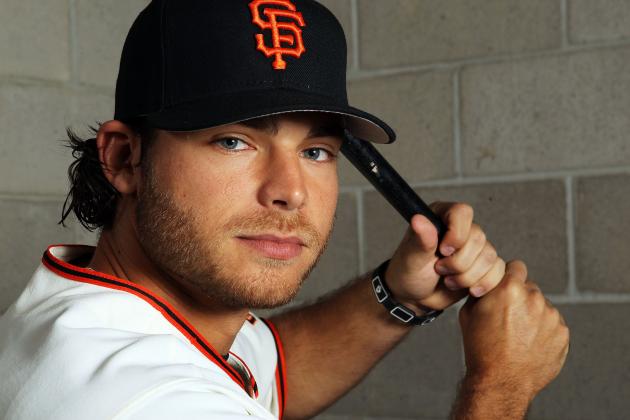 Jamie Squire/Getty Images
Is Brandon Crawford the 2012 shortstop?
Someone has to play shortstop. It's in the rules.
With this hard reality in mind, the San Francisco Giants will be obligated to offer the post to either Brandon Crawford or Ryan Theriot. Crawford is the second-year player who started his career in the majors with a grand slam but fell back to earth in a big way for the remainder of his season.
Theriot is the veteran player who just collected a ring with his St. Louis Cardinals teammates.
The lack of a solid shortstop was a major pitfall for the Giants last season. Cycling between Crawford and veterans Miguel Tejada and Orlando Cabrera left a lot to be desired.
Theriot arrives as the latest in a long line of journeyman infielders. Crawford has a lot to prove after ending with a .204/.288/.296 line in 2011.
If neither shortstop finds his footing, the Giants will be without an answer at an essential position.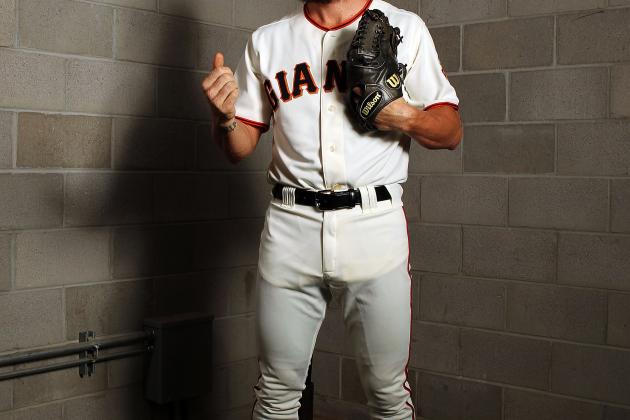 Jamie Squire/Getty Images
A fearsome beard can't cure an ailing body.
Brian Wilson departed the 2011 season prematurely. The cause for his exit? An inflamed elbow.
Later, Wilson would confess he'd pitched the entirety of that season with a sore elbow. Impressive, but also alarming. As of this article, Wilson has yet to pitch in a spring training game.
Bruce Bochy has assured inquiring parties that Wilson should be ready to go as early as this weekend, but what will the ramifications of Wilson's injury be?
Perhaps nothing.
Yet, the lingering possibility that 2012 may find Wilson taking stints on the DL remains. While Sergio Romo has proven himself worth of consideration as a closer, the Giants rely on Wilson. He is in many ways the face of the franchise.
The team can't afford to weaken its bullpen by losing Wilson for any length of time.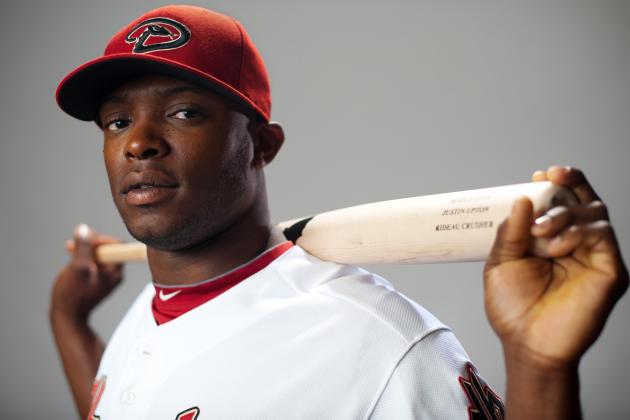 Rob Tringali/Getty Images
Be scared.
2011 was Justin Upton's year.
He finished fourth in MVP voting, tallying 171 hits, 39 HR and 105 RBI. He was undeniably a major factor in the Diamondbacks making the playoffs. He's also entering only his sixth season.
Upton will be facing the Giants many times over the course of 2012. If they can't contain him, it will be hard to beat Arizona and claim the NL West.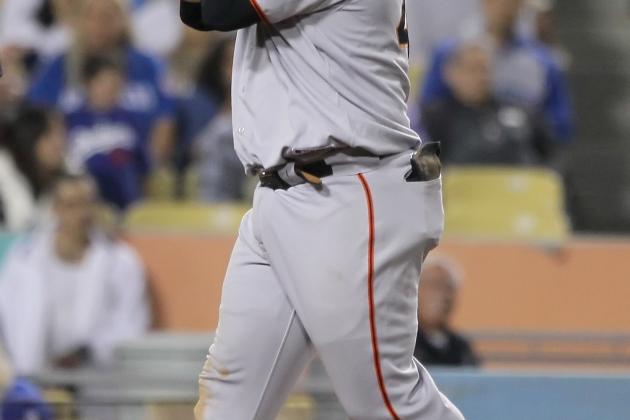 Jeff Gross/Getty Images
35 of these, please.
Will all the home run hitters please stand up?
Not so fast, Giants.
Teams may not need big swings to win games, but it's hard to win your division without a steady diet of long balls. in 2011 Pablo Sandoval led the squad with 23, followed by Cody Ross (14) and Aubrey Huff (12). The team is now without Ross, and even more in need of a slugger.
Brandon Belt, Brett Pill and Melky Cabrera are all candidates to go deep, and familiar faces Buster Posey and Freddy Sanchez may be factors as well. However, no player aside from Sandoval is anything close to a guarantee to break the 20-HR benchmark.
Without the threat of home runs, the Giants will remain hard-pressed to compete with high-scoring foes.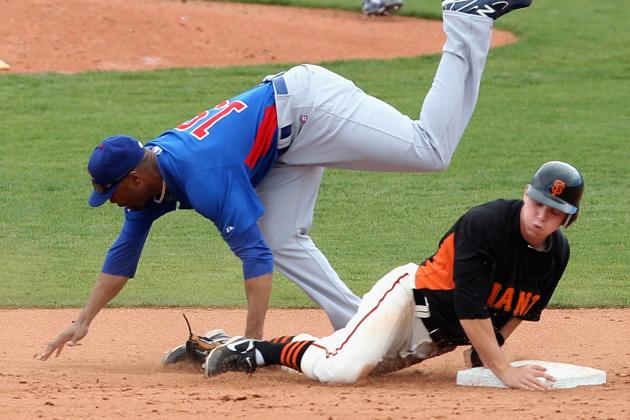 Christian Petersen/Getty Images
What can the Giants hope to recoup from a depleted farm sytem?
The kingdom is crumbling.
Once viewed as having the best farm system in baseball, the San Francisco Giants have depleted their resources. Many players have made the roster, while others were sent away in questionable trades.
Regardless of the reasons for their departure, the glut of talent available in the minor leagues is waning.
The Giants still have Gary Brown, Heath Hembree and Joe Panik to look forward to, but immediate needs will be harder to fill. Without a steady supply of replacements, the health of each Giants player will be that much more vital. This makes for a daunting situation on an injury-laden club.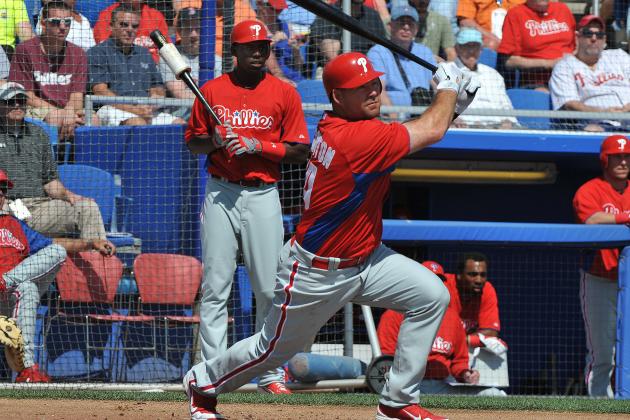 Al Messerschmidt/Getty Images
Can these guys just press pause for one season?
Google the Philadelphia Phillies' roster.
Here's a sneak peek: Cliff Lee, Roy Halladay, Jonathan Papelbon, Jimmy Rollins, Ryan Howard and Hunter Pence. That's right: they all play on the same team. Also, we may have embarrassed them a bit in the 2010 NLCS.
Brace yourselves.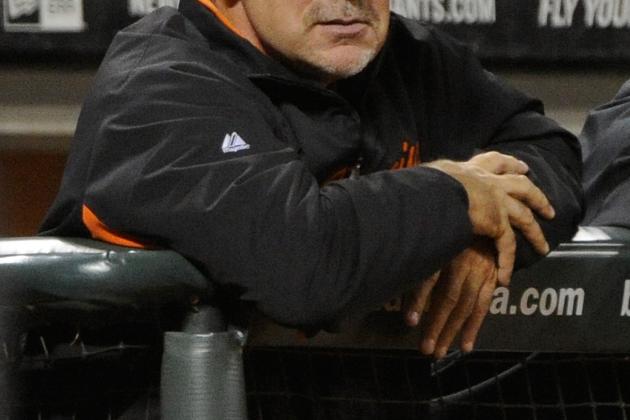 Thearon W. Henderson/Getty Images
For Bruce Bochy, rookies are just veterans that haven't played 15 seasons yet.
Some habits can't be broken.
This means Bruce Bochy will inevitably give preferential treatment to the veterans on his roster. Chief among his choices is Aubrey Huff. Despite being put on warning at the onset of this season, actions speak louder than words.
Many felt Bochy gave Huff far too many chances in 2011 while Brandon Belt and Brett Pill waited in the wings. It's easy to call a player out in the paper, but much harder to bench them or slip them the old Aaron Rowand.
Now Bruce has "new" toy Ryan Theriot to go with Huff, Whiteside and others.
The Giants can't afford to block the potential of their up-and-comers. Will Bochy relent and give his bounty of young talent a chance to cut their chops, or revert to his old ways at the cost of wins?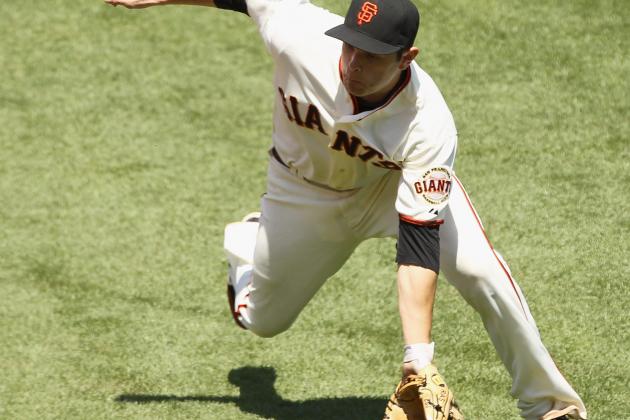 Ezra Shaw/Getty Images
To find a photo of Freddy, I had to go back to June 2011. Ominous.
If we don't know much about Buster Posey's status, we know even less about Freddy Sanchez'.
We know Sanchez has already suffered a setback in camp, delaying his Scottsdale debut due to back spams. We know Sanchez has had a history of injuries. What we don't know is if we can trust him to be healthy throughout 2012.
Freddy certainly thinks so, and the front office has reinforced his confidence. But even if Freddy starts the year at 100 percent, will he sustain it?
An injury to Sanchez forces Mike Fontenot and Ryan Theriot into the spotlight. Both are adequate options at second, but in conjunction with an unsolved shortstop dilemma and potential recasting at first, the infield does not need any more drama.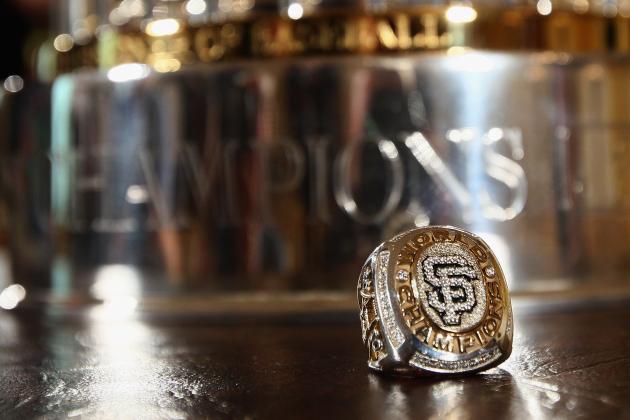 Win McNamee/Getty Images
The fans are loyal, but the expectations have risen.
Earlier this week, Duane Kuiper spoke about the atmosphere of spring training. He mentioned during a broadcast that things were notably quieter than the previous year's camp. Of course this is to be expected, but are the Giants ready for the drop-off?
For all the diehards that call AT&T park home, stands and seats in 2011 were filled with the newly christened faithful. Mistakes that were excused in the wake of World Series elation last year may not be met so kindly. The sellouts will be harder to come by, and the patience a little thinner.
I don't doubt the throngs will amass for 2012, but memories are short and demands are high. Can the San Francisco Giants perform without the bright lights?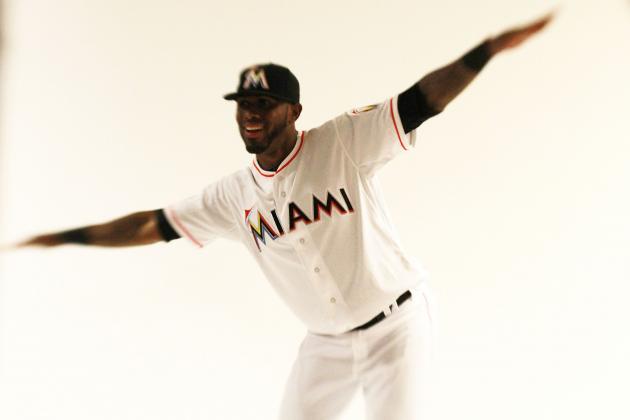 Marc Serota/Getty Images
One has to imagine Will Smith's "Miami" was blasting in the background of this photo shoot.
Jose Reyes, meet Mark Buehrle. Now meet Heath Bell. This is Ozzie Smith, your new coach. Everyone, this is our new $500 million stadium.
To the Giants, the Marlins have always been a sore spot. For one, they famously mangled the Giants in the 2003 NLDS. For another, it was the Marlins on the field when Buster Posey went down. Now the Fish are revitalized in a multitude of ways, and gunning for the World Series or bust.
San Francisco and Miami meet seven times in 2012, and the Giants will need to take their share of those games to keep their October pursuits intact.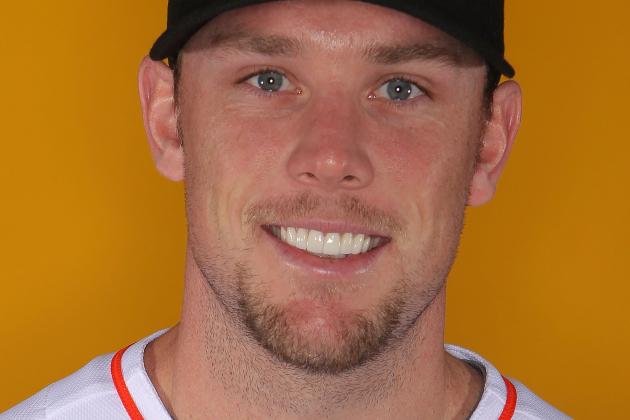 Marc Serota/Getty Images
Adversity, thy name is Scott Cousins.
Scott Cousins is not the problem.
When the Marlins' 3B collided with Buster Posey, he exposed one the Giants' most gaping flaws: perseverance. Part of the mark of a strong team is being able to cope with hardship. The Giants that took the field the night after "the incident" looked like the walking dead.
If the Giants plan on winning the NL West, they will need to find a way to pick up teammates, avoid prolonged slumps and be bigger than their individual pieces. Baseball is an injury-laden sport; a team that can't weather the storm of lost players has no chance of remaining competitive.