ACC Tournament 2012: North Carolina Cruising Towards Another Beatdown of Duke
March 7, 2012

Streeter Lecka/Getty Images
North Carolina is going to storm to the ACC Tournament title, and they are going to stomp on Duke to do it. 
There is not a team that is prepared to handle them, and even though Duke beat them once, they aren't going to do it again. 
How Duke and UNC Will Meet in Finals
North Carolina and Duke enter this tournament as the No. 1 and 2 seeds, respectively. Take a look at the bracket, as found on theacc.com, to see how things line up.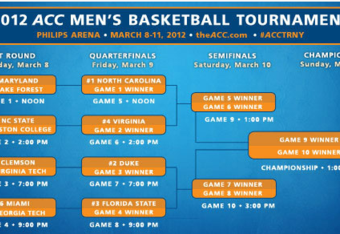 As you can see, both these teams have a bye in the first round and will only have to win two games to get the championship. No matter who they play in their first game, both teams will be heavily favored and should have little problem advancing. 
In the third round, no matter who they play, North Carolina will be facing a team they are undefeated against. The hardest test for them would be a matchup with Virginia. 
However, hard is a relative term. Those two teams played twice this season, and UNC was 2-0—winning by an average of 10.5 points per game. 
Duke has a potentially far tougher matchup. They could be staring at a game with Florida State. The Seminoles have beaten both Duke and North Carolina this year. However, the last time Duke and Florida State played, Duke won by eight on the Seminoles home court. 
Florida State will put up stiff competition in this game, but Duke will use their three-point shooting to cruise past them. 
Why North Carolina Will Topple Duke
Duke and North Carolina split this year, with both teams winning on the other's home court. 
However, Duke squeaked out their victory in thrilling one-point fashion. The Tar Heels battered their way to success by winning by 18. 
The difference in these two games was pretty simple. Duke was making their three-point shots in the first and not the second. 
The Blue Devils were 14-of-36 from distance in the first game and just 6-of-21 in the second. While some of this can be attributed to Duke being off in the second game, more of that has to go to the adjustments and defensive pressure UNC applied.
Duke cannot hang with the Tar Heels if they are drilling their outside shots, and UNC is not going to let them get hot from distance.
This allows the Tar Heels to ride their dominance inside to victory as they dominate the boards. In their two meetings this year, North Carolina out-boarded Duke, 83-53.
And that is not a trend that is going to reverse. North Carolina will be the 2012 ACC Tournament champions.