Gonzaga Basketball: Keys to Bulldogs' 2012 NCAA Tournament Run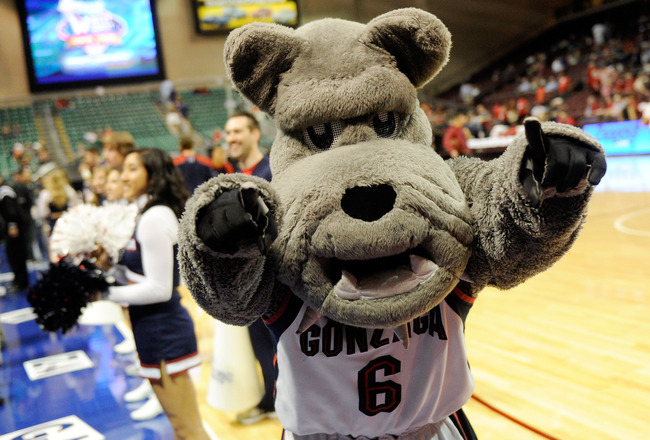 Ethan Miller/Getty Images
The Gonzaga Bulldogs have been a fixture in the NCAA tournament for over a decade at this point, and it was announced on Sunday that the Bulldogs will be heading into this year's Big Dance as a No. 7 seed in the East Region.
Gonzaga's first game will be against West Virginia on Thursday.
When we last saw Gonzaga out on the court, the Bulldogs were losing to St. Mary's in the West Coast Conference championship game. Gonzaga had yet another remarkable regular season, though, going 25-6 with a 13-3 record in WCC play.
Gonzaga is not being looked at as a threat to win the NCAA tournament, but they're as good a Cinderella candidate as any other squad in the field. And let's not forget, recent tournaments have been kind to Cinderella teams.
For now, here's a look at how the Bulldogs are shaping up heading into the Big Dance.
Superstars Who Must Shine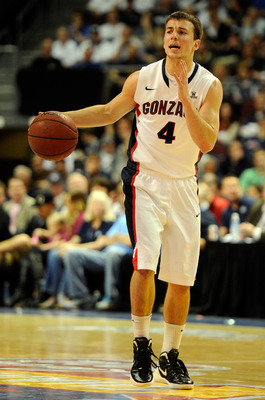 Ethan Miller/Getty Images
The Bulldogs play good team basketball, but they're going to need their stars to step up and lead the way if they expect to make a deep run through the tournament. There are two guys who spring to mind.
Kevin Pangos
Kevin Pangos was, for the most part, quite good in his freshman season. He led Gonzaga in scoring at 13.8 points per game, and he also averaged 3.4 assists per game.
It was rare during his freshman season for Pangos to pile up assists, but the Bulldogs could always count on him to score in double digits while being generally efficient from the floor. Most of his buckets will come from beyond the arc, where Pangos shoots better than 40 percent.
When Pangos goes cold, bad things tend to happen. Never more was this true than against St. Mary's, as Pangos shot just 3-of-18 from the floor, including 1-of-10 from distance. He didn't single-handedly cost Gonzaga the game, but his poor shooting was definitely a factor.
That performance leaves one to wonder if Pangos is a little nervous on big stages. If so, he's going to have to get over it in the Big Dance. Gonzaga won't last long if Pangos isn't knocking down shots.
Elias Harris
Elias Harris was Gonzaga's second-leading scorer behind Pangos, and he emerged as a double-double machine in the latter portion of the season. In Gonzaga's last nine games, Harris recorded six double-doubles.
Harris gets his share of easy buckets, but it should be noted that his range stretches out beyond the three-point line. He didn't shoot many threes this season, but he knocked down better than 40 percent of the threes he did take. Most notably, it was his three against St. Mary's in the WCC championship that sent the game to OT.
It's going to be harder and harder for Harris to pile up rebounds as the competition gets stiffer and he has to start competing with tougher frontcourt players. But as long as he keeps his scoring up, the Bulldogs will be in good shape.
Role Player Who Must Emerge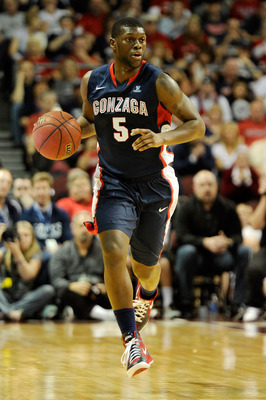 Ethan Miller/Getty Images
We've seen in recent seasons that killer three-point shooting can make a huge difference in the NCAA tournament. The more three-point shooters a team has, the better.
Therefore, Gary Bell, Jr. is a player who should get plenty of minutes for Gonzaga. He's a deadly three-point shooter, and a potential difference-maker.
Bell shot better than 47 percent from beyond the arc this season. He generally settled for three or four shots from distance per game, but there were a couple games throughout the regular season in which he helped himself to a few extra shots.
Case in point, take a look at what Bell did against Longwood in late February. He was 6-of-9 from distance, ultimately scoring a season-high 20 points. And he did it all, shockingly, in just 15 minutes of action.
Shooting threes isn't the only thing Bell can do. He's also a pretty good distributor, another skill that will be of use in the Big Dance.
Offensive Strategy to Watch
Jonathan Daniel/Getty Images
Gonzaga head coach Mark Few is renowned for his use of the flex offense. It's his bread and butter, and it's what the Bulldogs will be using in the NCAA tournament.
It's all pretty basic, and it's all pretty complicated at the same time. Gonzaga's offense requires ball movement, screens and the use of the pick-and-roll, all of which is meant to create easy buckets.
It's worked a lot better in past seasons, but Few's offense worked well enough in 2011. Gonzaga ranks 30th in the country in field-goal percentage, and the Bulldogs are No. 24 in shooting efficiency, according to TeamRankings.com.
The notion that ball movement and open shots lead to wins is not exactly revolutionary, but Gonzaga demonstrates why it all works every time it plays.
Defensive Strategy to Watch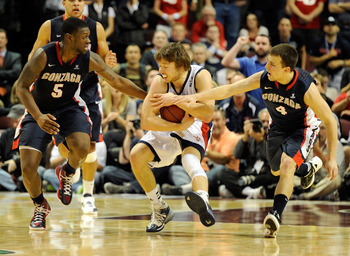 Ethan Miller/Getty Images
Gonzaga is not an elite defensive team, but it's not awful either. The Bulldogs rank 72nd in the nation in opponents' scoring and 71st in opponents' shooting percentage, per TeamRankings.com.
The Bulldogs rarely play zone. Few prefers to keep his team in man-to-man, largely because he has some pretty good individual defenders to work with.
For example, Robert Sacre is an above-average post defender, and experienced players like Elias Harris and David Stockton have come a long way since first starting their careers at Gonzaga.
On the balance, Gonzaga doesn't do anything too complicated on defense. The true surprise will be if Gonzaga plays more zone in the NCAA tournament.
Biggest NCAA Tournament Hurdle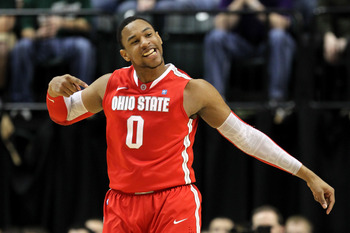 Andy Lyons/Getty Images
If Gonzaga wins its opening game against West Virginia, it will be looking right at a potential matchup against the second-seeded Ohio State Buckeyes.
They'd be a tough draw for the Bulldogs. Jared Sullinger is one of the top players in the country, and he's flanked by two dynamic players in William Buford and Deshaun Thomas.
Against Ohio State, Gonzaga's defense would be put to the test, particularly as it pertains to the paint. At the other end, the Bulldogs would be going up against the No. 11 defense in the nation.
If Gonzaga is going to be a Cinderella team, it's going to have to earn it.
Last-Second NCAA Tournament Prediction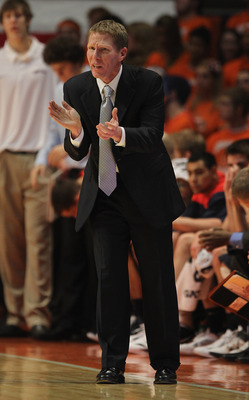 Jonathan Daniel/Getty Images
Gonzaga better hope that Ohio State gets upset in the round of 64, because the Bulldogs don't want to face the Buckeyes in the round of 32.
Sadly, I don't see Ohio State getting upset. The Buckeyes and Bulldogs will meet in the round of 32, and that's where Gonzaga's run through the tournament is going to end.
Better luck next year. Goodness knows the Bulldogs will be back.
Keep Reading