Chelsea vs. Stoke City: Preview, Live Stream, Start Time and More
March 7, 2012

Clive Brunskill/Getty Images
Chelsea will face their English Premier League test in the wake of Andre Villas-Boas' sacking when Stoke City pays a visit to Stamford Bridge on Saturday.
The Blues followed up a 1-0 defeat to West Brom with a 2-0 triumph over Birmingham City in FA Cup play under the guidance of caretaker manager Roberto Di Matteo. The Potters are on a solid run of form of their own, with consecutive wins over recent promotions Swansea City and Norwich City.
These two clubs played to a scoreless draw in the season opener.
Where: Stamford Bridge, London, England
When: Saturday, March 10th at 10:00 a.m. EST
Watch: FOX Soccer Channel
Live Stream: FoxSoccer.tv
Player to Watch for Chelsea: Daniel Sturridge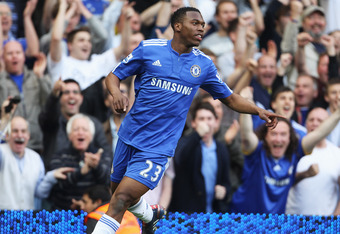 Phil Cole/Getty Images
Daniel Sturridge is and will be the future of Chelsea football, regardless of who ends up on the touchline in the months to come. The 22-year-old England international has been the Blues' most dazzling attacker this season, putting through nine goals along with two assists in EPL play.
Along with Juan Mata in the midfield, Sturridge will bear the brunt of the responsibility for lifting Chelsea back into the top four by season's end, starting with Stoke on Saturday.
Player to Watch for Stoke City: Peter Crouch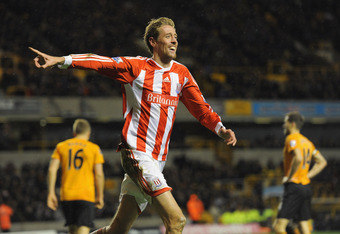 Michael Regan/Getty Images
Peter Crouch's long and winding road through the EPL has led him to a campaign of fine form for Stoke. The enormous striker has notched seven goals and two assists in his first season with the Potters after previous stints with Tottenham (twice), QPR, Aston Villa, Norwich City, Portsmouth (twice), Southampton and Liverpool.
Crouch has had his fair share of experience against Chelsea, with two goals in 23 career appearances, and figures to put that familiarity to contemptuous use this time around. 
Key Matchup: Chelsea's Possession vs. Stoke's Pressure
Tony Pulis' squad has long been known for its physicality and relentless pressure in defence, traits that proven effective in frazzling Chelsea's attack the last time these two sides met. If the Potters are able to harass the Blues' attack like they did in August, they may well come away from Stamford Bridge with points in their pocket.
If not, and Chelsea is able to maintain possession without such forceful interruption, then the Blues should have little trouble dominating the run of play, thanks to their superior talent on the attack. 
What They're Saying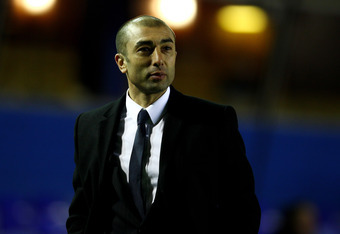 Clive Mason/Getty Images
Roberto Di Matteo hasn't been on the job at Stamford Bridge for a week, yet he's already garnered at least one ardent and prominent supporter.
Gianfranco Zola, the Chelsea legend with whom Di Matteo played during his days in West London, told ESPN Soccernet that he believes in Di Matteo's ability to turn around the Blues from the touchline:
I'm still in touch with Roberto and I believe it is a big challenge for him but it is an opportunity that could give him a lot of success. I'm sure he knows that and he will give it his best shot because not only is he a good manager but he is a Chelsea man and will want to do well with the club.

Roberto is a quiet person but at the same time is very stubborn and determined and I'm sure his determination will benefit Chelsea.
As turbulent as Stamford Bridge has been of late, it's not as though all's exactly quiet on the home front at the Britannia Stadium. The Potters' recent string of defeats appeared to exact a toll on Tony Pulis' relationships with some of his players, including Jermaine Pennant.
The winger has seen his pitch time diminish considerably this season, though he claims that he has no qualms with his manager and will continue to work hard in pursuit of a more prominent role with the club:
The manager made 11 changes but I got on, that's good enough for me. He is keeping with his winning team. If the record isn't broken then you don't change it. We have won the last two (league) games so he is keeping that team. He's the manager.

If I keep working hard and the team keeps winning, and I'm not playing, then I'm as happy playing as not. It's not all about individuals, it is about the team. I'm happy. There are no bad feelings so everything is fine.

 
Prediction: Chelsea 1, Stoke 0
The Blues will battle through the Potters' bullying on the pitch to score a goal and give Roberto Di Matteo a victory in his first EPL tie as manager.