Boston Bruins: Caron's Strong Play Welcome as Bruins Struggle to Stay Healthy
March 7, 2012

There's a bit of an "all hands on deck" situation for the Bruins at the moment.
With Nathan Horton and Rich Peverley still sidelined for the forseeable future, and a recent string of injuries seeing Daniel Paille, Johnny Boychuk, Andrew Ference, Tuukka Rask and as of last night, Benoit Pouliot miss time, considerable slack must be taken up in order for the B's to stay afloat.
For the past two games, Jordan Caron has certainly done his part.
On Sunday, Caron notched a goal and an assist in a losing effort at Madison Square Garden versus the New York Rangers.  Easily one of Boston's best skaters all afternoon, Caron drove to the net hard, kept his legs moving and kept the B's in a game that saw them drop to an early 2-0 deficit.
Last night, we saw more of the same from Caron, who tallied twice and added a helper to lead the Bruins' to a huge 5-4 victory in Toronto.  The first multi-goal game in his brief NHL career, Caron's presence on the stat sheet was matched by his presence on the ice, as the young winger's confidence seemed to grow with every shift.  These compounded performances give Jordan five points and three goals in his last two games.
Caron's recent emergence could not have come at a better time for a Bruins squad that is currently limping to the finish line.  Not only have the Bruins posted a mediocre 15-13-2 record since January 1, but it appears as if the B's have finally caught the injury bug. 
In an attempt to plug some holes in the lineup, GM Peter Chiarelli dealt for veteran forward Brian Rolston and defensemen Greg Zanon and Mike Mottau at the deadline.  However, the sudden outbreak of injuries has basically neutralized those deals and leave the Bruins looking as thin as ever in terms of depth at the moment.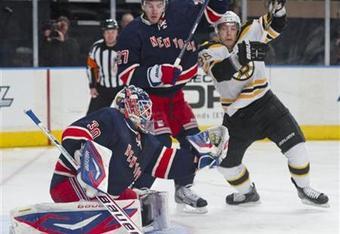 Coupled with uninspired, inconsistent play since Horton's concussion and subsequent setback, the Bruins have watched the Rangers take a commanding lead of the Eastern Conference, while feeling the pressure of a surprising Ottawa club breathing down their necks for the division crown.  In order to fend off the Senators and clinch home-ice, it is crucial for the Bruins to get contributions from not only their best players, but from their role players as well. Something that helped the B's to defeat a Vancouver team that topped nearly every statistical category only one year ago.
Jordan Caron's performance this week is certainly a welcome addition to a struggling team's game, and if it can be extended, it will take some pressure off young guys in the top six to perform now.  However, his impressive play may also help Caron to take that next step in his development.
The Bruins' first-round draft pick in 2009 had a strong showing out of the gate last season, making the big squad and scoring three goals in his first seven games.  Since then, his play has plateaued a bit, leading many to believe that Caron's full potential was being displayed.  Overshadowed by Tyler Seguin, as well as Brad Marchand's coming out party, Caron's stock dropped in the eyes of many fans last season, and hasn't returned to the level of his debut since.
What Caron's strong play as of late can do is jump-start a 21-year-old kid with plenty of talent, giving him the confidence to raise his game to the next level. Caron is young and has plenty of time to hone his skills, but two strong showings could do wonders for his confidence level, as well as reinforce the good habits he has been demonstrating.
As for the Bruins, the month of March is packed with 17 games. Things will not get easier, and until healthy bodies return to the lineup, each player will be looked at to step up and pull their weight.  Should Jordan Caron continue to build on his strong play, it will prove to be immensely helpful to his team as well as his future.