NBA Fines Bryant, Pierce, Rondo for Skipping out on All-Star Festivities
March 7, 2012

Ronald Martinez/Getty Images
Kobe Bryant's 14th trip to the All-Star Game will be one that he won't soon forget. First, there was passing Michael Jordan for first all-time on the All-Star scoring list and then, of course, the foul from Dwyane Wade that caused the nasal fracture, concussion and sore neck. Now, according to USA Today, the NBA is fining Bryant $40,000 for skipping out on an All-Star news conference and a mandated charity appearance for NBA Cares.
Ouch.
Bryant wasn't the only All-Star fined. Boston's Rajon Rondo and Paul Pierce each lost $20,000 for missing their charity appearances.
Here's a tweet from ESPN LA's Ramona Shelburne, with Bryant's reaction to the fine: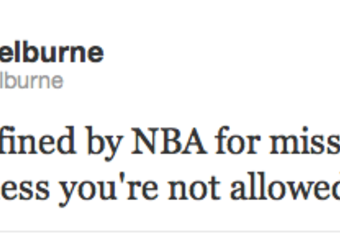 If you think back to the Saturday before the All-Star game, Bryant's excuse for missing the news conference was that he was under the weather. While fining players for missing mandated charity events is more than acceptable, we're on a slippery slope if the player was actually sick. If you're scheduled to be showing up for a charity event, you better be there or have a good excuse.
Ducking out of responsibilities isn't the right thing to do, but in a shortened season with such a crazy schedule of back-to-backs and back-to-back-to-backs, I can't say I'm shocked that a few players decided to skip out on one of their many appearances in what ends up amounting to an exhausting weekend. I just wish they had chosen something other than the charity appearance.
As for Bryant, there's no real way of knowing whether he was legitimately sick or just not feeling up to fulfilling the obligations on his schedule, so he'll pay his fine and move on without any real harm caused—except for the lingering after-effects of Wade's playoff foul that took place in the All-Star Game.