UFC on Fuel 3: Jeremy Stephens vs. Donald Cerrone Head-to-Toe Breakdown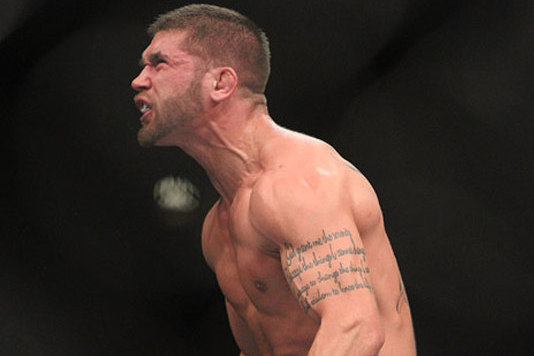 Scott Peterson/MMAWeekly.com
Competing against two of the top lightweight contenders in their most recent fights, Jeremy Stephens and Donald Cerrone saw impressive winning streaks come to an end, but both fighters are still in the hunt for a shot at the 155-pound title in a division that sees its landscape change with just about every big fight.
In his most recent fight, Stephens lost in a split decision against Anthony Pettis, who proceeded to knock out Joe Lauzon and is now considered on of the top candidates to fight for the lightweight belt in the near future.
Meanwhile, Cerrone is coming off of a loss to Nate Diaz. Prior to that defeat, Cerrone has not been beaten since he fought Benson Henderson for the WEC lightweight title.
At UFC on Fuel 3, which will take place in May, Stephens and Cerrone will attempt to put themselves back on track for a shot at UFC gold with a win over the other. Let's take a look at which fighter has the edge heading into what should be an exciting slugfest.
Begin Slideshow

»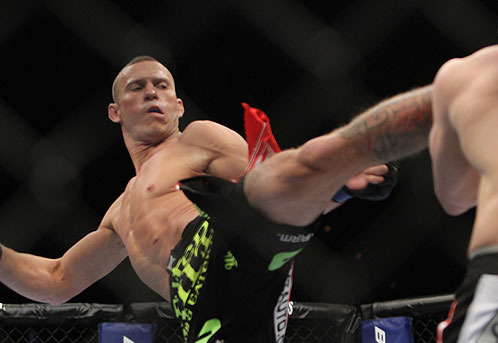 Scott Peterson/MMAWeekly.com
Striking/Striking Defense
With 14 career knockouts, Jeremy Stephens is as dangerous as any lightweight on his feet, but he is also much more one-dimensional in the striking department than a former muay thai fighter like Donald Cerrone.
Stephens' greatest asset is his one-punch knockout power. However, Cerrone has a granite chin and has never been knocked out, so "Cowboy" won't hesitate to stand and use his more diverse striking arsenal to pick Stephens apart.
Cerrone did have problems dealing with the boxing of Nate Diaz in his most recent appearance, but the 5'9" Stephens doesn't possess nearly the same reach as Diaz and throws looping punches, whereas most of Diaz's strikes came straight down the pipe.
Edge: Cerrone
Takedowns/Takedown Defense
Against Anthony Pettis, Stephens surprisingly used wrestling to nearly mount an upset on the scorecards. However, Stephens may be more hesitant to go to the ground with Cerrone, who has picked up 13 of his 17 wins by submission.
Even if Stephens does look to drag Cerrone to the canvas, he has not had much success with securing takedowns against many opponents other than Pettis. Also, Cerrone has stuffed 60 percent of takedowns attempted on him in the UFC and WEC, so it won't be easy for Stephens to take the Greg Jackson-trained fighter off of his feet.
Edge: Cerrone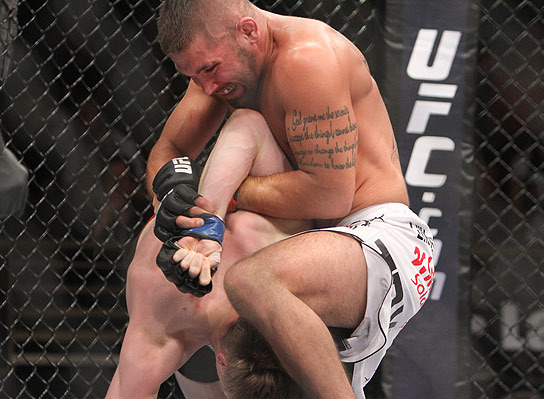 Scott Peterson/MMAWeekly.com
Grappling/Ground Striking
While Jeremy Stephens may throw powerful punches from the top position, Donald Cerrone's guard will make it hard for the 25-year-old to land anything.
When Cerrone is taken to the ground, he attacks constantly off of his back with submission attempts, which will prevent Stephens from throwing down.
More importantly, even if they don't lead to the end of the fight, Cerrone's submission attempts allow him to distract Stephens and work back to his feet, where he can score most of his points in this fight.
Edge: Cerrone
Submissions/Submission Defense
Because he prefers to stand and get himself into fistfights, Cerrone has become known primarily as a striker, but it is his ground game that has made him one of the more dangerous lightweights in the sport.
With 13 submission victories in his career, Cerrone forces opponents to take him down by outclassing them in the striking department. Then, Cerrone finishes his foes off once they fall into his dangerous guard.
Considering 43 percent of Stephens' losses have come via submission, there is a good chance this is exactly how his matchup with Cerrone will play out.
Edge: Cerrone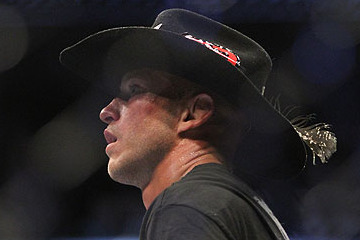 Ken Pishna/MMAWeekly.com
Experience/Game Plan
Jeremy Stephens may have been a UFC fighter for a longer period of time than Donald Cerrone, but "Cowboy" has competed in three WEC title fights, so he is just as experienced as Stephens when it comes to competing on a big stage.
Having coach Greg Jackson in his corner is also a big advantage for Cerrone. One of the best game planners in the sport, Jackson is able to give Cerrone mid-fight instructions that few other trainers are able to point out for their fighters.
Edge: Cerrone
Athleticism/Conditioning
Stephens and Cerrone are well-conditioned lightweights, so a fight that goes into the second or third rounds shouldn't present a problem for either competitor.
Cerrone does have a reach advantage in this matchup, but Stephens counters that by packing a lot of power into his smaller frame.
Edge: Push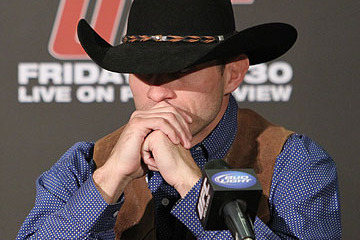 Scott Peterson/MMAWeekly.com
As you may have noticed, Jeremy Stephens wasn't given an edge in any of the previously mentioned categories in this matchup with Donald Cerrone, but that certainly doesn't mean the 25-year-old will go down without a fight.
Stopped only twice in his UFC career, Stephens has the chin to stand toe-to-toe with Cerrone and the power to mount an upset with a single punch.
That being said, all signs point toward Cerrone landing a higher volume of punches when both fighters are standing. Once he realizes Cerrone has the chin to eat big punches and keep on ticking, Stephens is going to try to switch things up with a takedown attempt.
If he is able to take Cerrone down, Stephens will quickly realize fighting from within Cerrone's guard is just as dangerous as standing. Shortly after the fight goes to the ground, Cerrone will extend Stephens' arm and earn a submission victory.
Cerrone defeats Stephens by submission (armbar) in the second round.
Sean Smith is a Featured Columnist for Bleacher Report MMA. For the latest insight and updates on everything MMA, Follow Sean Smith on Twitter