Cricket Tri-Series Final: Dominant Bowling Helps Australia Top Timid Sri Lanka
March 8, 2012

Cameron Spencer/Getty Images
A masterful performance with bat and ball from Clint McKay carried Australia to a 16-run victory over Sri Lanka in the deciding third and final game of the Commonwealth Bank Series.
With Australia labouring at 151-6, the youngster put together a score of 28 from 32 balls to steady the ship. His eighth-wicket partnership with Brett Lee was long enough to calm the Sri Lankan attack and save the hosts' innings. They were eventually bowled out for 231.
Two nights ago, on the same ground, 271 proved to be too low a target, as Sri Lanka chased it down with 35 balls to spare. McKay made sure that they wouldn't find 231 quite as easy to reach, taking five wickets as the Aussies skittles them out for 215.
McKay was brilliant, but he was only one part of an Australian attack that had its best performance of the series. Brett Lee was expensive, but took three key wickets. Shane Watson, standing in as captain for the injured Michael Clarke, totally shut down the batsmen, allowing under two runs an over.
While the bowling they faced was good, the Sri Lankans will look back on the match and rue their lacklustre batting. Throughout the tournament, they have impressed with their aggressive approach at the crease. They had been on the offensive in almost every match they played, but were unusually casual in the most important game of the competition.
Sri Lanka got off to a decent start, but the wickets soon started to fall. No-one in the top five scored more than 30, and player of the series Tillakaratne Dilshan fell for just eight.
Upul Tharanga gave the visitors hope, putting together a solid 71. Ultimately, though, his innings was too passive. He ate up 122 deliveries in his innings, and his careful approach was indicative of the complacency of the Sri Lankan lineup as a whole.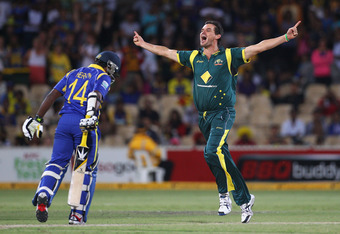 Cameron Spencer/Getty Images
Nuwan Kulasekara provided a late injection of aggression, finding the boundary twice in his short stay at the crease. The slow pace of his teammates perhaps forced him into a position where he had to make big shots, though, and when he timed one wrong, it was an easy catch for Lee.
Shane Watson was very impressive in his role as interim captain, mixing up his bowling well and keeping his opponents on the back foot for almost their entire innings. Clarke will likely miss Australia's ODI series in the West Indies, but Watson has proven he can substitute very well.
Perhaps the only slight negative for Australia was that their batsmen were relatively unimpressive. They were okay, though, and with Clint McKay dominant with the ball, okay was good enough on this occasion.