San Francisco Free Agency: What Is the 49ers' Plan If They Lose Carlos Rogers?
March 7, 2012

Ezra Shaw/Getty Images
Immediately after the 2011 season came to an end, it seemed the return of Carlos Rogers to the San Francisco 49ers was a foregone conclusion.
This has since changed.
Comcast Sports Net Bay Area is reporting that Rogers is seeking a four- or five-year contract at more than $5 million per season. It isn't the annual salary that should worry 49ers fans. After all, he did make the Pro Bowl in 2011 and is probably worth at least that much. Rather, it is the length of the contract demand that is cause for concern.
Depending on how the contract is structured, San Francisco could be on the hook for upwards of $5 million a season for a 35-year-old defensive back when all is said and done. This is the type of contract Trent Baalke and Co. usually scoff at.
This could be a moot point if the market doesn't play out like Carlos Rogers thinks it will. All things equal, he would prefer returning to the 49ers in 2012 and beyond.
What is the plan if Rogers leaves in free agency?
There are a few different variables that come into play when discussing the possible departure of the 49ers' No. 1 corner. First, they do have a multitude of young players at that position that are ready to acquire more playing time.
Chris Culliver had a surprising rookie season after many people questioned the 49ers "reaching" for him in the third round of the 2011 NFL draft. He finished the year with eight passes defended and took on a greater role as the season progressed. San Francisco views him as a future starter, so there is confidence in him being able to step up in his sophomore season.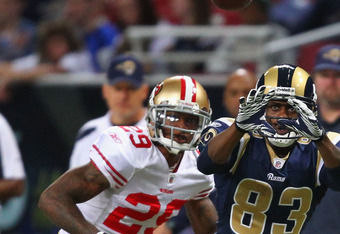 Dilip Vishwanat/Getty Images
At 27 years old, Tarell Brown wouldn't be considered young. However, in terms of playing time he is still as bare as a baby's behind. This is a player that had started a total of five games in his first four seasons before starting all 16 last year. The former fifth-round pick proved more than capable of handling the starting role, accumulating 16 passes defended and playing really well on the outside as well as in the slot.
Tramaine Brock, a 2010 undrafted free agent out of Bellhaven, is another wild card. He has played well in the preseason but hasn't seen the field a great deal during the regular year. In watching him practice a few times in 2011 I noticed Brock does have some pretty darn good upside as a cover guy. Still, the 49ers shouldn't have to rely on him too much next year.
Free-agent class
There is only one player in free agency that can be viewed as an upgrade over Carlos Rogers: Brandon Carr of the Kansas City Chiefs. He is five years younger than Rogers and has played extremely well in press coverage, something the 49ers love to play. However, Carr would demand more money and a longer contract than Rogers.
Other than that, I really don't see anybody that could be considered an upgrade. Cortland Finnegan is a possibility, but he has regressed a little bit over the course of the last couple seasons. Brent Grimes received the franchise tag as well.
Draft class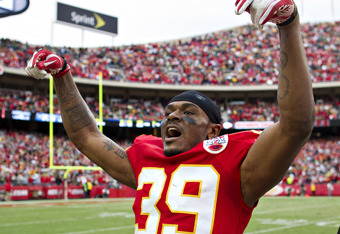 Wesley Hitt/Getty Images
This is where it gets interesting. Are the 49ers comfortable starting Tarell Brown and a rookie at corner in 2012? I am not too entirely sure about that.
With this said, the 2012 corner class is absolutely stacked. You are talking about seven or eight players that could go in the first round. Outside of the consensus top corner Morris Claiborne, I really like a couple of different players that fit the 49ers scheme.
Both Stephon Gilmore and Jamell Fleming really jump out to me. They are extremely solid in press coverage, can contribute immediately and should be in the 49ers' vicinity with the 30th overall pick of April's draft.
Janoris Jenkins, despite character concerns, also intrigues me a great deal. He has the talent to be a No. 1 corner in the NFL and would probably have been a top-10 pick if he didn't have those off-field issues. San Francisco also has the structure in place to to help him grow as an individual and a player. In short, it is one of a few franchises that offer Jenkins the "ideal" situation.
Conclusion
I think we can work under the assumption Carlos Rogers will be returning to the 49ers in 2012. It is apparent to me he has overhyped the corner market and will be crashing back down to earth relatively soon.
You are probably looking at a three-year contract at between $6-7 million a year. Anything more than that and you can expect the 49ers to let him walk.
Don't feel too bad—the 49ers have a couple underrated internal options in Culliver and Brown. Considering they are a pressure, front seven-based defense, the necessity for a true No. 1 corner really isn't there.
Either way, San Francisco will take a look at the corner position in the draft. There is no reason for it not to dip into this deep pool of players in April.