NFL Trade Odds: 5 Players the New York Giants Could Make a Play for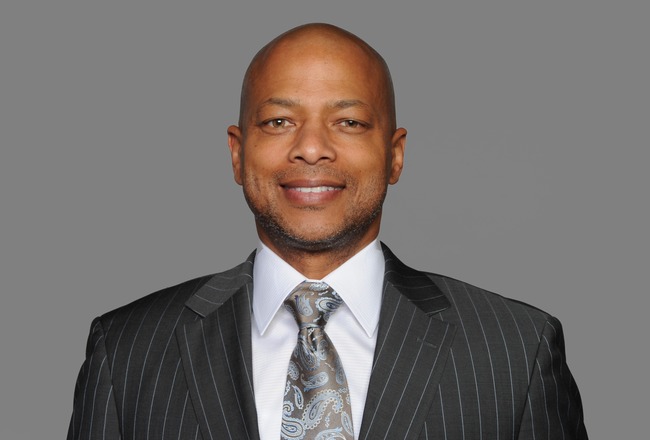 Handout/Getty Images
The NFL is unique in that not many blockbuster trades are pulled off every year, unlike Major League Baseball or the NBA.
However, given that the New York Giants have a few needs to fill, why not reflect on some low possibilities that could turn in to major rewards?
This slideshow will highlight five players the Giants could trade for, in a dream scenario. Four of the players chosen are not likely to be traded for, with the fifth being only slightly more possible.
DISCLAIMER: I realize that none of these trades are very likely—such is the nature of the NFL. This slideshow is more of a platform to reemphasize the needs for the Giants moving in to free agency and the draft.
Aaron Hernandez TE, New England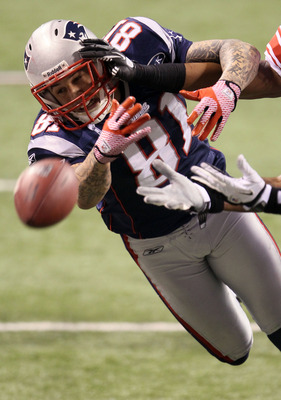 Jeff Gross/Getty Images
If you take the odds the Patriots let Aaron Hernandez go for anything less than a couple draft picks, and combine them with the odds Jerry Reese trades multiple picks for a position he values low on his scale, and you have a very low chance this deal gets done.
Stilll, the Patriots have been known to get value out of their players. They got a first round pick for Richard Seymour, and they got a third round pick for Randy Moss in 2010.
The Giants need a tight end, and Hernandez had 79 receptions for 910 yards and seven touchdowns as the No. 2 guy in New England.
Owen Daniels TE, Houston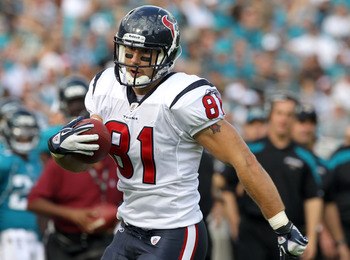 Sam Greenwood/Getty Images
Owen Daniels signed a four year, $22 million deal last off season, and the Houston Texans might be wanting to clear up some cap space for Mario Williams.
They can afford to trade Daniels because they have Joel Dreessen behind him, who filled-in great any time Daniels got hurt, which was often in 2010.
The Texans like Daniels, but if Reese offered a high enough pick, it might be too much to turn down.
Chris Ogbonnaya RB, Cleveland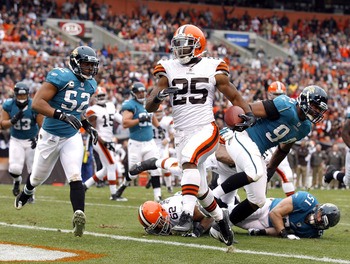 Matt Sullivan/Getty Images
Having covered the Houston Texans training camp, I was very impressed with what I saw from Chris Ogbonnaya. If the Texans were not so deep at the position, they would have kept him around.
He got four starts for Cleveland and had 90 yards in one game and 115 in another, with two marginal performances in the other starts.
Ogbonnaya would be a good backup and short yardage guy for Ahmad Bradshaw, and would come cheap as the Browns view him as their third or even fourth best option, provided all their running backs are healthy.
Marshal Yanda OG, Baltimore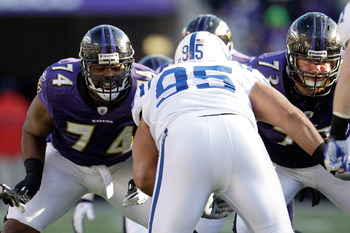 Rob Carr/Getty Images
Andre Gurode and Ben Grubbs are both free agents, but if signed could both be acceptable starters for the Ravens in 2012.
If they want to free up some cap space, they could get rid of Marshal Yanda's contract which is $4.5 million with a $6.5 million cap number due to signing bonus.
Yanda is one of the better guards in the league, and could instantly improve a group on the Giants that was awful in the regular season.
Of course, it would cost a pretty penny to get him.
Jeremy Trueblood OT, Tampa Bay Buccaneers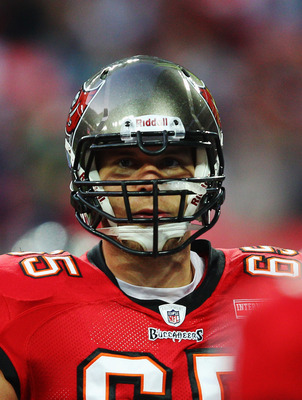 Warren Little/Getty Images
Fresh off plucking former Giants defensive coordinator Bill Sheridan to run the defense and former QB coach Mike Sullivan to run the offense, maybe the Bucs would be interested in another Giant.
If the Giants and Osi Umenyiora cannot come to terms on a deal, maybe a switch of lineman would benefit both sides.
The Giants would be upgrading their offensive line and getting rid of a distraction (at least he was in the past), and the Bucs would be vastly upgrading their pass rush with a chance to replace Trueblood with the No. 5 pick in the draft.
Either Matt Kalil or Riley Reiff will almost certainly still be alive at No. 5, so it would be a great situation for them if this were pulled off.
Although this makes a lot of sense for both sides, trades like this rarely happen in the NFL.
Keep Reading

New York Giants: Like this team?