March Madness 2012: Teams That Live or Die by the 3-Ball
March 7, 2012

Jonathan Daniel/Getty Images
The saying "live or die by the 3-ball" couldn't be more true for these teams.
Relying so heavily on the three-pointer means if teams suffer a cold-shooting night, they could find themselves on the wrong side of an upset. Conversely, it means they could get hot and make a deep run into March.
Here's a look at the teams that rely most on the deep ball, and what it means for their tournament chances.
Michigan Wolverines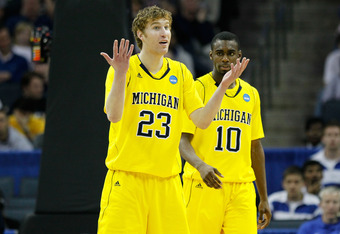 Kevin C. Cox/Getty Images
The Wolverines have four players who have attempted over 100 three-pointers on the season, and as a result see 36.5 percent of their scoring come from deep.
Their offense largely consists of Trey Burke or Tim Hardaway Jr. driving and kicking, and as long as Hardaway (5.6 attempts per game at 29 percent) doesn't get too comfortable behind the arc, the Wolverines will be able to live with this strategy.
Wisconsin Badgers
Under Bo Ryan, the Badgers have always played the same way: concentrate on hard-nosed defense, and then when on offense, wait until there are 10 seconds on the shot clock before starting the offense.
Usually, that type of offense results in a three-pointer almost every possession, and this year is no different.
The Badgers see 36.1 percent of their offense come from behind the arc.
This strategy tends to work for Bo Ryan's squads during the regular season, but it has never translated to much postseason success.
Wisconsin has only reached the Elite 8 once and has been upset multiple times during Ryan's tenure.
Unless Jordan Taylor takes over, don't be surprised if the Badgers are upset early in March.
VCU Rams
Last year's Cinderella may have lost a bunch of key players, but Shaka Smart's team plays the exact same style.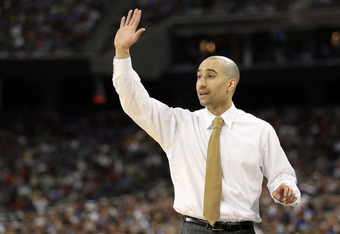 Andy Lyons/Getty Images
The Rams put on the full-court press 40 minutes per game and then launch a bunch of threes on offense, which mostly come from Bradford Burgess and Troy Daniels.
VCU separates itself from everyone else on this list because of its ability to quicken the pace.
Not only do the Rams shoot a lot of threes, they are able to generate more possessions if they aren't hitting.
As a result, it is a lot harder for them to "die" by the three.
I like the Rams to make another deep run in the tourney.
Virginia Cavaliers
Tony Bennett's squad plays at an absolute snail's pace, which makes every possession and every attempted three-pointer that much more important. 
They have the ability to go down low to Mike Scott, one of the best players in the ACC, but other than that the Cavaliers rely heavily on the three, but only shoot it at 34 percent.
If they aren't hitting, it's likely they'll get caught up in a low-scoring battle. When that happens, any upset is possible.
An early upset won't necessarily happen, but with the way Virginia plays, the Cavaliers are vulnerable in any and every game.
Louisville Cardinals
Louisville has 35.3 percent of its points come from the deep ball, but they are much more able to score inside and on the break than other teams on this list.
Peyton Siva is incredibly quick to the basket, while Chris Smith and Kyle Kuric are explosive scorers from all over the court.
The Cardinals also have a traditional big man in Gorgui Dieng, which teams like Wisconsin and Michigan don't really have.
If push comes to shove, I'm a believer Louisville will find other ways to score.
That, and their zone defense is suffocating.