NBA Trade Rumors: Luke Ridnour Is Realistic Option for Trail Blazers at Deadline
March 7, 2012

Jeff Gross/Getty Images
The Portland Trail Blazers will be active at the NBA trade deadline. A player like Luke Ridnour is more obtainable for Portland than someone like Rajon Rondo, Steve Nash or Jose Calderon.  
According to Dwight James of CSNW.com, there are a ton of trade rumblings going around the Portland front office days before the deadline. 
I do believe there is something to all the talk of Portland sending Jamal Crawford to Minnesota for Luke Ridnour. There's no getting around the fact that Nate McMillan seems to prefer using Wesley Matthews as the backup shooting guard over Crawford. If that's the case, with Nic Batum now firmly ensconced in his rightful position as the starting shooting guard, Crawford isn't going to get the minutes he deserves. If that's the case, move him and move him as soon as possible. I'm not sure what they were thinking of by bringing him here in the first place. 

I also been told by league sources that the Ridnour trade is a backup plan for the Blazers, who are still hard after another point guard. That could be Nash, Rajon Rondo or Jose Calderon. 
If the Trail Blazers would look to add someone like Nash or Rondo, they more than likely would have to give up one of their top players plus a No. 1 draft pick, which could end up being a lottery pick in this year's draft.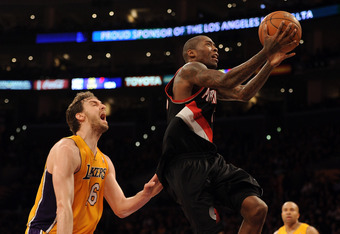 Harry How/Getty Images
However, playing it safe and adding Ridnour from Minnesota would be the best decision.  
Earlier in the week Portland was rumored to have heard from teams, like Minnesota, interest in Jamal Crawford.  Crawford is underperforming in Portland this year, while coming off the bench. He is a free agent at the end of the season and could leave the team once the season ends. 
However, trading for Ridnour would mean that Portland has a player signed at a nice cap hit of only $4.3 million through 2013.  
Ridnour is a good player whom Portland fans would welcome on their team. It is why the Trail Blazers front office needs to stay away from paying too much for Rondo or Nash at the trade deadline.