Hockeytown, Germany: Detroit Red Wings Fanbase Holds Strong Abroad
March 7, 2012

Al Bello/Getty Images
The Detroit Red Wings hold a strong fan base wherever they go.
From Boston to San Jose, from Winnipeg to Tampa Bay, waves of red can always be seen infiltrating the "home" crowd. Oft are the times when a "Let's Go Red Wings" chant can be heard in an away arena.
A few years ago, seven players on the Detroit line-up hailed from Sweden. This contributed to the NHL deciding that the Red Wings would play their first two games of the 2009-10 season in Stockholm, Sweden.
Tickets for the two games sold out in less than one hour.
This story may be about the Wings international fan base, but it starts in the beating heart of downtown Detroit.
I was standing outside the Rosa Parks Transit Center on the corner of Michigan and Cass Ave. when I heard two 20-somethings walking up speaking German. They stopped in front of me and asked if I was waiting for the bus to Chicago.
"Yes," I replied.
"So you are a Red Wings fan?" the man asked, indicating toward my black hat with the winged wheel displayed up front.
"Do you know what city you're in?" I replied.
"We love the Wings," he said. "It's why we are here!"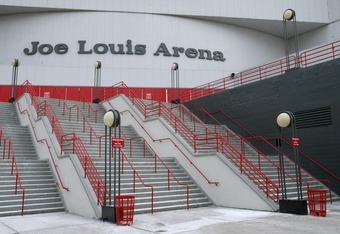 Dave Sandford/Getty Images
Just as many Americans have the desire to travel through Europe, Europeans have that same desire to see America. The two men I came to know as "Philipp" and "Harald" arrived in New York and immediately took to the streets. They continued through Boston and Philadelphia trying to hit as many major cities as possible.
When they started planning their trip they said, "If we are going to America, we have to see the Red Wings." 
They made their way to Detroit and into Joe Louis Arena.
"What did you think of the Joe?" I asked.
"Amazing!" Philipp said.
"Lots of steps," Harald jokingly added.
Philipp and Harald grew up knowing the sport due to the hockey centre near their hometown just outside Munich. This is where they learned to skate. This is where they picked up their first stick. This is where they learned the rules and how to play. They would watch and take part in various pickup games and club leagues.
But it was nothing like the 20,066 seats of Joe Louis Arena.
Philipp and Harald went to two games. They saw the Wings win in a six goal romp of the Minnesota Wild. At that game, they saw Brendan Smith's first NHL goal and Jimmy Howard get a shutout.
They saw the war of I-94 when Detroit faced Chicago in a 2-1 loss. At that game, they witnessed two original six division rivals. They saw Brendan Smith land punch after punch on Andrew Shaw in a fight.
"We even saw someone (Patrick Sharp) get Kronwalled!" Harald said.
I do not know if it was the fact that the term "Krownwalled" had made it to Germany or the inflection Harald used to say it through his thick German accent, but something about that statement made me laugh hysterically.
The one thing they did not see was Nicklas "The Perfect Human" Lidstrom who missed both games with an ankle injury.
"He NEVER misses a game!" Philipp said shaking his head. "Why these two?" he asked himself in a half mocking, half sincere disappointment.
"We will just have to come back," Harald said.
"I hope you do," I said
I hope they do.
Philipp, Harald and I talked for awhile about the Wings. They do not get to see many NHL games in Germany. When they do, it is the luck of the draw for which teams are televised.
Philipp and Harald became Wings fans citing reasons such as the team's rich history, the quality and class of players, the style of play and successes over the past 20 years.
All of those things have made the Detroit Red Wings a fun team to follow, no matter what continent you are on.