NY Rangers: Brandon Dubinsky May Be Odd Man out When Chris Kreider Arrives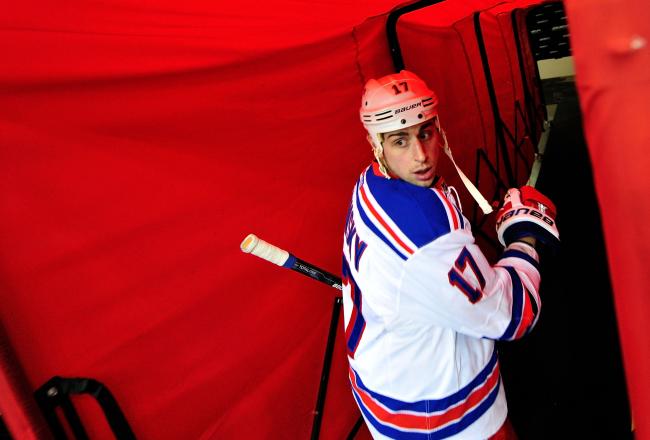 Brandon Dubinsky
Grant Halverson/Getty Images
Brandon Dubinsky is young, big and fast. He has shown a propensity for much of his career to not shy away from the physical aspects of the game, to be a digger and a fighter and someone who the opposition knows will not yield easily.
Despite all of the aforementioned attributes, though, he is also in the midst of what is by far his most disappointing NHL season to date.
Coming off a 24-goal, 54-point performance in 2010-2011, the expectations for Dubinsky were raised. The primary expectation, above all others, was that he would be a consistent, contributing offensive threat on one of the top two lines. It was hoped he would provide a go-to option for either newly acquired Brad Richards or one of the other two centers being groomed for top line duties, Artem Anisimov and Derek Stepan. This was etched in stone, unquestioned and beyond a doubt.
Something, though, as they say, happened on the way to the forum, or in this case on the way to Madison Square Garden.
Dubinsky somehow began to melt into the background offensively essentially from day one, putting listless shift after listless shift together while missing a number of early-season scoring opportunities.
Overall, the Rangers as a team were not playing well to start the season of course, struggling particularly on the offensive end of the ice. A major reason behind the offensive struggles, though, was Dubinsky's disappearance. There was no Carl Hagelin to lighten the load, Derek Stepan had yet to be paired with Marian Gaborik, and Brad Richards, then as now, was not producing as expected.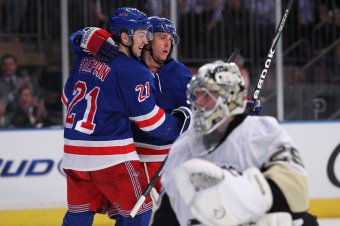 Stepan and Hagelin celebrate a goal.
Al Bello/Getty Images
So while the team has struggled to achieve a consistent offensive attack for much of the season, the reality is that there have been contributions from the Hagelins, Stepans and Artismovs of the world, not to mention a defense that has matured to the point where they've collectively become a legitimate component of the offense.
Regardless of the fact that opponents have typically been focusing on other elements of the Rangers' attack, Dubinsky has not seized the opportunity to contribute offensively on a consistent enough basis for coach John Tortorella to reward him with ice time on either of the top lines.
Dubinsky, rather, has typically been deployed in the role of third- or fourth-line checker, teamed with Brian Boyle and Brandon Prust more often than not.
This was not part of the plan by any means, and it has to be viewed as a major contributing factor behind the organization's serious interest in pulling the trigger on a deadline deal for Columbus' Rick Nash. The deal didn't go through, of course, but it's no small coincidence that Dubinsky was slated to be part of any package going the other way.
That Tortorella has given Dubinsky as many chances to rediscover his game as he has is a sign of just how much Tortorella is pulling for the young winger. Despite this being the case, Tortorella does not appear willing to grant Dubinsky carte blanche as the team heads down the stretch.
Tortorella, after a recent loss in Tampa where Dubinsky made a costly mental error, was quoted as saying to Newsday: "As much as I like this kid, and as much as I think he can do some good things for us, we need to start seeing it . . . now. Not that . . . Play and try to help us."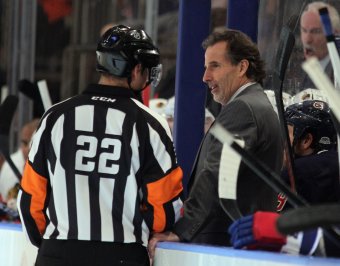 John Tortorella
Bruce Bennett/Getty Images
This does not bode well for Dubinsky, especially considering it is quite possible, if not likely, according to recent comments by Rangers GM Glen Sather, that the Rangers' 2009 No. 1 pick (19th overall), Chris Kreider, will be joining the team once his Boston College season ends, perhaps as soon as April 7.
Kreider, it just so happens, is also a young, big, and fast left winger himself, except he's younger, bigger AND faster than Dubinsky.
With the team continuing to struggle offensively, it would not be shocking to see Kreider laced up for the Rangers come playoff time, and not just laced up but perhaps even replacing Dubinsky in the lineup, presuming Dubinsky is recovered from the hand injury suffered in the Rangers' 4-1 loss to the Devils last night.
If this all sounds unbelievable, keep in mind this is New York and that the owners of the Rangers still have to pay for the $1 billion worth of renovations underway on the Garden. The more the team advances in the playoffs, the more money the organization makes from attendance and television deals, and don't think this wont be a factor in the decision-making process regarding Kreider.
Putting Kreider in the lineup makes sense hockey-wise as well, of course.
There are many examples of players coming straight from the Olympics, for instance, and then stepping into a prominent role on an NHL team just in time for the NHL playoffs. Think Pat Lafontaine for the Islanders in 1984, Chris Chelios that same year, Brian Leetch in 1988 for the Rangers, and Keith Tkachuk for Winnipeg in 1992.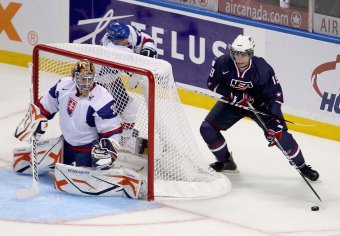 Chris Kreider (right)
Rick Stewart/Getty Images
With Tuesday's defeat fresh in management's mind, specifically the fact that once again the team struggled to finish offensively, the likelihood of Kreider being on the roster for the upcoming playoffs becomes a near-given.
That his presence on the roster will result in the benching of Dubinsky is less certain, of course, but with seven goals in 62 games, Dubinsky has given life to the possibility.
If Kreider is healthy, he will play, and many of the other possible scratches other than Dubinsky have specified roles or bring something to the game that Dubinsky has not.
It would be an unfortunate development, as Dubinsky is well-respected in the Rangers locker room and much loved by the fans. But this is New York and these are the Rangers, and there are 18 years separating the organization from its last Stanley Cup victory. It may not be 54 years, but there is no time like the present.
This article is
What is the duplicate article?
Why is this article offensive?
Where is this article plagiarized from?
Why is this article poorly edited?

New York Rangers: Like this team?