ACC Tournament Schedule 2012: Players Who Contenders Are Relying on the Most
March 6, 2012

Streeter Lecka/Getty Images
The 2012 ACC Tournament is sure to be a thriller, and if the top teams are going to succeed they'll need their best players to perform at an elite level. 
As with every March, teams turn up the intensity, so winning it all will be no easy task. 
If the best of the best play at their full potential, then their teams have a much better chance of winning it all. 
That being said, here are three players that are being counted on the most by their respective teams.
Tyler Zeller, North Carolina 
As the senior leader, Zeller has to rise up and put the Tar Heels on his back. He's a powerful player capable of putting up big numbers, which is something that has to happen throughout the course of the tournament.  
Zeller helped North Carolina win the ACC regular season, but should the Tar Heels fail to win the ACC Tournament, the regular season title won't mean much of anything. 
This is what teams have worked hard for all year long, plus it is a great warm-up to the NCAA Tournament. The Tar Heels can't afford to flop, which is why they'll be looking to Zeller to make things happen. 
The talented big man averaged 16 points and nine rebounds on the year, but he definitely has the skills to drop 20 or more points on any given night. North Carolina needs him at his best if they're going to win big. 
Austin Rivers, Duke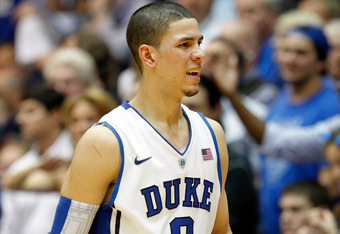 Streeter Lecka/Getty Images
While the Blue Devils must get great play from their big men, the Plumlee brothers, they're only going to go as far as Rivers takes them. 
He's the best player on the team and the hope is that Rivers will be able to shine bright in each game.
Duke is very angry at how the season ended, which will motivate all the players to excel in the tournament. 
In his last five games Rivers averaged 16 points, but he could have done better in each one. He's got the talent to score big, and the Blue Devils are relying on him to help the team thrive. 
Michael Snaer, Florida State 
The Seminoles' best player, Snaer will have to carry the load if Florida State is going to go on an improbable run.
As the No. 3 seed, the Seminoles are likely to face Miami in their first game. They lost to the Hurricanes a week ago, so this will be a challenging test for them. 
If they win that game, the Seminoles next opponent would then probably be Duke. They did manage to beat Duke before, thanks to a clutch shot from Snaer, but doing it again won't be easy. 
In order for Florida State to succeed, Snaer has to deliver big-time. He's on a roll right now, averaging 16 points in his last five games, but this hot streak will have to continue if the Seminoles are going to win it all. 
2012 ACC Tournament Schedule 
| | | | | | |
| --- | --- | --- | --- | --- | --- |
| Round | Game | Date | Matchup | Time | Television Schedule |
| First | 1 | Thursday, March 8th |  #8 Maryland vs. #9 Wake Forest | Noon | ESPNU / ACC Network |
| First | 2 | Thursday, March 8th |  #5 NC State vs. #12 Boston College | 2 p.m. | ESPNU / ACC Network |
| First | 3 | Thursday, March 8th | #7 Clemson vs. #10 Virginia Tech | 7 p.m. | ESPNU / ACC Network |
| First | 4 | Thursday, March 8th |  #6 Miami vs. #11 Georgia Tech | 9 p.m. | ESPNU / ACC Network |
| | | | | | |
| Second | 5 | Friday, March 9th | #1 North Carolina vs. Game 1 winner | Noon | ESPN2 / ACC Network |
| Second | 6 | Friday, March 9th |  #4 Virginia vs. Game 2 winner | 2 p.m. | ESPN2 / ACC Network |
| Second | 7 | Friday, March 9th |  #2 Duke vs. Game 3 winner | 7 p.m. | ESPN2 / ACC Network |
| Second | 8 | Friday, March 9th |  #3 Florida State vs. Game 4 winner | 9 p.m. | ESPN2 / ACC Network |
| |   |   |   |   |   |
| Semifinals | 9 | Saturday, March 10th |  ACC Semifinal 1 | 1 p.m. | ESPN / ACC Network |
| Semifinals | 10 | Saturday, March 10th |  ACC Semifinal 2 | 3 p.m. | ESPN / ACC Network |
|   |   |   |   |   |   |
| Final | 11 | Sunday, March 11th |  Championship Game | 1 p.m. | ESPN / ACC Network |