Chicago Blackhawks: 4 Reasons Johnny Oduya Will Help in the Playoffs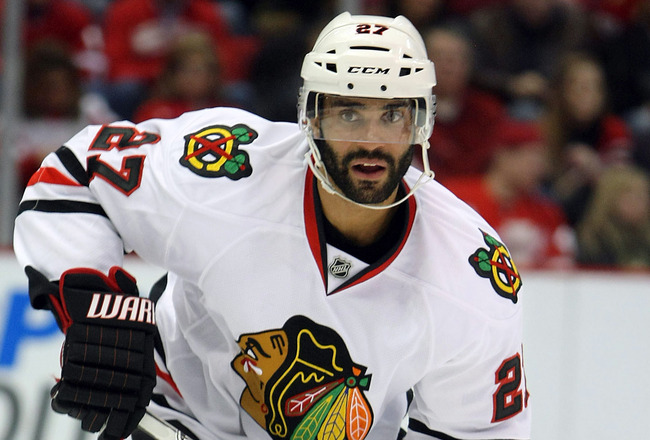 Dave Sandford/Getty Images
Many fans were very underwhelmed last week when the Blackhawks traded for Johnny Oduya.
They acquired Oduya from the Winnipeg Jets for a second- and third-round pick in the 2013 draft, which seems like a lot for me.
However, sometimes the under radar moves are exactly the right move to make.
In his first three games, the Hawks are 3-0, and after a rocky first period he has been very solid.
They first paired him with Brent Seabrook and things seemed like a disaster as the Maple Leafs jumped out to a 3-1 lead.
However over the last 160 minutes of hockey it has been a very different story.
So with only 15 games left until the playoffs, how will Oduya be able to help the Hawks reach their one goal?
Make sure to follow me on Twitter @dachicagofan and check out my weekly Hawks podcast every Friday on my site The MG Experience.
Penalty Kill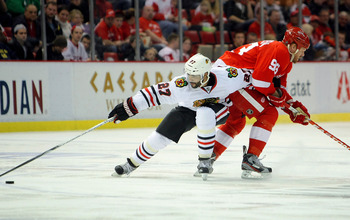 Dave Sandford/Getty Images
In his three games since the Hawks acquired Oduya, their penalty kill has been pretty good.
They have stopped seven of the eight chances, and the one they missed came in his first game against the Maple Leafs. That is good for 87.5 percent, which is dramatically better than their season average.
They have been only stopping 78.2 percent of all power play chances this season.
His presence allows the Blackhawks to stop relying so heavily on youngsters like Nick Leddy and Dylan Olsen.
Not Afraid to Block a Shot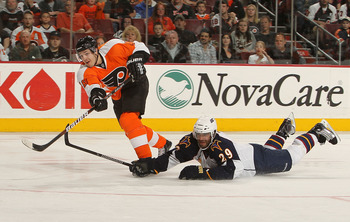 Nick Laham/Getty Images
In only three games with the Blackhawks, Oduya has blocked seven shots.
This season, he has blocked a total of 105 shots in 66 games. That is good enough for fourth on the team.
He provides coach Joel Quenneville something he hasn't had since the Stanley Cup winning season, and that is four defensemen willing to block a shot.
It has been something they have desperately been missing since Brent Sopel was traded to the Thrashers.
With so few forwards on the team willing to lay down to block one, it is nice to have another guy on the back end that is willing to do the job.
Toughness
Marianne Helm/Getty Images
You won't ever confuse Oduya with John Scott but he isn't afraid to drop the gloves.
Oduya actually is a pretty clean skater. Besides his rookie year, he has never had more than 50 penalty minutes in any season.
Also, he seems to be the perfect complement to Nick Leddy since the two were paired during the Toronto game.
It will be interesting to see how the pairing shakes out if and when Steve Montador and Niklas Hjalmarsson return.
Lighten the Load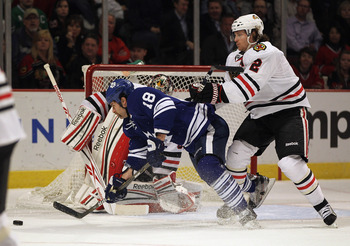 Jonathan Daniel/Getty Images
While it hasn't been seen yet, Oduya is going to help lighten the load that has been carried by Brent Seabrook and Duncan Keith.
Keith and Seabrook routinely get between 25 and 30 minutes a night, but with the addition of Oduya and the eventual return of Hjalmarsson that might not be the story anymore.
Oduya has seen his minutes rise in his first three games with the Hawks. In his first outing, which he struggled during, he played in only 19 minutes. He was on the ice for three of Toronto's goals that game.
Since then, he played 22 minutes against the Senators and then over 25 minutes Sunday against Detroit.
Giving coach Joel Quenneville five solid defensemen that can take regular shifts might be the biggest thing he provides in the playoffs.
Keep Reading

Chicago Blackhawks: Like this team?