Big East Tournament 2012: Marquette Will Earn Respect After Tourney Domination
March 6, 2012

Jonathan Daniel/Getty Images
The Big East continues to be dominated by Syracuse basketball, but we will all know who Marquette is by the end of the conference tournament, and we will fear them. 
We have been told all week that the Big East is Syracuse, and then a bunch of programs that are just trying to vie for second place. 
That's some big talk when we all know full well that this is the time of year for upsets. The regular season is just a nice little warm-up to the pressure cooker of the Big East tournament and the subsequent big dance in the NCAA tourney. 
Syracuse is as deep as they come and have just one lone misstep to speak of, but Marquette is a battle-tested program that has been playing a solid brand of basketball all season. 
And it's time we woke up. 
Marquette comes in as the No. 9 team in the nation and will have a bye until Thursday night. They are 8-2 in their last 10 games and had one giant hiccup in their loss to Cincinnati, but a reprieve of sorts when they closed out the season against Georgetown.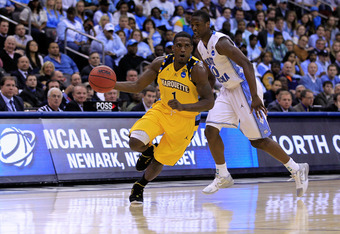 Chris Trotman/Getty Images
Marquette plays an exciting brand of ball that includes a great wealth of passing and sharing of the rock. If there is one team to watch for entertainment purposes, you couldn't do much better. 
But they are more than show, because this team can ball and houses two of the better players entering tournament season. 
I love Jae Crowder and what he gives Marquette in a big man that can hit the boards and score, but you want a point guard that can deal with enormous pressure. 
Marquette has precisely the player this tournament demands in Darius Johnson-Odom. He is the reason I have Marquette pegged for a stirring weekend of basketball at Madison Square Garden, and a dark horse to do some tremendous damage deep into March. 
Johnson-Odom can ignite at any moment, filling the stat sheet with points. Marquette will live or die by his hands, and I have confidence this is his time to shine. 
This month breeds superstars. By the end of it we will know exactly who Johnson-Odom is, and we will certainly recognize Marquette as one of the top programs in the nation.