NCAA Tournament 2012: Predicting the Top 5 Seeds in Each Region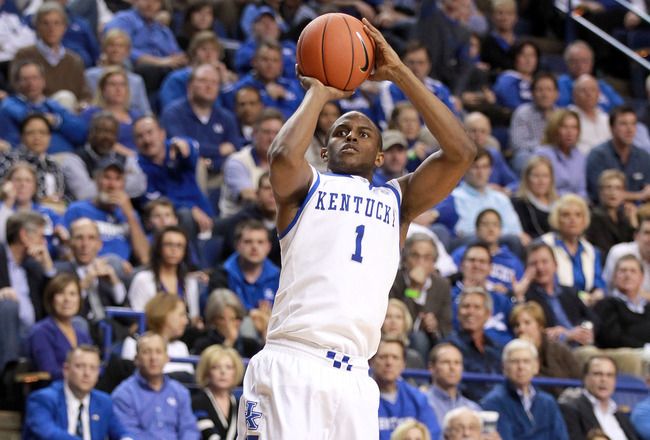 Andy Lyons/Getty Images
One of the best Sundays is less than one week away.
Selection Sunday features surprises, heartbreak or excitement for the majority of college basketball fans.
This year's field features some of the best competition the NCAA has had in a while.
Teams such as Kentucky, Syracuse and North Carolina have proven themselves as tournament favorites, while surprise teams such as Missouri, Baylor and Murray State have proven doubters wrong game after game.
What makes this time of year so enjoyable is the mystery factor. Who will be this year's Butler? Who will become a nationwide sensation such as Stephen Curry? Which underdog coach will impress the world just like Shaka Smart or Brad Stevens?
We will learn the answers to all these questions within the next month, as we get ready for the madness.
Now, let's take a look at some possible scenarios in this year's bracket. Who is going to get a No. 1 seed? Who earned a No. 2 seed?
To make it easy on everyone, I came up with my top five seeds for each region in this year's March Madness tournament. Check them out.
South Region No. 1: Kentucky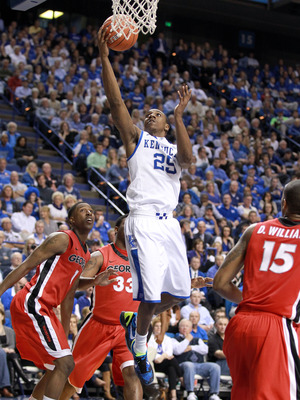 Andy Lyons/Getty Images
There is absolutely no debate here. Kentucky has been the best team all year long and has beaten top opponents handily throughout their campaign.
Syracuse may have an argument, but it seems that Kentucky will not have much competition for the No. 1 overall seed.
Keep track of the SEC and Big East tournaments to see possible upsets that could eventually change this spot.
South Region No. 2: Michigan State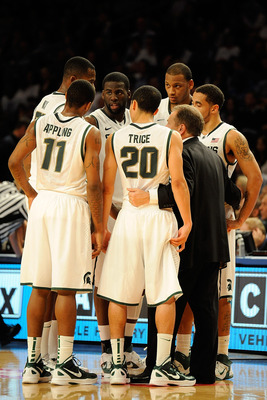 Patrick McDermott/Getty Images
Although they were not pre-ranked in the AP Top 25, the Spartans have had a tremendous season thus far.
By finishing with a 24-7 record, fifth-ranked RPI and No. 1-ranked strength of schedule, Michigan State has proven itself worthy of a No. 2 seed.
They compiled quality wins throughout the season, including a sweep of Wisconsin, a win at Ohio State and other wins against Florida State, Gonzaga, Indiana and Michigan.
Some may not consider this team a top contender for the title, but never count out a Tom Izzo-coached club.
South Region No. 3: Georgetown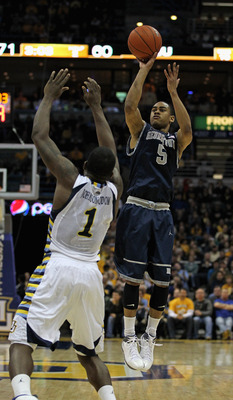 Jonathan Daniel/Getty Images
This Georgetown team has flown under the radar this season.
With the success of Big East rivals Syracuse and Marquette, John Thompson III has put together a team that should make everyone do a double take.
Georgetown began the season on fire, winning 13 of their first 14 contests. The loss came at the Maui Invitational to Kansas.
Along with their recent dominating victory against Notre Dame, the Hoyas also have quality wins against Marquette, Louisville and Memphis.
Georgetown ended their season with a 22-7 record, an RPI ranking of 10th and an SOS ranking of ninth.
South Region No. 4: Indiana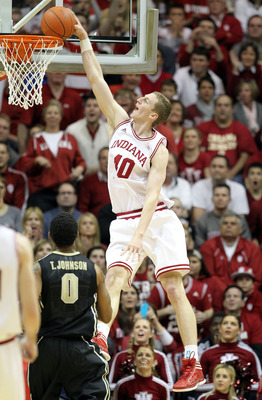 Andy Lyons/Getty Images
They're back.
Indiana basketball, which has been disappointing the last few seasons, has finally become a contender again in the March Madness field.
After finishing the season with a 24-7 record, the Hoosiers are ranked 15th in the nation.
Coach Tom Crean has led this team to huge victories this season, most notably against No. 1-ranked Kentucky.
Along with that shocking victory, Indiana also grabbed huge wins against Ohio State, Michigan, Michigan State and Notre Dame.
Their RPI rank is 11th with an SOS ranking of 27th; this should be sufficient enough, along with their strength of victories, to nab a No. 4 seed.
South Region No. 5: Florida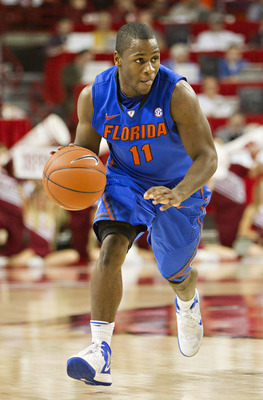 Wesley Hitt/Getty Images
After last season's disappointing exit, the Florida Gators are back to seek revenge.
Finishing 19th in the country with a 22-9 record, Billy Donovan's Gators are limping into the tournament after losing three straight SEC games to Georgia, Vanderbilt and Kentucky.
Florida had quality wins against Florida State, Arizona and Mississippi State but also had their share of bad losses to Georgia and Rutgers.
Their record, along with their RPI rank of 29th and SOS ranking of 37th, should provide the Gators with a No. 5 seed come Sunday.
East Region No. 1: Syracuse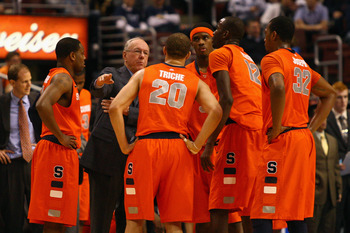 Chris Chambers/Getty Images
As long as Kentucky takes care of business in the SEC tournament, the overall No. 1 seed is basically locked up.
But the Orange are not trailing far behind the Wildcats, finishing with a mirror record of 30-1. Their only loss came against a Top 25 team in Notre Dame on the road.
Syracuse began the season 20-0 before their loss in South Bend. After that loss, the Orange went on a rampage, winning their final 10 games. They beat Louisville twice, Connecticut twice, Georgetown and West Virginia.
Coach Jim Boeheim's team has the No. 1 RPI and an SOS ranking of 28th along with their near-perfect record, which has secured a No. 1 seed in this year's tourney.
East Region No. 2: Duke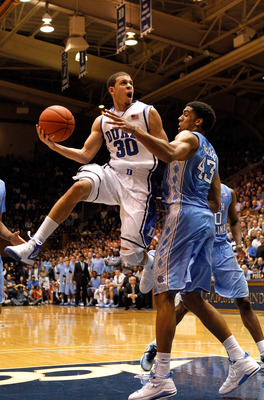 Streeter Lecka/Getty Images
No surprises here.
The Duke Blue Devils finished their season with an impressive 26-5 record and a national ranking of No. 6.
Many Duke fans are disappointed with the recent loss to rival UNC, which determined the regular-season ACC title.
But the Blue Devils' season was still extremely strong. Duke has quality wins against North Carolina (in Chapel Hill), Michigan, Kansas and Virginia.
Coach Mike Krzyzewski's team has the second-toughest SOS and ranks fourth in RPI. Their performance throughout the season will easily earn them a No. 2 seed here.
East Region No. 3: Marquette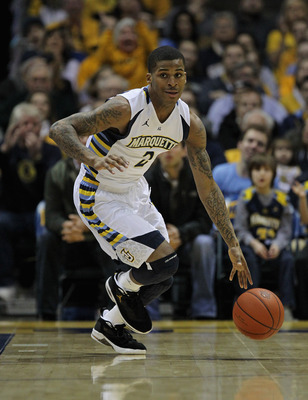 Jonathan Daniel/Getty Images
The Golden Eagles of Marquette posted a stellar 25-6 record in their 2011-2012 campaign.
With big wins against Georgetown, Louisville, Wisconsin and Cincinnati, Marquette is in a great position heading into Selection Sunday.
Darius Johnson-Odom is playing at his highest level of the season, averaging over 18 points per game.
The Golden Eagles hold the No. 2 seed in the Big East tournament and depending on how they play this weekend, they may have a chance to bump up their March Madness seed to a No. 2.
Marquette has an RPI rank of seventh and its SOS ranks 16th in the nation.
East Region No. 4: Wichita State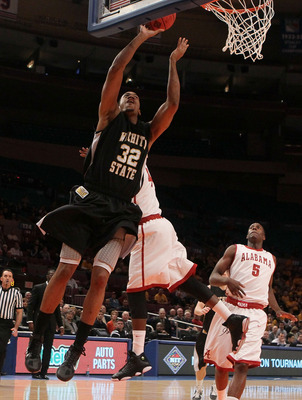 Jim McIsaac/Getty Images
The Shockers blew an eight-point halftime lead against Illinois State in the MVC semifinal this weekend, but that won't have a severe impact on their seeding.
Wichita State finished up the season at 27-5. Its quality wins came against UNLV and Creighton on the road by about 20 points.
Although not many people may know about this team right now, many will in the next month or so.
Garrett Stutz leads the team with nearly 14 points per game along with eight rebounds. The team as a whole shot just under 50 percent on the season, ranking in the top 12 in that category.
With the way mid-majors have played the past decade, look out for Wichita to "shock" the world.
East Region No. 5: Louisville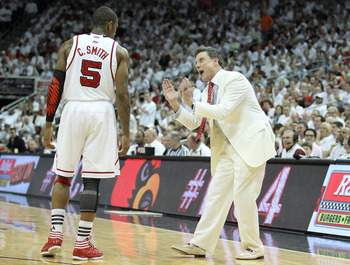 Andy Lyons/Getty Images
The Louisville Cardinals finished the season unranked but with a respectable 22-9 record overall.
Playing in the tough Big East, Louisville struggled down the stretch, losing four of its final six games.
It is a good thing this team started off strongly—otherwise, they would be looking at an eighth or a ninth seed, which are the deadliest seeds.
I am giving Louisville the benefit of the doubt with this seed prediction because of the Cardinals' RPI and SOS, which are 28th and 15th respectively.
West Region No. 1: North Carolina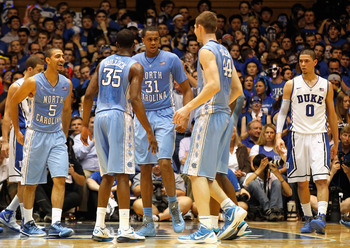 Streeter Lecka/Getty Images
The Tar Heels wrapped up their season with a convincing 18-point victory over the Dukies, giving them the regular-season ACC championship and most likely a No. 1 seed this Sunday.
North Carolina has proven itself well-deserving of a No. 1 seed after winning at Duke, sweeping Virginia and beating Wisconsin.
Harrison Barnes may be streaky at times, but he is still one of the best players in the country. With Barnes accompanied by fantastic point guard Kendall Marshall and forwards Tyler Zeller and John Henson, the Tar Heels are looking strong heading into Selection Sunday.
Their RPI ranking is third to go along with their fifth-ranked SOS.
West Region No. 2: Missouri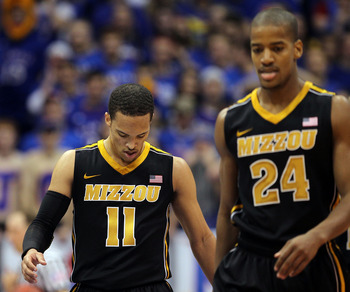 Jamie Squire/Getty Images
Missouri started off the season a perfect 14-0 and scored over 80 points in its first 11 games.
There is no doubt that with Marcus Denmon this team can flat-out score. The question is: Will they be able to defend?
This season, the Tigers have strong wins against Baylor twice, Kansas and Cal (by 40).
Mizzou finished second in the Big 12 Conference, posting a 27-4 overall record and 14-4 conference record.
The Tigers have earned a No. 2 seed this season and will most likely be rewarded with one.
Missouri has an RPI ranking of 16th but a lower SOS of 81st. The SOS should not hurt the Tigers' seeding placement come Sunday.
West Region No. 3: Michigan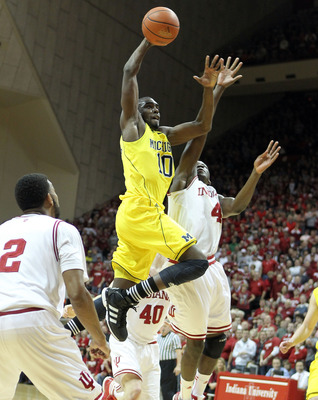 Andy Lyons/Getty Images
Michigan finished up its season ranked 10th in the country (23-8).
With wins against Ohio State, Michigan State, Indiana and Wisconsin, the Wolverines have a strong case for a No. 3 seed this year.
Trey Burke and Tim Hardaway Jr. are fantastic offensive weapons that could make for a deadly combination.
After defeating Penn State in its final game of the regular season, Michigan pulled into a three-way tie for the best conference record at 13-5 on the season.
The Wolverines have strong RPI and SOS rankings of 12th and 11th respectively.
West Region No. 4: UNLV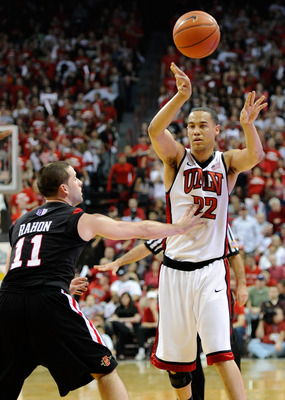 Ethan Miller/Getty Images
This one is a tough call.
After comparing UNLV and Florida State, I decided to go with the Runnin' Rebels.
UNLV has great wins against UNC, Cal (by 20) and San Diego State.
Mike Moser leads the way offensively in points and rebounds, and the fast-paced gameplay is tough to match.
The Runnin' Rebels average nearly 80 points per game and dish out the second-most assists per game with 18.2.
Florida State had a few big wins but also had some huge lapses this year against Boston College, Clemson, Princeton and Harvard. The Seminoles are a solid team and could do some damage this year, but they didn't earn a No. 4 seed.
UNLV finished the season with a 25-7 record, an RPI ranking of 14th and a top-50 SOS.
West Region No. 5: Florida State
Grant Halverson/Getty Images
The Seminoles finished the regular season at 21-9 in a difficult conference.
Michael Snaer led the team in scoring with nearly 15 points per game, and the defense played stingy all season.
The Seminoles are getting the fifth seed from me simply because of their strength of victories. Beating North Carolina and Duke, along with sweeping Virginia, puts them into this slot.
This team is fortunate they grabbed these clutch victories because they had some bad losses, as you saw in the last slide.
Florida State finished 17th in the country, with a 24th-ranked RPI and 12th-ranked SOS.
Midwest Region No. 1: Kansas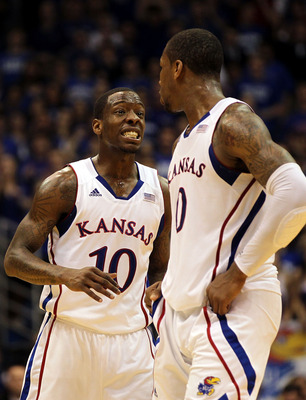 Jamie Squire/Getty Images
Kansas was another team that flew under the radar this season.
After finishing up the regular season with a 26-5 record, Kansas is storming into March Madness.
The Jayhawks have won their last eight games, including victories against two Top Five teams in Missouri and Baylor.
Junior forward Thomas Robinson leads the way with 18 points per game along with 12 rebounds. Guard Tyshawn Taylor is a great wingman for Robinson, averaging just under 18 points per game and five assists.
These two studs give Kansas the opportunity to go deep into the tourney.
The Jayhawks rank sixth in RPI and seventh in SOS, which makes their season even more impressive.
Midwest Region No. 2: Ohio State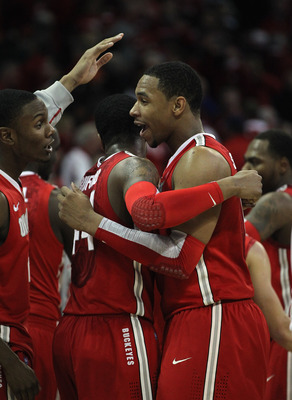 Jonathan Daniel/Getty Images
THE Ohio State University had a solid 2011-2012 season. The Buckeyes finished with a 25-6 overall record and a No. 7 ranking in the nation.
Jared Sullinger was a force when healthy, averaging nearly 17 points per game and 10 rebounds.
Wins against Indiana, Michigan State, Wisconsin and Michigan are going to help out the Buckeyes on Sunday, as they try to capture a No. 2 seed.
With an RPI of eighth and an SOS of 10th, Ohio State clinches a No. 2 seed in my bracket.
Midwest Region No. 3: Wisconsin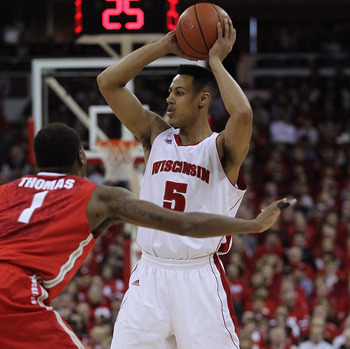 Jonathan Daniel/Getty Images
For the No. 3 seed in this region, I have selected the Badgers of Wisconsin. They finished the year with a 23-8 record overall and a 12-6 conference record.
This season, Wisconsin had some great wins over top teams such as Ohio State, Indiana and UNLV.
The Big Ten was relatively strong this season with Michigan State, Indiana, Michigan and Ohio State, so having an overall record such as Wisconsin's is impressive enough for a third seed.
The Badgers have Jordan Taylor as their main offensive weapon. Look for Taylor to be one of the breakout players in this year's tournament.
Wisconsin posted an RPI ranking of 21st with a respectable SOS ranking of 23rd.
Midwest Region No. 4: Baylor
Jamie Squire/Getty Images
The Baylor Bears come into the postseason with a 25-6 regular-season record, which is impressive considering their tough conference.
After finishing 12th in the country, the Bears seem to be a lock for a top-five seed in this year's March Madness.
The main reason I don't have the Bears higher is because of the weakness of their victories and a lack of quality wins.
If they want to be considered a top team they must beat the top teams, and they did not do that this season.
Baylor dropped both games against Kansas this season and both games against Mizzou; one of those games came down to the wire, but the other three weren't very close.
Baylor still has a great team and will be a tough out in the tourney, so look for Pierre Jackson and Perry Jones III to do some damage.
Midwest Region No. 5: Murray State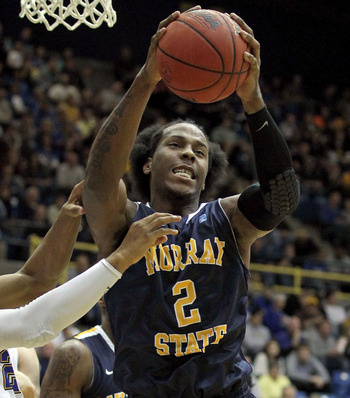 Andy Lyons/Getty Images
Mid-majors have proven themselves in March Madness.
The Murray State Racers will do the same.
After finishing their spectacular season at 30-1, Murray State went on to win the Ohio Valley Conference Tournament.
Wins against St. Mary's and Memphis prove the Racers can compete with tournament-type teams.
Isaiah Canaan is a dominant scorer, averaging just under 20 points per game while dishing out nearly four assists per game.
Although the Racers are a lock for a decent seed on Sunday, they are not a lock for a top-five seed.
Teams such as Notre Dame will make their case against Murray State, but the committee cannot undermine these mid-majors anymore.
This team is for real. Expect some fireworks in the next few weeks from the Racers.
Keep Reading