NBA Trade Rumors: Jamal Crawford Would Push Timberwolves into Playoffs
March 6, 2012

Harry How/Getty Images
If the Minnesota Timberwolves acquire Jamal Crawford from the struggling Portland Trail Blazers, then they will make the playoffs this season, just one year after battling for the No.1 overall draft pick.
Crawford is reportedly available and, although it's likely that the Los Angeles Clippers will be interested since they have a real need at shooting guard, according to Alex Kennedy of Hoopsworld, the Timberwolves are making a "strong push" to acquire the veteran guard.
The Minnesota Timberwolves are making a strong push to acquire Jamal Crawford prior to the trade deadline, according to multiple sources.

— Alex Kennedy (@AlexKennedyNBA) March 6, 2012
Minnesota is currently a game and a half behind Houston for the final playoff spot in the Western Conference and are a half game up on the Trail Blazers.
While acquiring Crawford certainly would help the Timberwolves immediately, it also would weaken Portland—one team that Minnesota will have to compete with until the end for a playoff spot.
The Timberwolves have a lot of depth at the guard positions, especially point guard, so they would likely be sending at least one of those guards back to Portland in any deal for Crawford.
While the T-Wolves have some talented young guards, one thing they lack is a veteran shooting guard who can be relied on to consistently score in a starting or sixth man role.
Crawford is one of the premier scorers off the bench in the NBA and has the total scoring package of good shooting range and the ability to drive to the basket and finish well. Even though it probably wouldn't be needed, Crawford also has the versatility to play point guard.
Except for JJ Barea, the Timberwolves don't have anyone on the bench that opposing teams will worry about defending at either guard position.
For a team that has few players with postseason experience, adding Crawford would give the Timberwolves someone who's been through playoff battles before that can tell the young players what they must do to win in April and May.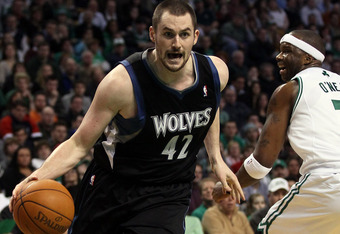 Elsa/Getty Images
Acquiring Crawford just makes a ton of sense for the Timberwolves. He would give them a legitimate offensive threat at a position they have little depth at and his playoff experience would really benefit the younger player on Minnesota, many of whom have little or no postseason experience.
With under two games separating the Timberwolves and a playoff spot right now, using their depth at point guard to acquire a veteran scorer like Jamal Crawford would be the final move needed to get this franchise back into the postseason.