2012 NFL Free Agents: 4 Reasons Franchise Tagging Drew Brees Is a Huge Mistake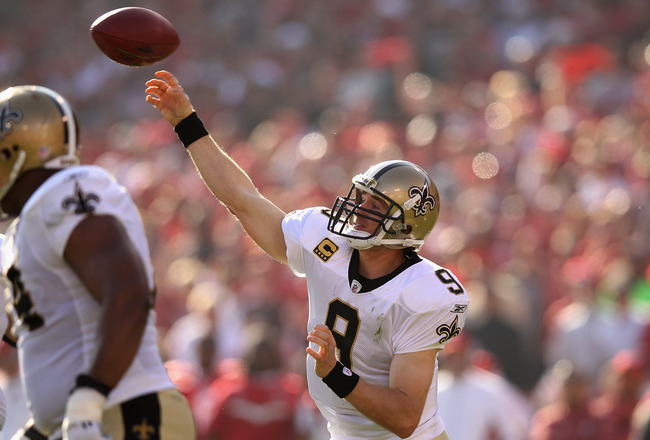 Ezra Shaw/Getty Images
Most New Orleans Saints fans know that Drew Brees was franchise tagged over the weekend, and this is a big mistake for the Saints.
New Orleans has a good amount of key free agents this offseason and it was inevitable that one of them was going to receive the tag, but it definitely should not have been Brees.
Brees is the unquestioned leader of the Saints and will undoubtedly be the focal point for the Saints for years to come. He is a guy the front office needed to extend to a long-term deal and leave the franchise tag for another key player.
The Saints definitely want to keep Brees, and I doubt Brees has a desire to leave, so a deal should have been worked out.
However, since the sides were unable to come to an agreement there will be repercussions.
Let's look at four reasons why the Saints should not have used the franchise tag on Brees.
It Leaves Drew Brees Very Unhappy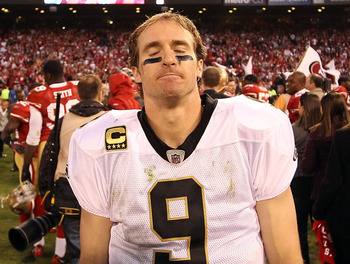 Ezra Shaw/Getty Images
The most obvious reason that the Saints should not have tagged Drew Brees is because it leaves the franchise's best player unhappy.
We are talking about a guy that has been the best quarterback in the NFL since 2006 and has led the Saints to their first ever Super Bowl victory.
Brees is a key part of the New Orleans community and the city absolutely adores him.
There is no reason the Saints should have tagged Brees.
Both parties could have done a better job in handling the situation so that it did not come down to this, but at the end of the day the Saints should have opened up the checkbook and given Brees whatever he wanted.
In the NFL, it is a rare occasion for players like Brees to come along, and when they do a team has to open up the vault to keep him. The Saints should have done just that to secure their best player and keep him happy.
It Leaves Questions Unanswered for Next Offseason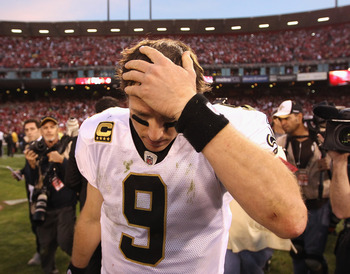 Ezra Shaw/Getty Images
The next big question for the Saints and for Brees is what happens next?
Brees is likely going to be with the Saints in 2012, but what about beyond that?
We would all hope that New Orleans can find a way to extend Brees at some point before, during or after the 2012 NFL season.
As long as Brees is not extended, it will still be a distraction as long as a contract is not signed.
The Saints have a team put together that could likely go deep into the playoffs, despite the recent controversies surrounding the Saints and potential free agents leaving soon.
However, a contract situation like that can hang over a player and definitely affect performance. It did not have much effect in the 2011 season, but it is now a completely different situation.
Brees and the Saints will obviously be a much different team in 2012.
There Are Now Fewer Options for the Other Saints Free Agents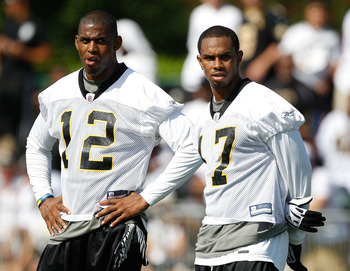 Chris Graythen/Getty Images
The New Orleans Saints have plenty of free agents this offseason, and I am sure that they want a good amount of them back for the 2012 season.
However, that becomes more difficult since the Saints had to use the franchise tag on Drew Brees.
If the Saints could have extended Brees, the tag would have been available for use on Marques Colston or Carl Nicks, both of whom are key free agents this offseason and seem to have high value on the market.
The Saints will now have to find a way to scramble and work out deals with these players, along with guys like Robert Meachem, Tracy Porter, Shaun Rogers, Aubrayo Franklin and a few others.
New Orleans did not have a lot of cap space to begin the offseason, and there is a good chance that just about all of it will be gone if it's able to keep just Colston and Nicks.
That would leave the Saints very limited during the free agency period and with their draft picks.
It Looks Horrible to Other Players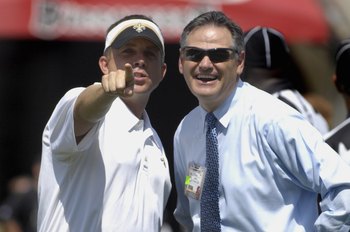 Al Messerschmidt/Getty Images
This may seem like a minuscule reason at first, but think about the message this sends out to the rest of the league.
The New Orleans Saints have one of the best quarterbacks in the league in Drew Brees, and they could not give him a well-deserved contract extension.
Brees is a player that has been the AP NFL Offensive Player of the Year twice and has broken multiple NFL records on numerous occasions.
This is not just an ordinary player, but one of the best in the NFL, and the Saints did not sign him to a new deal.
If a free agent is considering coming to New Orleans, there is no doubt this in the back of their minds.
Players know that certain situations happen and things are different for each team, but it definitely looks bad on the Saints that they were unable to sign their franchise quarterback to a new deal. It could easily have an effect on future players coming to the team or choosing to sign somewhere else.
Keep Reading

New Orleans Saints: Like this team?