Monday Night Raw Results 3/5/2012: the Top 4 Questions Going Forward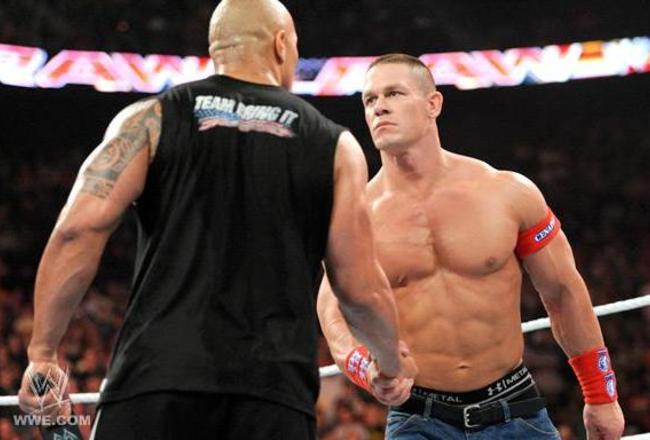 http://nerdreactor.com/2011/04/05/wwe-chooses-story-over-fans-at-wrestlemania-27/

Is it just me or did Daniel Bryan go overboard on the spray tan?
Tonight, we witnessed the Ryder Revolution, the Rock Revolution and the greatest red suit I have ever seen in my life.
As I do every Monday night following Raw, I present the top questions going forward.
These questions are meant to stimulate conversation and give us pause so we can examine current storylines.
Shall we have it?
Are You Surprised HBK Is the Special Referee for the Undertaker-HHH Match?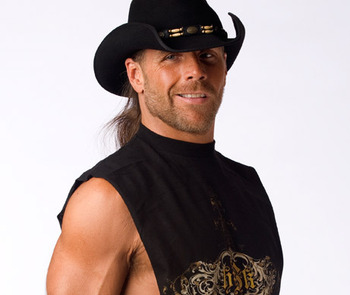 http://royalrumble2001-foreva.blogspot.com/2011/06/wwe-super-stars.html
Tonight it was revealed that Shawn Michaels will be the special guest referee for the Undertaker and Triple H's match at WrestleMania.
Wow. I didn't see that coming.
I apologize for the sarcasm, but I think we all saw that coming. Shawn Michaels will forever be my favorite superstar of all time, but right now I feel like his role at WrestleMania is forced.
I understand that the WWE is trying to make us all believe that Shawn Michaels and Triple H may have some beef prior to the event.
They have a few more weeks to convince me, because right now I thought that whole promo on Raw tonight was weak. The writers seem to want to sway us into thinking that HBK could screw either individual.
There is really no outcome involving Shawn that I would like to see. If he were to screw the Undertaker, then the victory by Triple H would be hollow. If Shawn screwed Triple H, then we would just see these two feud for the billionth time.
Make no mistake about it, HBK is only involved to increase the star power of WrestleMania. Vince McMahon is doing everything he can to get as many buys for the PPV as possible.
I believe Shawn Michaels is fool's gold and will not factor into the conclusion of this match. What do you think HBK will do come WrestleMania?
Were You Disappointed in Zack Ryder's Return?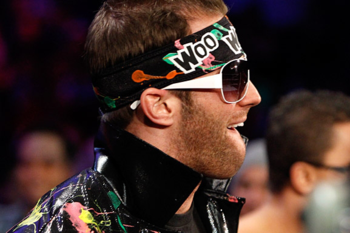 www.wwe.com
Zack Ryder came out at the end of a Divas match and said his "broskis before hoeskis" line to Eve, and then left.
Are you serious, bro?
I expected a much better return from Long Island Iced Z. We already heard this line before and it did not make much of an impact tonight, either.
What really bothered me was that Eve hooked up with Zack Ryder later in the program. She has been building heat for the last few weeks and now she kisses Zack? I suppose we will need more time to see how this plays out.
Were you expecting something more from Zack Ryder?
Also, kudos to the doctors who put Zack Ryder back together again in such a short amount of time. For a guy who looked like he went through a "Mr. Bill" Safety commercial, he sure seemed fine tonight.
How Would You Grade The Rock's Performance Tonight?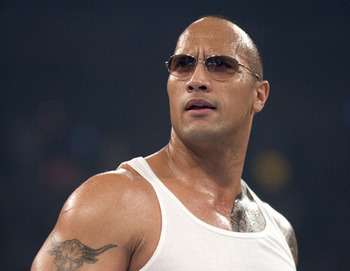 http://www.hisstank.com/gi-joe-news/gi-joe-movie-2/gi-joe-2-cobra-strikes-roadblock-is-the-rock-10441/
We saw the Rock four times tonight on Monday Night Raw. The first three moments were prerecorded "History" promos where the Rock went around Boston making fun of John Cena. The last appearance of the Rock was live at the end of Raw.
How did the Rock do tonight?
The first two "History" promos seemed funny and edgy, almost similar to what the old Rock might give you back in the day. They were borderline silly and were meant to make us laugh at the expense of John Cena.
The last prerecorded promo he did seemed less funny than the previous two. I am not sure if it was because the jokes were lame or if it was just because I had already seen two promos that were similar. Either way, I did not find it that enjoyable.
Lastly, the Rock came down and told John Cena that he "sees fear in John." He made a small promo about how he was as confident as ever and that John Cena will go down as "the Rock's bitch." The lines were short and solid and when he was done he simply left.
This was the best I have seen the Rock in the last few weeks. For once I actually laughed a few times and enjoyed certain moments.
The problem is that a lot of what the Rock and John Cena are saying has absolutely no substance whatsoever. They are ridiculing each other like children and after three weeks, I am tired of it. I want to see some action, not third-grade insults.
Both men keep trying to find that one "I gotcha" moment, and instead I just see a retread of insults every week.
How did you think the Rock did tonight?
How Would You Grade John Cena's Performance Tonight?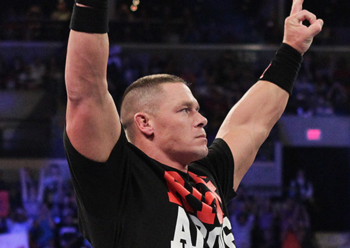 www.wwe.com
Raw was live in Boston, which is considered to be the hometown of John Cena. Cena had two appearances on Raw compared to the Rock's four, but it was Cena who was allowed to have the last word.
The first time we saw Cena was a prerecorded promo of John sitting in an empty arena staring at the WrestleMania sign. Cena went on to play the sympathy card and talk about how this match is "everything" to him. If he loses, it will apparently destroy his legacy.
Really, John? A tad melodramatic if you ask me, but I digress.
Cena's second appearance was the live segment where he came down and had a verbal confrontation with the Rock. I know even I was a little surprised when I heard Boston's initial response to Cena coming down.
That was pretty brutal and certainly not the 50-50 split the WWE had hoped for. It is even worse when this is supposed to be the home crowd for Cena.
Once out there, John made a few decent jokes but then he transformed into the "Doctor of Thuganomics" again? I am not sure how to respond when Cena starts to act thuggish because he has only begun to do that recently with the Rock. The 34-year-old wannabe gangster persona does nothing for me.
I thought Cena was at his most effective when he spun the Rock's insults around and just shrugged them off. Cena can do an excellent job at defending himself, but he fails when it comes to saying something important against the Rock.
Right now, I am disappointed with the product I am getting from both John Cena and the Rock. It is a constant pissing match between these two, and neither of them is saying anything meaningful. Get rid of the insults and start getting serious.
How did you think John Cena did tonight?
Let me know down below in the comment section. Remember to list the questions that came out of Raw for you as well tonight. Also follow me on Twitter @ClassicJoeyMac. I enjoy interacting with you guys. Well...most of you.
Keep it classic, everyone!
Keep Reading