The Toxic Legacy of Jose Mourinho at Chelsea FC
March 6, 2012

Shaun Botterill/Getty Images
There is a ghost that haunts Stamford Bridge.
Its name is Jose Mourinho. 
He is the most successful manager in the history of Chelsea Football Club.
Yet he also left a toxic legacy in West London that has prevented the Blues from moving forward since his departure in 2007. 
It has been fashionable in the last few days to blame Roman Abramovich for all the ills that are currently befalling Chelsea, and such criticism is largely justified. 
In a ludicrous manoeuvre, he sacked Carlo Ancelotti just a year after he became only the second non-British manager to win the double. 
Abramovich also fired Andre Villas-Boas this week, and few could argue that the young Portuguese coach had been given a fair amount of time to rebuild Chelsea's ageing, divided squad. 
And this is the crux of the matter—Villas-Boas was brought in to create a new Chelsea squad.
Yet Abramovich, along with other many members of the playing staff, can't stop looking back.
They cannot get over their biggest ex, the one that got away—the "Special One" himself.
Jose Mourinho. 
As Mourinho's predecessor Claudio Ranieri showed, money doesn't necessarily buy you success in football.
You still have to buy the right players. You still have to get your tactics right. And you still have to be able to effectively motivate your players. 
Mourinho did all this, and immediately won trophies by the bucket-load at Chelsea.
In his first season in charge, Mourinho didn't just win the league, he completely dominated it.
He assembled a side that earned an incredible 95 points that season—the most in Premier League history—losing only one game in the process.
Chelsea were also a dodgy goal at Anfield away from a Champions League final. 
In his second season in London, he won the league for a second time, again earning over 90 points in the process. 
Mourinho was unable to win the league in his third and final season in charge, yet still took home the FA and League Cup.
Moreover, a penalty shootout was all that denied Chelsea from a trip to the European Cup final. 
Overall, Mourinho won six trophies during his three years at the club, and reached the semifinal of the Champions League on two occasions.
He also, incredibly, never lost a home game while in charge.
Yet, even when faced with all this success, Abramovich couldn't help himself.
He pressurised Mourinho into playing fading superstar Andrey Shevchenko during the striker's underwhelming period at the club.
Against Mourinho's wishes, he also appointed Avram Grant as director of football in the summer of 2007.  
Grant's appointment was the final stage of a power struggle between Abramovich and Mourinho that would lead to the latter leaving the club in September 2007.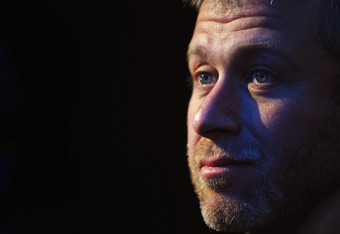 Laurence Griffiths/Getty Images
And Chelsea have never gotten over him. 
Just weeks before Villas-Boas was sacked, FC Porto's president claimed that certain Chelsea players were still swapped text messages with Mourinho, such is the esteem that he has still held in by many at the club.
And it's not hard to see why. As Mourinho himself put it in April of 2007:
"Who were (Frank) Lampard, (John) Terry and (Didier) Drogba two years ago? They were certainly not world stars. And in this moment who are they?"
A lot of players at Chelsea, and particularly members of the old guard that caused Villas-Boas so many problems, first tasted success under Mourinho, and no subsequent manager has come close to replacing him in their affections.
Look at one of the players who cause Villas-Boas so much strife: Frank Lampard.
In 2010, he admitted that he almost left Chelsea to join Mourinho at Inter Milan, such is Lampard's admiration for his former boss. 
Another figure that Mourinho brought to the club, Ashley Cole, can also be found singing Mourinho's praises less than a month ago. 
Didier Drogba reportedly cried when he learned of Mourinho's departure in 2007, while John Terry tried to persuade Chelsea officials to reverse their decision.
It's no surprise that the cabal of players which reportedly forced Villas-Boas's exit are exactly the same ones who have never really recovered from losing the "Special One."
And the same goes for Abramovich.
More than anyone else at Stamford Bridge, he truly didn't know what he had until it was gone. 
Once Jose left, they started to lose the occasional home game.
Since Chelsea's second place finish in the 2008 Champions League, achieved by a squad that Mourinho had largely assembled, Chelsea have come no closer to winning the European Cup.
And even in Ancelotti's double-winning season, the Blues were not quite as dominant as they had been during Mourinho's title-winning years, and couldn't achieve back-to-back championships.
In short, for both Abramovich and a powerful section of Chelsea's playing staff, Mourinho is the one that got away.
It's no surprise that he is being strongly linked with a return to Chelsea, because many at the club think he should never have left. 
Yet, the group of players that led the revolt against the younger Portuguese coach still need to be replaced.
Maybe Mourinho is the only one with sufficient authority to do this at Chelsea, but he has also shown himself to be a figure who finds it hard to stay at any one club for more than a couple of seasons.
The players who still worship him will eventually leave the club. Why risk creating a new generation of players who can only respect one boss?
Chelsea will have to get over Mourinho one day.
Why not now?
After all, does getting back together with your ex every really work?