Loyola (Maryland) Under Jimmy Patsos in Big Dance for 2nd Time in School History
March 6, 2012

Ever heard of Loyola University Maryland or Jimmy Patsos before Monday night?
I would not be surprised if you had not—the only reason I had is because I have religiously followed the MAAC for many seasons.
Patsos, the head coach at Loyola, took over the men's basketball program in 2004 after the Greyhounds went 1-27 under Coach Scott Hicks in 2003-04. Patsos had previously been an assistant under Gary Williams at the University of Maryland from 1991-2004.
Patsos' first season at Loyola was rough, as his squad finished 6-22. Since then, there has been steady improvement. He reeled off three straight winning seasons, and then this year, he finally put together a team of which the Loyola program can truly be proud.
On Monday night, Loyola defeated Fairfield in the MAAC championship game, 48-44, to earn the conference's automatic bid to the 2012 NCAA Tournament.
This is just the second time that the Greyhounds will play in the Big Dance. (The only other time they went was in 1994, when they upset No. 2 seed Manhattan in the MAAC championship. But Loyola ultimately could not do any damage in the NCAA Tournament, losing to Arizona in the first round of the NCAA tournament, 81-55.)
On Monday, the Greyhounds relinquished an early 16-9 lead and went into halftime trailing, 30-26. They quickly surged ahead of the Stags in the second half, but, after Desmond Wade's three-pointer, Fairfield trailed by just three in the final two minutes.
Down the stretch, Loyola made multiple defensive stops before senior Shane Walker's free throw with 2.8 seconds left iced the game by giving the Greyhounds a 48-44 lead.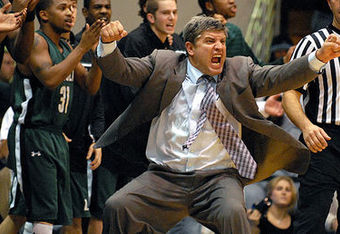 This win adds one more accomplishment to a Loyola season that has been full of success.
A few weeks ago, the Greyhounds defeated Boston University in a BracketBuster game to mark its first 20-win season since 1948. Then, with a win at Manhattan in the final game of the regular season, they finished in second place in the MAAC, the Greyhounds' best finish since the 1996-97 season.
Maybe Loyola can add one more accomplishment to its list with a monster upset next week. The Greyhounds will most likely be either a No. 14 or No. 15 seed.
Also, make sure you are in front of your television when Loyola plays next week. Regardless of whether or not the Greyhounds can put up a fight, Patsos' sideline antics are guaranteed to give a good show.