NCAA Bracket 2012: 5 Reasons Kansas Is Destined for a Championship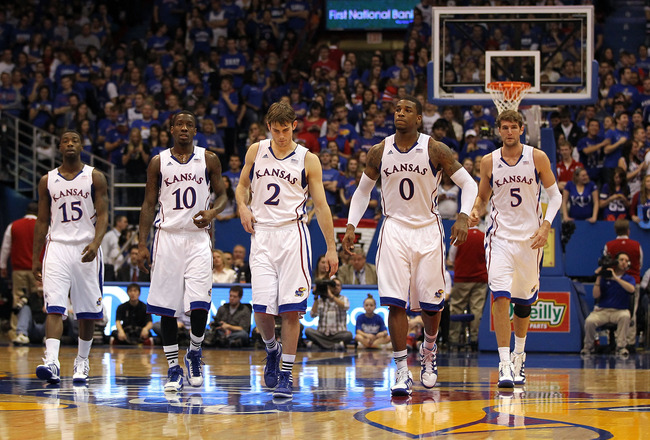 Jamie Squire/Getty Images
The Kansas Jayhawks (27-6) enter the NCAA tournament as a two seed and coming off a loss to Baylor in the Big 12 semifinals. Coming into the season many people did not have Kansas as a serious title contender, but despite the losses of several key players from last season, they have put together a stellar year and have solidified themselves as one of the elite teams in the nation.
The potent combination of Big 12 Player of the Year Thomas Robinson, Tyshawn Taylor, Travis Releford and Jeff Withey along with a solid bench make Kansas a worthy opponent for any of the upper-echelon schools in the tournament and a team I believe will stand victorious when all is said and done.
Without further ado, let's look at why the University of Kansas could very well be hanging another banner at Allen Fieldhouse this April...
No. 1: Regular Season Success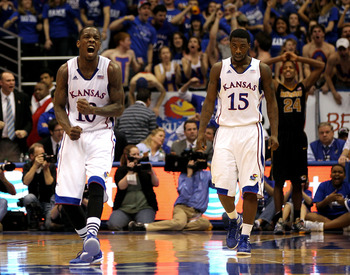 Jamie Squire/Getty Images
The Jayhawks finished the season ranked third in both the AP Top 25 and ESPN/USA Today Poll behind only Kentucky and Syracuse, each with only a single loss. Kansas posted a 26-5 record over the course of the regular season, with several very impressive wins and only a few disheartening losses.
Though regular season success isn't a perfect barometer for the success of a team in the NCAA tournament, it certainly shows something about the team, and Kansas' record is a testament to the quality of their program this season.
Kansas posted several wins over top-notch schools, including Georgetown, Ohio State, Missouri, Baylor and more. Losses to Kentucky and Duke were understandable, especially early in the season while they were still working out the kinks of their ball club.
Though they did lose games to Davidson, Iowa State and of course their late-game meltdown at Mizzou, this Kansas team largely exceeded expectations after losing Marcus and Markieff Morris' to the NBA last year.
The Jayhawks showed extreme resolve in their comeback win against an extremely talented Missouri Tigers team, falling behind by 19 points and clawing their way back. They easily could have folded, but with some impressive defense and spurts of timely three-pointers, Kansas was able to pull out a game they never should have won in overtime.
Beating Baylor twice in a season is no small feat considering the level of talent on their roster and besting Jared Sullinger and the Ohio State Buckeyes further solidified them as one of the nation's top teams.
Bill Self's team showed that they have the fortitude to win games in many different ways; whether through hustle and determination, coming from behind or seizing control early, this ability to adapt is crucial for NCAA tournament success. Each game is a completely unique experience and the Jayhawks ability to win multiple types of basketball games is a major reason I think they will win the championship.
No. 2: Maturity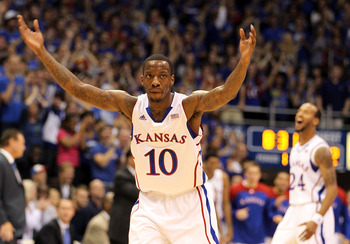 Jamie Squire/Getty Images
Unlike several of the nation's top programs, this Kansas team is primarily upperclassmen who have a myriad of experience, both with high pressure situations and with the NCAA tournament. The team's two most important players, Tyshawn Taylor and Thomas Robinson are a senior and junior, respectively, and have shown extreme growth throughout their careers at Kansas.
Taylor, in particular, has shown tremendous poise and maturity throughout this season. Having played major minutes as a four-year starter, Taylor is having a breakout season while making strides in his ball-handling and ability to run the offense. In addition, he has become one of the team's primary offensive options, averaging 17.2 points per game, a dramatic increase from his 9.3 last season.
Talent isn't the only thing that determines who wins a championship, and being able to perform in high stress situations has always been an integral part of winning the NCAA title. Kansas may not have multiple NBA lottery picks like the current North Carolina and Kentucky teams, but their core unit has experience winning every variety of game.
Kansas did lose earlier in the season to Kentucky, but that was when their team was still coming together and not nearly as cohesive as they are currently. Their loss to Baylor in the Big 12 tournament was also disappointing, as the Bears shot 48 percent from three-point range, but this Kansas squad has shown a knack for bouncing back, never having lost two games in a row all season.
This is a team that proved in their 19-point comeback against Missouri that they will not be rattled and can play under control even facing a major deficit, which will make them a very tough out in the NCAA tournament.
No. 3: Thomas Robinson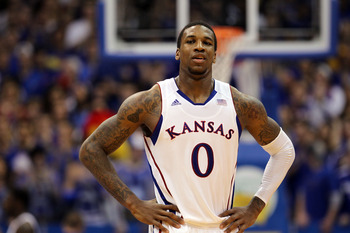 Jamie Squire/Getty Images
This one is pretty simple, if you have one of the nation's two best players, you have at least a puncher's chance of winning a national title. Robinson has been a revelation for Bill Self's ball club in his first season as a starter and has more than made up for the departure of Marcus and Markieff Morris this summer.
Averaging 17.9 points, 11.8 rebounds, 1.9 assists per game with a block and a steal, Robinson's versatility and impact on both ends of the court has been a huge boon for Kansas this year. He has some solid moves in the post, but his footwork is where Robinson really excels offensively. His jump shot isn't quite as consistent as it could be, but he's improving and, if he can really knock down a 15- or 17-footer, then he would be nearly unguardable.
Robinson has an excellent motor and is a tremendous athlete, which makes him an asset on the defensive end. He doesn't take possessions off and uses his length and strength to bother opposing forwards. The frontcourt of Robinson and Big 12 Defensive Player of the Year Jeff Withey is one of the best defensive units in the league and will be a tremendous advantage for Kansas against any team they play this March.
Robinson's rebounding has also been spectacular; he has a nose for the ball matched by few other players in the country. When Kansas met Kentucky, Robinson managed to snag a dozen rebounds against their elite front line, proof of his hustle and his desire for the ball. He can hit the glass in traffic, rip down tough offensive rebounds and generally patrol the boards with an extreme tenacity.
There's a reason that many consider the Player of the Year race to be firmly between Robinson and Anthony Davis, and with Robinson anchoring Kansas they can match up with any of the country's other top teams.
No. 4: Defensive Intensity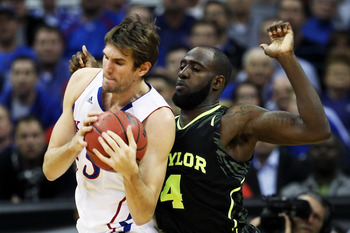 Jamie Squire/Getty Images
One of the age old adages in basketball is that "defense wins championships," and that is certainly true at the collegiate level. Teams like Kentucky, Syracuse, Florida State and Michigan State all play elite defense that can completely take their opponents out of any kind of offensive rhythm and win them games even when their offense is not running smoothly.
Kansas has shown at times this season that they can play defense as well as the best schools in Division I. Led by Big 12 Defensive Player of the Year Jeff Withey, Kansas can hit the glass hard and the emergence of Withey as a top-notch shot blocker (3.3 per game) means Kansas can potentially force their opponents into long scoring droughts.
The presence of Withey and Robinson, who also averages a block per game, gives Bill Self two shot-altering big men who can shut opponents down when locked in. Kansas could end up playing some quality big men, but if Robinson plays to his potential as a one-on-one defender on the block the Jayhawks should handle any opposition.
The key will be perimeter defense. Tyshawn Taylor, Travis Releford and Elijah Johnson all must bring a first-rate effort when guarding opposing wings. With the three-point shot being such a huge element of college basketball offense, any team that can shut a team down from beyond the arc is in excellent shape to win.
Kansas has the talent to crank up their defense to the next level for the NCAA tournament, and if they do, this team will be practically unbeatable.
No. 5: Ideal Path to the Finals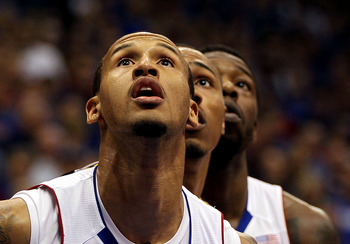 Jamie Squire/Getty Images
Obviously in order to reach the Final Four, let alone a national championship, every team has to beat some top-shelf opponents, but relative to their strengths, Kansas actually has a pretty manageable draw to look forward to.
As a two seed, Kansas will face Horizon League champion Detroit. Detroit (22-13) had an impressive win over a favored Valparaiso ball club, but are no match for a major college program like the Kansas Jayhawks. Guard Ray McCallum has had an excellent year, but the improved defense of Tyshawn Taylor means he'll likely have a rough night and the Detroit Titans simply don't have the talent to hang with Kansas for long.
From there they would face the winner of St. Mary's (27-5) and Purdue (21-12). Both teams had very respectable years, and St. Mary's ranks 14th in the nation in assists with 15.9 per game. Point guard Matthew Dellavedova is an excellent shooter and St. Mary's could be a challenge, but certainly a task Kansas will be up to.
Purdue's team had a solid season, considering the loss of seniors JaJuan Johnson and E'Twaun Moore to the NBA, but senior forward Robbie Hummel's 16 points and seven rebounds per game has helped the Boilermakers back to the NCAA tournament. Still, the combination of Robinson and Withey should bother Hummel, making a tilt with Purdue an easy win.
The Jayhawks would likely take on Georgetown (23-8) in the Sweet 16, a team they handled earlier in the season at the Maui Invitational. Georgetown has the talent and size with players like Henry Sims, Jason Clarke and Otto Porter to bother Kansas, but if Kansas' frontcourt can handle Sims the Jayhawks have a great chance to pull out that game. As the team's leader in assists at 3.5, a huge portion of the Hoyas' offense is Sims, and if he can be taken out of the game, their team is much worse.
Barring an upset at the hands of Temple (24-7) or a resurgent Michigan (24-9) team, the North Carolina Tar Heels (29-5) would face Kansas in a phenomenal Elite Eight matchup. This is a game in particular where I think the maturity of Kansas would significantly help them. UNC may have more talent, but if Elijah Johnson and Travis Releford can bother Harrison Barnes, Kansas' overall poise and versatility could lead them to a tremendous win.
A lot could happen in the East Region before Kansas meets any of those teams, but they would likely play either Florida State (24-9), Ohio State (27-7) or Syracuse (31-2), the region's top three seeds. Florida State has an elite defense, but if Kansas can run them off the three-point line, they are certainly a beatable team.
Syracuse's lack of size means Withey and Robinson could have a field day on the glass and hammer them relentlessly on the inside, and after beating Ohio State once, Kansas could strive to take Sullinger out of the game and make the Buckeyes win it from the perimeter.
I actually think the Orange are an ideal match for Kansas despite their stellar season because of their lack of size and paint presence.
Now, if they can accomplish this they would face a stiff test likely with a Kentucky team they lost to earlier in the season, or possibly Michigan State, Missouri or Duke. There's no way to predict how these games would go, but I think anything to avoid Kentucky would be ideal for the Jayhawks.
Ultimately, Kansas can't be too upset with their bracket in this year's tournament as it gives them a great chance to win it all this season.
Keep Reading

Kansas Jayhawks Basketball: Like this team?