Fantasy Baseball 2012: Learn to Draft and Win Your Fantasy Baseball League
March 5, 2012

Christian Petersen/Getty Images
So you want to impress your friends this year by drafting the best team and owning the coveted bragging rights at the end of the season?
If that's the case, you may have found the right article.
Throughout the years, as an avid fantasy manager, I have learned what it takes to draft not only a competitive team, but have received first-round byes four years running. Not as easy as it seems considering the level of competition I face.
I will not dazzle you with statistics and numbers, or recommend specific sleepers and warn you of busts. If you want to be spoon fed with exactly who to draft, then you shouldn't expect to win. I will explain why later. What I will do, though, is help with drafting strategy.
Like all fantasy sports, the key to building a successful team is within the draft. Baseball is by far the most complex fantasy sport and takes a certain attention to detail.
I will focus on a 12 team head-to-head league with the following categories up for grabs; AVG, HR, R, RBI, SB, W, SV, K, WHIP, and ERA. The exact number of teams in your league shouldn't take any credibility from these guidelines, so let's get started.
Research: This should be common sense, but year in and year out there is always one or two managers showing up to my live drafts with nothing more than a fantasy baseball booklet bought at the news stand on the way.
Don't be that guy.
If you don't have time to properly draft a fantasy team, then you probably don't shouldn't manage it. Take pride in your research, it will form the foundation of your team.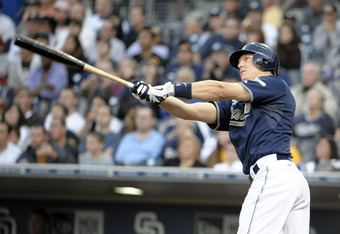 Denis Poroy/Getty Images
First and foremost, know the players.
When I say know the players, I am not talking about Albert Pujols and Miguel Cabrera. I am talking about the lesser known, solid players.
Being familiar with reliable players without the gaudy numbers gives you an advantage in the later rounds. Don't just know their names—know their strengths and weaknesses, teams and ballparks they call home.
Participate in mock drafts. Many of them.
Completing one mock draft will not give you a true advantage point of where the public stands. Often, mock drafts are full of people simply passing time while bored.
The more mock drafts you analyze, the better understanding you will have of when you can take chances or steal a player right out from under the rest of the league. You can also look at multiple ADP rankings, giving you an idea where a certain player ranks in mock drafts.
Ignore hype.
As you conduct your research, reading many articles and multiple rankings, you will find large amounts of analysts touting relatively unknown players. Take all of this with a grain of salt. Personally, I tend to let someone else risk being burned.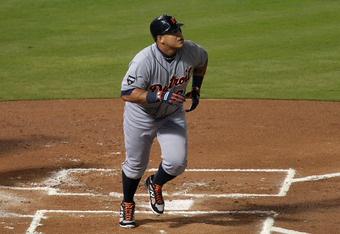 Ronald Martinez/Getty Images
Sure, sometimes these risks pay off and might make you look like a genius, but the majority of the time it is the consistent players with a history that bring your team to the playoffs.
Draft Offense: Every draft you will see Roy Halladay and Justin Verlander going quick and early. Unless the rest of the draftees are clueless, I would be willing to bet the teams drafting pitchers within the first few rounds are struggling by the end of the season.
It is very enticing to see these Cy Young winning pitchers on the available list – but remember one thing—they will only pitch every 4-5 days. They mean nothing if the rest of your staff is posting horrendous numbers. At minimum, your first three rounds should be devoted to sluggers. Look for AVG, HR, R, and RBI.
To further this, consider the positions you draft first. Every year, talent levels vary at different positions. Not paying attention to this could leave you with a gaping hole within your lineup.
For example, you may consider drafting Troy Tulowitzki with your first pick—knowing that short stops with any substantial power numbers are very hard to come by. With that strategy you will notice that first base is loaded with talent, and may consider waiting until a later round for a better value pick.
Just as important as knowing the strong and weak positions, you can sacrifice some stats for players that are eligible in multiple positions. This will help you ten-fold when you catch the DL disease or find yourself lacking players during those pivotal "off" days.
Draft players surrounded by other good players.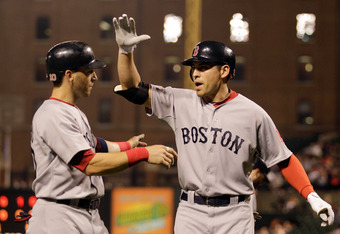 Rob Carr/Getty Images
A player may have all the talent in the world, but it does you no good if he doesn't have anyone capable of scoring runs or racking up the RBIs around him. This is the reason you see multiple fantasy leaders from the same team. Stay away from teams like the Oakland Athletics.
Last—but definitely not least when it comes to drafting offensive players—pay attention to every statistical category in your league's scoring system.
Complacent managers often find themselves drafting a team full of, for instance, home run hitters but fail to realize their team AVG will be amongst the lowest of the league.
Pitching: This is what I concentrate on as the fifth round comes along.
After my first few years of managing a fantasy team, I was shocked to learn that three or four good pitchers produced just as well as one or two aces. As long as you pay attention to a few important things, you can get a much better bang for your buck per se, by drafting pitchers in the middle rounds.
Look at what teams these pitchers represent. Remember, the toughest category in most head-to-head leagues when it comes to pitching is wins.
A second or third man in the rotation of a 90-win team could easily provide you with wins on a more regular basis than you think.
Stay away from the injury risks!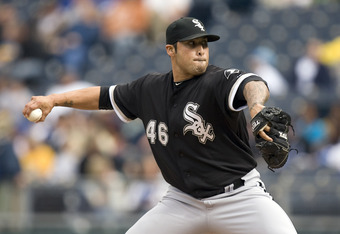 Ed Zurga/Getty Images
I cannot say this enough. Nothing is worse than losing a consistently good pitcher to the same injury he sustained last year. Stay away from pitchers like Clay Buchholz unless you are confident in the rest of your staff, even if they look like a sure fire sleeper.
I don't feel the need to explain to you why you should look at K, ERA and WHIP. Every pitcher you select should not be much of a worry in at least two of these categories.
Just remember to mix it up. You never want to leave yourself inept in one category. Do that, and you are losing 0-1 before the week even begins.
Relief Pitching: I cringe every second I am required to think about drafting for relief.
It is, in my opinion, the hardest to draft correctly.
Not because of complication, lack of depth on the draft board, or unfamiliarity—but because relief pitchers are often under harsh scrutiny and forever having their roles changed by a doubting manager. One month you have the best closer in baseball in Sergio Santos, and next thing you know he is taking turns as set up man and cheerleader.
Sorry, I just had flashbacks from last year's Achilles' heel of my team.
The problem here is that one bad week for a relief pitcher often means a demotion. Unless you have drafted the rock solid names like Mariano Rivera or Jonathan Papelbon, it might be inevitable you feel my pain.
My advice? Draft three closers.
The Late Rounds: After you fulfill your needs at pitching and stock up on a few more hitters during the middle rounds, there are only three words that should be going through your exhausted mind: upside, upside, and upside.
This is the fun part of the draft. Take your chance on sleepers, new comers and the unknowns you've read about. If people like them have already been drafted in earlier rounds, then good.
You are probably already in position to rule this league and raise your arms in triumph over those dimwits who draft undeserving players early.
Just as a visual aid, your draft should look somewhat similar to this:
1-4: Sluggers at key positions.
5-9: Pitching. Don't forget one or two decent closers here.
10-17: A mix of consistent hitters and pitching selected to your discretion.
18-20: Sleeper rounds.
I hope this article is a start for you novice managers out there. And if you consider yourself an expert, I hope you can still take a point or two from this. Feel free to contact me at anytime for advice, discussion, or a good-old fashioned intellectual debate.