Big Ten Tournament 2012: John Shurna Makes Northwestern Underdog Team to Watch
March 5, 2012

Jamie Sabau/Getty Images
While Ohio State, Michigan State and Michigan are the runaway favorites in the upcoming Big Ten Tournament, Northwestern and other lower seeds have a better chance than many would expect.
Though Ohio State, Michigan State, Michigan and Wisconsin have all received first-round byes, Northwestern opens their tournament against No. 10 Minnesota on Thursday at 5:30 PM. So long as they can clinch an early victory, they will move on to face Michigan in their next game.
In Joe Lunardi's updated bracketlogy, he has Northwestern as a No. 13 seed and one of the last four teams to make it into the tournament. After a relatively impressive season (18-12 overall), they go on to take Minnesota (6-12 in conference play) in round one after an abysmal showing this season.
Assuming Northwestern can beat Minnesota following their loss of Trevor Mbakwe, that's when the rest of the tournament gets interesting for the Wildcats.
Michigan has been playing hot lately, but was slowed by Northwestern both times the teams met this season. While Michigan did come away with two victories, Northwestern carried the team to overtime in both appearances.
A potential rematch could show that Northwestern can pull away with at least one victory, this time when it would actually count.
Coming off of a big win against Illinois on the road, and having beaten Michigan State earlier this season, the streaky inconsistencies of Northwestern can be put aside and fans can instead focus on the huge potential that Northwestern has to play a spoiler in the upcoming tournament.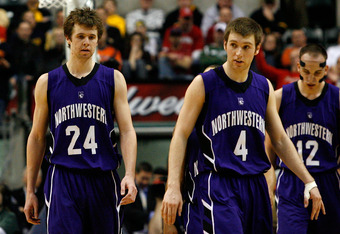 Chris Chambers/Getty Images
Northwestern, which is holding onto hopes of its first-ever NCAA Tournament appearance, is led by forward John Shurna. At 19.8 PPG, Shurna led the Big Ten in scoring and added 5.3 rebounds per game to boot.
As Northwestern's all-time leading scorer, Shurna can take Northwestern to noted success so long as he continues to perform at the level that he has now grown accustomed to. Northwestern is only 8-10 in conference play this season, but a win over Michigan would put them in the conference semifinals.
Shurna continues to stand out in a conference that includes names like Jared Sullinger, Cody Zeller and Jordan Taylor. With the help of Drew Crawford (16.2 PPG) and the demand for double-teaming Shurna, the Wildcats are a realistic team to finish as this season's Big Ten Surprise Team.
While Northwestern has yet to win the big game, Wildcats fans still hold onto hope that Shurna leads them past Minnesota and Michigan, and perhaps into the NCAA tournament.
Click here to Follow @BryanKalbrosky.