Cliff Avril: Detroit Lions DE Gets the Franchise Tag, Saga Not over
March 5, 2012

Gregory Shamus/Getty Images
Reports came to light last week that the Detroit Lions would have to use the franchise tag on defensive end Cliff Avril, after the team and his representatives could not come to an agreement on a long-term deal that also fits into their salary-cap limitations. The move was formally announced today.
Ultimately, the tag creates more cap headaches than it alleviates, with it costing $10.6 million. The Lions used the non-exclusive rights franchise tag, which means another team could come along and make a move for Avril, but they'd have to give up two first-round draft picks to do so.
No team is likely to make the move to pick up Avril at such a high price, meaning the Lions now have to find a way to strike a new, more affordable deal with him—as well as restructure wide receiver Calvin Johnson's contract, which represents a $22 million cap hit in 2012—before March 13 if they want to also keep linebacker Stephen Tulloch on the roster.
Avril, Johnson, quarterback Matthew Stafford, defensive tackle Ndamukong Suh and defensive end Kyle Vanden Bosch all combine to take up around $70 million in Lions cap space. It's safe to say that not just Johnson will have to restructure in order to keep Tulloch in the fold.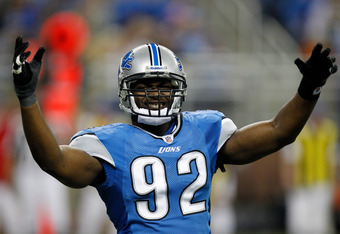 Gregory Shamus/Getty Images
There's also the possibility the Lions have a few free-agent targets of their own they'd like to examine next week. If that is the case, then freeing up cap room is of the utmost importance.
Another issue is that Avril has made it extremely clear that he's not interested in the franchise tag, even if it does mean a one-year uptick in salary. He'd like a long-term deal and could even hold out if a new deal isn't reached by the July 15th deadline.
Clearly, contract negotiations between the Lions and Avril are ongoing. The Lions aren't a team to use the franchise tag regularly, with the last time they exercised the option coming in 2007.
The only hope that the two sides can reach a workable solution is if Avril doesn't see the tag as the jumping-off point for a yearly salary and instead agrees to make less than that per year, but have career stability by knowing he will be a Lion for perhaps the remainder of his career.
On the surface, it appears that Lions have cleared one hurdle by franchising Avril, but in fact this is just a part of a process that isn't yet all that close to ending.