WWE News: Is CM Punk About to Start a New Twitter Feud with Shawne Merriman?
March 5, 2012

After the recent Twitter feud with R&B singer Chris Brown last month, Punk might have yet another feud on his hands now with former NFL Defensive Rookie of the Year, Shawne Merriman of the Buffalo Bills.
From WrestlingInc.com:
Buffalo Bills linebacker Shawne Merriman  posted the following on his Twitter account:

"F--- C.M. Punk, he's still a punk forever in my book. I'm sure my supporters feel the same way... And WWE, I ain't hosting y'all new network until somebody whoop C.M. Punk cuz he's a p$ssy.

"Serious, who the f--- is C.M. Punk other than a soft butt...wrestling gone soft f off... If god is my witness, C.M. Punk was wearing a thong laying by the pool tanning his cheeks in Costa Rica, now tell me I'm lying... C.M. Punk wants no part of Lights, trust me...

"And WWE, I ain't hoting sh#t until C.M. is dethroned... I ain't a hater at all, but if you like dudes tanning by the pool (in) a thong that's cool. I think he had pillows under his stomach."
It just seems as though the WWE Champion can't keep himself out of trouble on Twitter as of late after the Brown feud that sparked a media fire storm in February.
In a past incident that spurred the misspelled tirade by the former star NFL player, Punk called out Merriman on Twitter after he failed in his attempt of trying to pick up one of the Divas when the WWE was in Costa Rica during a live tour.
As mentioned by the source at WrestlingInc.com, Shawne Merriman and Chris Brown are reportedly friends, so the remarks by Merriman make perfect sense as he wants to defend his friend.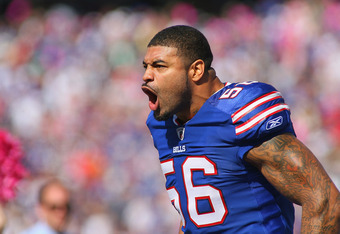 Rick Stewart/Getty Images
From a football perspective, I have no idea why Merriman is taking the time to bash Punk on Twitter when the outside linebacker should be working on staying healthy as he's spent the majority of the past two seasons on injured reserve.
Unlike with Chris Brown, I see this feud between Merriman and Punk blowing over quickly with more important things happening like WrestleMania being just 27 days from today.
So Bleachers, what do you think of the possibility of a new Twitter feud between CM Punk and Shawne Merriman?
Chris Humphrey is a WWE Featured Columnist for Bleacher Report. You can become a fan of him on Facebook or follow him on Twitter @_CBH_.