NBA Trade Rumors: Are the Portland Trail Blazers Buyers or Sellers?
March 5, 2012

Harry How/Getty Images
The Portland Trail Blazers are 2.5 games out of a playoff spot in the Western conference and have not played well since the All-Star Game, losing all three games by a combined 35 points. 
The Trail Blazers started the season strong going 7-2, but are now 18-19 after 17 of their last 28 games. 
Portland hosts the last place New Orleans Hornets tonight before heading out on a seven-game road trip.  Portland has not played well on the road this season, going 5-12. 
The NBA trade deadline is a week from Thursday, a day the Blazers have been active the past two years.  Marcus Camby was acquired from the Los Angeles Clippers in 2010 and a year later Portland traded for Charlotte forward Gerald Wallace. 
Nearly everyone on Portland's roster has been inconsistent this season.  If the Trail Blazers have any chance of moving into a playoff spot, they are due for a shakeup of their roster.   
Backup point guard Raymond Felton and Camby both have contracts that expire at the end of the season and would be attractive to teams looking to bolster either their front or backcourt.  Also, starting point guard Jamal Crawford has a player option for next season that he is not expected to exercise. 
Word around the league sounds as if the only Trail Blazer that is not available on the trade market is LaMarcus Aldridge.  ESPN's Chris Broussard said that the Trail Blazers are willing to part with Wallace again. 
Broussard's colleague, Marc Stein, said that Portland is trying hard to improve their point guard position and land Steve Nash from the Phoenix Suns.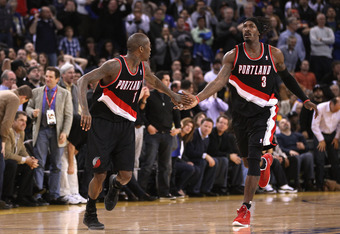 Ezra Shaw/Getty Images
As of now, it seems most likely that if Portland moves anybody, Crawford or Felton are the most likely to go.  Crawford has drawn interest from the Minnesota Timberwolves and Los Angeles Clippers since Chauncey Billups was lost for the season.  Felton has drawn interest from the Los Angeles Lakers, who continue their search for an upgrade at the point guard position. 
Felton is averaging career lows this season in points (9.7), field-goal percentage (.368) and three-point percentage (.246).  Coach Nate McMillan benched Felton before the All-Star break, but may start him again in the next few games.  If Felton is traded to LA, Steve Blake would likely head to Portland. 
Crawford recently took over Felton's starting spot and has played well in the five games that he has started this season.  More effective as a shooting guard, Crawford has average 3.9 assists and 14.8 points as a point guard in Portland. 
Neither Felton or Crawford would bring a huge return to Portland via trade, but both might be able to bring a young player or low draft pick which the Trail Blazers could use in their rebuilding process.