Big Ten Tournament: Indiana and 4 Dark-Horse Teams
March 5, 2012

Leon Halip/Getty Images
The Big Ten regular season wrapped up yesterday and ended with three teams sharing the title of regular season conference champions. Ohio State beat Michigan State to tie them and Michigan atop the conference with the Spartans. 
Of the three conference co-champions, Michigan has performed the best as of late. The Wolverines have lost only once in their past seven while Michigan State is riding a two-game losing streak going into the conference tournament and Ohio State has lost three of seven. 
Michigan won a share of the Big Ten Conference championship yesterday thanks to their archrivals down in Columbus. The Wolverines have lost only three times in their past 10 games. Those losses came at the hands of quality teams in Ohio State, Michigan State and Purdue. Coach John Beilein has his team playing at their best right as we got into March.  
After losing to Indiana by 15 a week ago, Michigan State lost freshman forward Branden Dawson yesterday for the rest of the season after he tore his anterior cruciate ligament when he collided with Ohio State's William Buford. 
Dawson, a starter on the wing in all 31 games this season, was an important player for MSU down the stretch and is possibly the best defender the Spartans had. His ability to defend guards and forwards will be difficult to replace with the regular season just wrapping up. 
Ohio State gained a confidence boost yesterday. To win a share of the Big Ten title, they had to beat MSU in East Lansing on senior night. The Buckeyes had lost to the Spartans a few weeks back and went down by 15 points in the first half. The Buckeyes fought back, though, and won on a shot by Buford with one second left on the clock.
Illinois coach Bruce Weber is fighting for his job in Champagne, Il. The Illini started the season strong, but have struggled in conference play, going 6-12 after starting 11-2.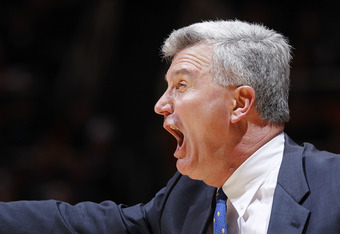 Joe Robbins/Getty Images
The Illini open the conference tournament against Iowa and then Michigan State if they win. Illinois beat the Spartans by one point in January and also have quality wins over Gonzaga and Ohio State.
This very well could be Weber's last shot at making a run with the Illini and he will have his team ready to go. Illinois will not go down without swinging and will be sure to put up a fight to salvage their season.
Another team with an outside shot at turning some heads in the conference tournament is the Purdue Boilermakers. 
Regardless of how they perform next weekend, they should receive a bid to the NCAA tournament. Purdue has a quality win over Michigan and has beaten Illinois and Northwestern twice each. 
Even after coach Matt Painter suspended D.J. Byrd and dismissed Kelsey Barlow a few weeks back, he has had his team playing well down the stretch. 
If they make it out of the first round, they would face a tough test against Ohio State, who only beat them by three points a month ago. 
Like Purdue, Northwestern is another Big Ten team that will probably make the NCAA tournament as it stands now. A win or two next weekend for the Wildcats should solidify their position with the selection committee.
The Wildcats have never made the NCAA tournament and have played well this year. Their biggest wins are probably against Seton Hall and Michigan State. They have compiled a decent 18-12 record while going 8-10 in the nation's toughest basketball conference.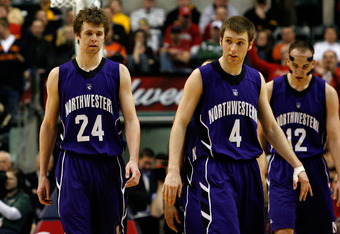 Chris Chambers/Getty Images
Outside of Michigan, Michigan State and Ohio State, the team with the best chance to win the Big Ten tournament this year is the Indiana Hoosiers. 
Basketball is back in Bloomington as coach Tom Crean has revived the program this year. 
The Hoosiers beat three top-five teams throughout the year as they are the only team to defeat Kentucky before they downed Ohio State and then Michigan State. They also have a number of quality wins coming against NC State, Notre Dame, Northwestern, Michigan, Purdue and Illinois. 
They are heading into next weekend on a four-game winning streak and soundly beat the Spartans at the end of February. 
One thing going against the Hoosiers is their conference record. They are 24-7 overall, but each of their losses came against teams in the Big Ten.
Cody Zeller has a chance to win Big Ten Freshman of the Year and has played well down the stretch.  Crean will have Indiana ready to play in their opener against Penn State on Thursday.