Full Game-by-Game Predictions for Big XII Tournament Through Championship Game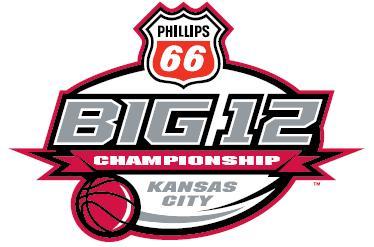 Championship Week. When bubble teams fight to their last breath to snag an NCAA birth. When the hopes and dreams of programs are either affirmed in glory or left unfulfilled in defeat.
The Big XII Tournament is no exception, stacked with talent from top to bottom.
Thomas Robinson and Kansas move to assert their continued dominance of the league as Missouri and their unmatched quickness aim to snatch it from their grasp.
The talent-laden Baylor Bears and Royce White-laden Iowa State Cyclones wait in the wings, eager to steal the title from the presumed favorites.
Others still, like Oklahoma State and Texas, struggle to put the final pieces together in one last desperate attempt to make the Big Dance.
Who will win the Big XII Tournament?
Read on.
Begin Slideshow

»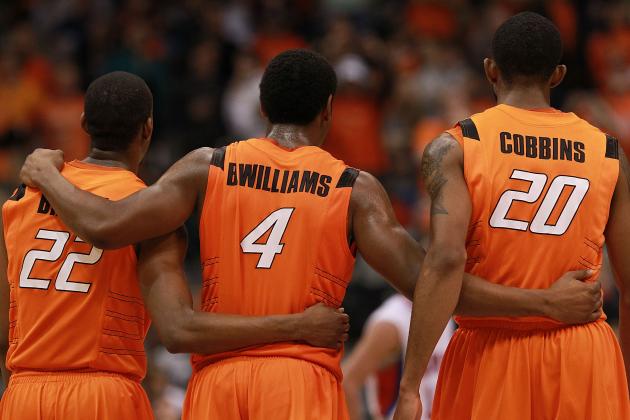 Ronald Martinez/Getty Images

When OSU (14-17, 7-11 Big 12) lost star freshman Le'Bryan Nash for the season, coach Travis Ford was forced to rely even more heavily on his depleted starting five. Senior guard Keiton Page embodies the Cowboys' only hope to make any noise during Championship Week.
The "Pawnee Pistol" has channeled his inner Stephen Curry, averaging 35.4 minutes per game and firing up 249 three-pointers this season, nearly six times the next highest player, Markel Bown.
Texas Tech (8-22, 1-17 Big 12), likewise, has a budding freshman of their own in Jordan Tolbert. Averaging 11.4 points per game, Tolbert represents a rare bright spot in the Red Raider program.
Ultimately, this game is for little more than the chance to be demolished by a Big XII power.
Oklahoma State has already beaten Tech twice this season. Texas Tech has enough talent to keep it close, but Keiton Page and the 'Boys simply have too much offense for the feeble Red Raiders to handle.
Winner: Oklahoma State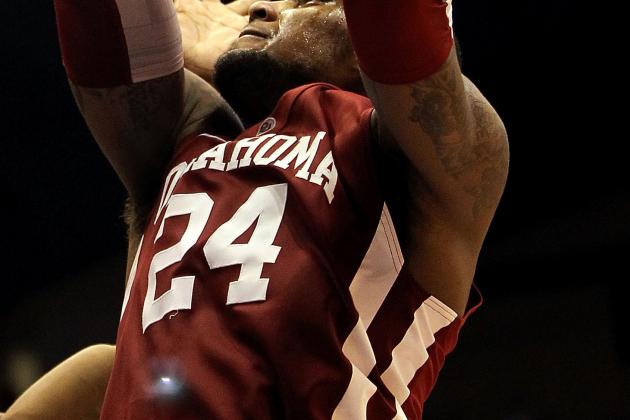 Jamie Squire/Getty Images

Oklahoma (15-15, 5-13 Big 12) and Texas A&M (13-17, 4-14 Big 12) split their season series in dramatic fashion, as the Sooners came away with a 65-62 win. With that victory, Lon Kruger's squad evened its record at 15-15 and now look to squeak into the NIT. A second W in under a week against the Aggies could be the difference between continuing the season and trudging home empty-handed.
One key matchup is at the point guard spot, which features two talented—though largely unknown—players. Dash Harris has been ravaged by injuries throughout his career, but maintains 4.9 assists per game as a senior.
His counterpart, Sam Grooms, has proven to be quite the facilitator himself, racking up 6.0 assists per contest. His play we be critical to the function of the Sooner offense, particularly the involvement of Steven Pledger.
Pledger was held to just nine points on three of nine shooting when the teams met in Norman and despite the career high in scoring from Romero Osby, this statistic is still unsettling for Sooners fans.
However, Oklahoma puts up nearly 10 more points per game (69.6) than Texas A&M (60.6). That added offensive punch (particularly the surging Osby), coupled with the driving motivation to make the postseason will propel the Sooners to a win come Wednesday.
Winner: Oklahoma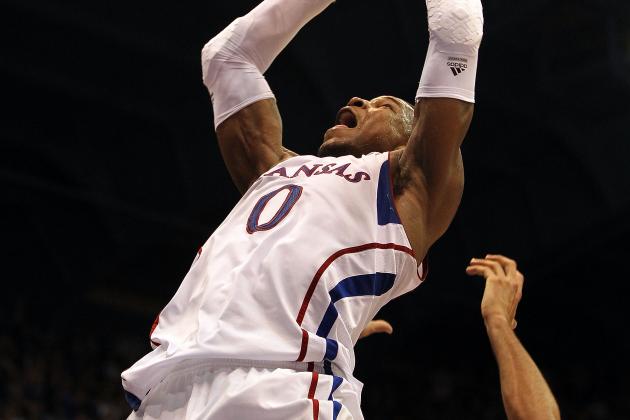 Jamie Squire/Getty Images

With a win over Texas A&M in the opening round, the Sooners would ensure themselves a record no worse than .500.
It's a good thing for them too, as after the underachieving Aggies come the Big Blue Behemoth that is Kansas (26-5, 16-2 Big 12). Head coach Bill Self is a front-runner for National Coach of the Year after turning a team with clear depth issues into one of the most dominating squads in the country.
Player of the Year candidate Thomas Robinson has become by far the top big man in the Big XII, and the only player to average a double-double. Joining him in the frontcourt is 7-footer Jeff Whithey, who was recently dubbed Conference Defensive Player of the Year himself. The tandem forms a massive wall down low, imposing their will on both ends of the floor.
The recent play of Oklahoma leading rebounder Romero Osby will be desperately needed if the Sooner have any hope to land the incredible upset.
The short of it is this: They wont. Look for Robinson, Taylor and Whithey to make that abundantly clear on Thursday.
Winner: Kansas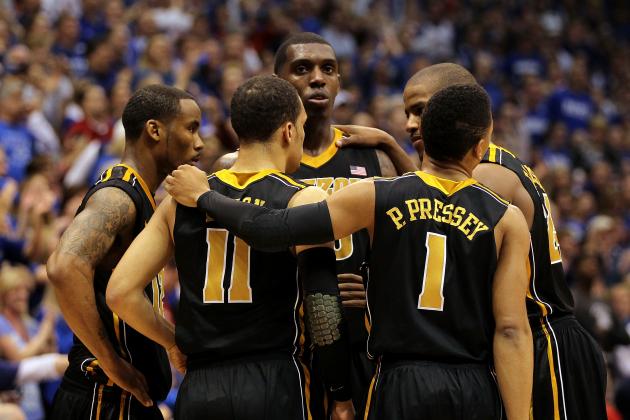 Jamie Squire/Getty Images

On January 25th, the Missouri Tigers (27-4, 14-4 Big 12) slumped out of Gallagher-Iba Arena in shocked silence, after a dizzying performance by Le'Bryan Nash led the Cowboys (14-17, 7-11 Big 12) to victory.
The difference between then and now?
247 miles, and the aforementioned Nash.
The Sprint Center crowd in Kansas City will undoubtedly be overwhelmingly pro-Missouri, and the Big XII's leading freshman scorer, Nash, will not be suiting up to play. Not to mention, the Tigers are simply flat-out good.
Missouri employs a four guard line-up and thus presents a superior perimeter defense. The Cowboys will be forced to rely heavily on the shooting of Keiton Page, no easy task against a swarming team like Missouri.
On the other side of the ball the Tigers boast four players averaging in double figures, and five that shoot at least .315 from beyond the arc. Look for the pure wave of Missouri offense to simply overrun the over-matched, under-manned Cowboys.
Winner: Missouri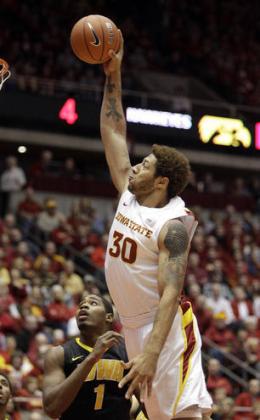 Few coaches over the past few seasons have done a better job elevating the status of their program than Fred Hoiberg, "The Mayor," has at Iowa State (22-9, 12-6 Big 12).
The Cyclones are led by Big XII Newcomer of the Year Royce White. All White has done this season is lead the team in points, rebound and assists (12.9, 9.2, and 5.2 respectively) from the power forward spot.
White and senior sharpshooting guard Scott Christopherson make up a formidable inside-outside duo that functions as the foundation of ISU's success.
The Longhorns (19-12, 9-9 Big 12) counter with a stud of their own. Enter J'Covan Brown.
The lone leader of a freshman-laden team, Brown leads the Big XII in scoring at 20.0 points per game. Brown receives little consistent support from his teammates, however, and UT's play has been shaky this season because of it. This edition of the Longhorns may fail even to make the NCAA Tournament, unheard of from a Rick Barnes coached Texas team.
If freshmen guards Sheldon McClellan and Myck Kabongo can play up to their potential, the Longhorns wield the weapons to make noise in Kansas City. If not, then the game (and perhaps the Longhorn's chances at an NCAA bid) will be lost.
Iowa State remains vastly underrated on the national scale. The teams split the season series and the rubber match may very well come down to a duel between two brilliant stars. But when it comes down to teams, the difference is dependability.
Winner: Iowa State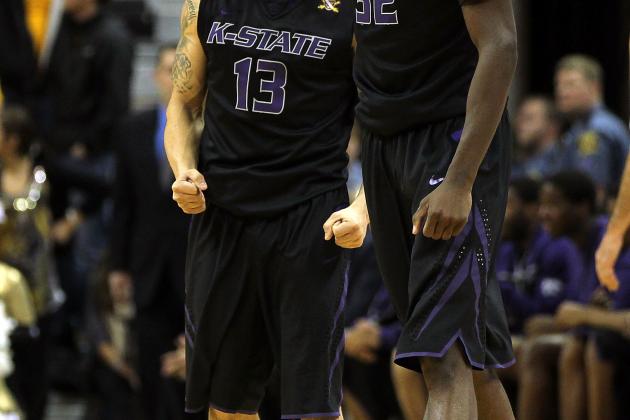 Jamie Squire/Getty Images

The Baylor Bears (25-6, 12-6 Big 12) rolled into conference play still undefeated, ranked in the Top 10 nationally, heralded as a Final Four caliber team and loaded with players bound for the NBA.
The talented players (namely Perry Jones III and Pierre Jackson) remain, but the elite label does not. The Bears are a meager 2-6 against Kansas, Missouri, Iowa State and Kansas State. Headlines swirl about how much potential this team is squandering and how good Scott Drew's team SHOULD be.
Media coverage aside, this Baylor team remains very good. Junior Pierre Jackson is a top-flight point guard, putting up 13.5 assists and 5.9 points per game. Not to mention the trio of Jones II and the two Quincy's, Acy and Miller, all of whom average in double figures.
Kansas State (21-9, 10-8 Big 12), however, flaunts one of the league's toughest defenses. A hallmark of any Frank Martin coached team, K-State is holding opponents to .452 shooting from the field and dominating the paint.
Junior guard Rodney McGruder carries the bulk of the offensive load and Will Spradling shoots .346 from distance, but ultimately Kansas State wins its games on defense.
Baylor has simply looked abysmal in too many crucial games for me to trust them any more. Defense wins championships, and the players in purple win the game.
Winner: Kansas State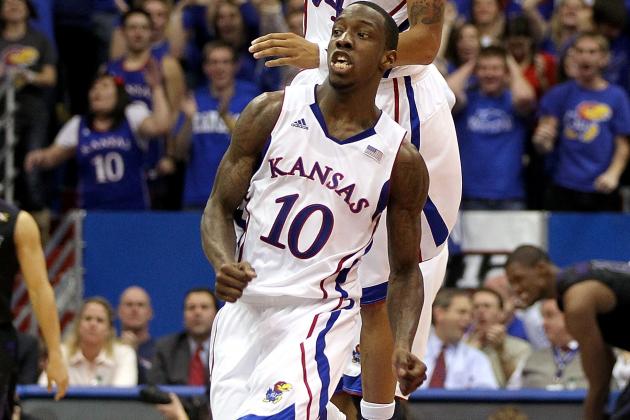 Jamie Squire/Getty Images

The Kansas Jayhawks (26-5, 16-2 Big 12) swept the season series over Kansas State (21-9, 10-8 Big 12), though such was not a simple endeavor.
The paint-clogging big men of KSU forced dominant low-post scorer Thomas Robinson to fight and scrap on the block for every one of his 20 points in Manhattan.
The rivalry between the Sunflower State schools possesses an incredible fire and passion, a scrum-like mentality enveloping the players that few other matchups can claim. In fact, to score even 60 points is an achievement within itself, as this bout features the conference's two top defenses.
The matchup at the point guard spot pits two veteran floor generals against each other. Tyshawn Taylor averages 17.2 points and 4.9 assists per game, but also commits a team high 3.5 turnovers. If Brandon McGruder and KSU can pressure Taylor and force him into turnovers, the task of dethroning in-sate rival Kansas becomes much easier.
Both teams feature skilled big men and adept and experience-laden guards. The Wildcats have more depth of both, but the duo of Taylor and Robinson is the best in the Big XII. Sometimes it's just that simple.
Winner: Kansas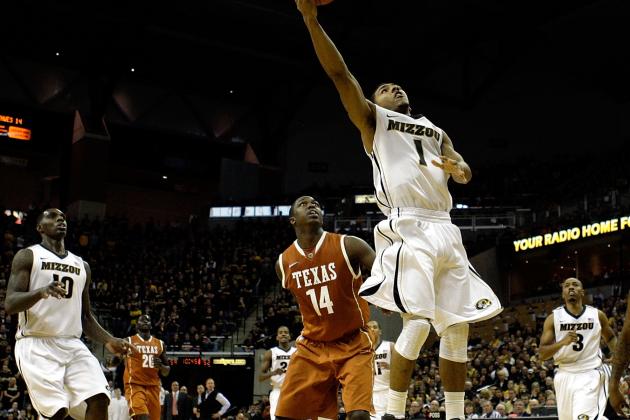 Jamie Squire/Getty Images

Iowa State (22-9, 12-6 Big 12) and Missouri (27-4, 14-4 Big 12) present an intriguing semifinal matchup.
The success of the Cyclones hinges directly on the play of Royce White. White stands at a sturdy 6-8, 270, a full two inches and seventy pounds heavier than his counterpart Kim English.
English is a guard by trade, but it forced to defend opposing big men night after night in Mizzou's four guard rotation. As terrible a matchup this may seem for the senior guard, English uses his speed and lanky build to beat opposing forwards to their spots and deny them the ball down on the block.
In fact, the Tigers hold such an arsenal of quickness that they often find themselves winning the battle on the glass. This edge on the boards, along with a scrappy turnover-forcing defense (Phil Pressey in particular averages 2.1 steals) allows their lightning quick fast-break to strike.
Strike often it does, as the Tigers average 79.7 points per contest, good for eighth nationally. Not to mention a clip of .499 from the field, which ranks third. Marcus Denmon and Kim English both shoot better than .400 from beyond the arc, even.
If Royce White can dominate against the undersized Kim English and fellow 6-8 forward Ricardo Ratliffe, then the Cyclones have a path to victory. However, Missouri simply boasts too much offense to make that very likely.
Winner: Missouri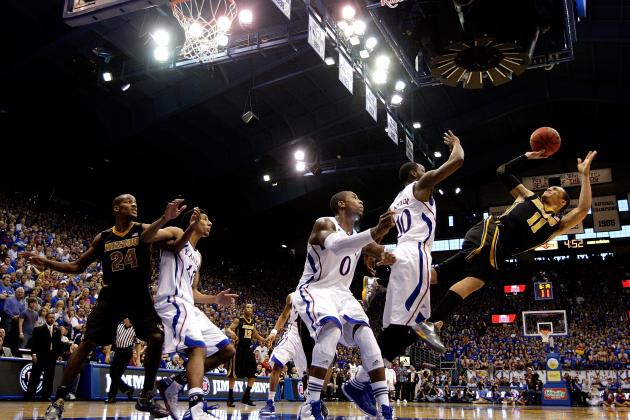 Jamie Squire/Getty Images

The basketball gods have smiled upon Kansas City, gracing us a championship bout for the ages. A century-old rivalry renewed for perhaps the last time featuring two Top Five teams that flat-out hate each other.
The season series stands at one game apiece, both games decided in the final moments, and now Kansas (26-5, 16-2 Big 12) and Missouri (27-4, 14-4 Big 12) stand ready to duel in epic fashion in one final game.
To the victor goes a Big XII Championship, a Number One Seed and the rivalry win to end them all.
The individual idiosyncrasies of this matchup are endless. Mizzou's Phil Pressey and Ricardo Ratliffe form one of the top pick-and-roll pairs in the league. Another top guard-big man team? Thomas Robinson and Tyshawn Taylor of Kansas.
Both duos have their Kryptonite. If Kansas can get Ratliffe in foul trouble, then Robinson will have a field day in the low post. Conversely, if Pressey can bait Taylor into turning the ball over, then Missouri can get out and run. Neither team has much depth, however, so exposing either weakness could prove fatal. In fact, Missouri has only seven scholarship players, none of which stand taller than 6'8".
One of the seven, a reserve, could very well be the X-factor for the Tigers. Junior Big XII Sixth-Man of the Year Micheal Dixon pours in 13.2 points off the bench per games, is lightning fast and can stroke it from distance.
On the Kansas side, marksman Connor Teahan does little more than shoot, but is ruthlessly efficient, going 4-4 from three in the comeback win against Missouri.
This game is very much a battle of starkly different styles and tempos. In all likelihood the contest will be a series of spurts and momentum shifts, as the Tigers and Jayhawks fight to impose their style on one another.
Will Mizzou's pin-point accuracy from deep be the death of the Jayhawks? Or will Thomas Robinson establish himself as the best player on the floor? In a battle of two championship caliber teams, hated rivals and Coach of the Year candidates, there is no telling which way this will go.
Ultimately, Kansas has proven they can get Missouri in foul trouble, exposing their one fatal flaw. The game will go down to the wire, but Kansas has Thomas Robinson, and Missouri does not.
Winner: Kansas