March Madness with a Twist: Spurs, Arsenal, Chelsea, Newcastle and Liverpool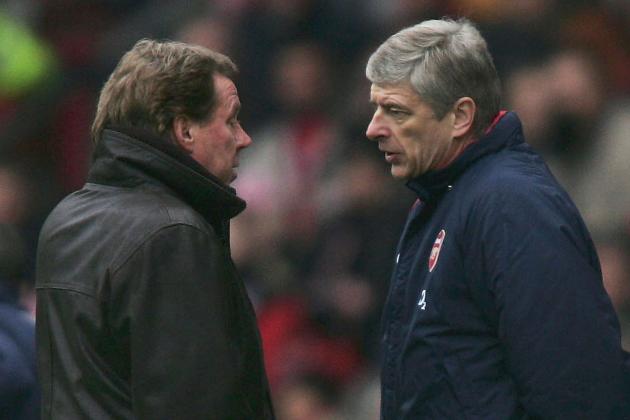 Ben Radford/Getty Images
When 'Arry met Arsene
A week is a long time in football.
If we rewind to just before the last weekend of games (25 and 26 February), Spurs were title-chasers, Arsenal's season was in tatters, Chelsea had a manager, Liverpool were chasing glory and Newcastle were there and thereabouts.
Fast forward to Sunday, 4 March, and Arsenal are favourites for third, Spurs might struggle to stay in the top four, Liverpool have a trophy but may not get to compete for the "big one" next season and Chelsea have lost the plot and their manager. Oh, and Newcastle are still there and thereabouts. Some things never change!
Each of these clubs (barring Liverpool) has played 27 games. The next five will probably determine where they finish come season-end. Fourth place is indeed the holy grail, but for clubs like Arsenal and Tottenham, a guaranteed place in next season's Champions League main draw will change the way they do business in the summer.
Coming to Chelsea, not qualifying for the Champions League at all may finally make Roman lose interest. And who knows what the repercussions could be?
Newcastle and Liverpool are in a somewhat similar state of limbo. Finishing outside the top four will mean more of the same next season (although Senor Suarez might seek greener pastures—oh, joy!), but a Champions League place would give either club a massive lift.
Both clubs have fantastic fans, and if I were to put my neutral hat on, I would wish them all success. The sight of Mikel Arteta (a former Toffee) getting a standing ovation from the Kop as he was carried off on Saturday gave me goosebumps, and the memory will remain with me for ever.
Back to the business at hand, though.
As I was saying, the month of March will be key in determining how the table looks at season-end. Here's a look at the next five fixtures (six for Liverpool) for each team, with predicted results, and a look at my projected Premier League table (third to seventh place) come early April.
Follow me on Twitter @ratanpostwalla
Begin Slideshow

»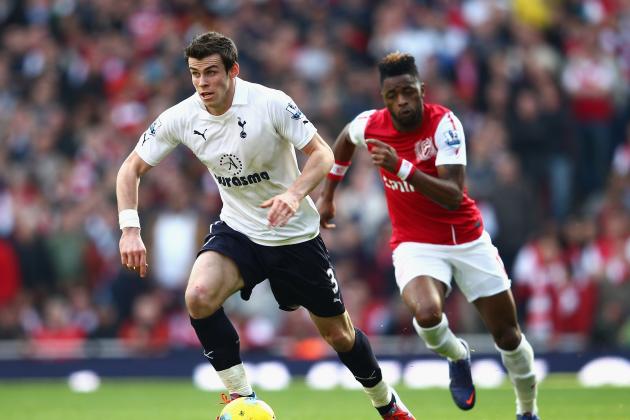 Clive Mason/Getty Images
Gareth Bale must return to fitness for Spurs to keep pace
Present points tally: 53
Next five fixtures: Everton (A), Soke (H), Chelsea (A), Swansea (H), Sunderland (A)
How They Will Fare
Spurs enter this phase on the back of two demoralising defeats. In addition to the league fixtures, there will be a couple of FA Cup games to contend with as well.
Everton are always stronger during the second half of the season, and this year, it's been no different. While the Toffees are now without Landon Donnovan, who has returned to the MLS after yet another effective loan spell, they still have plenty of skill and grit. I foresee no more than a draw for Spurs in this fixture.
Although Stoke are almost always difficult to beat, Spurs will have too much ammunition for Tony Pulis's men, and I predict a comfortable three points for Tottenham.
Chelsea away could go either way, depending on how the Blues adjust to life after AVB. So I'll take the safe route and go for a draw.
Swansea have been like a breath of fresh air for the league this season with their bold, attacking play, home and away, and the heroics of their goalkeeper, Michel Vorm. But this game should bring three comfortable points to the north London team.
Finally, a trip to the Northeast, and I believe Martin O'Neill's team will get something from this game. I'll go for a draw, though it could be worse for Harry Redknapp's men.
Points tally on 8th April: 62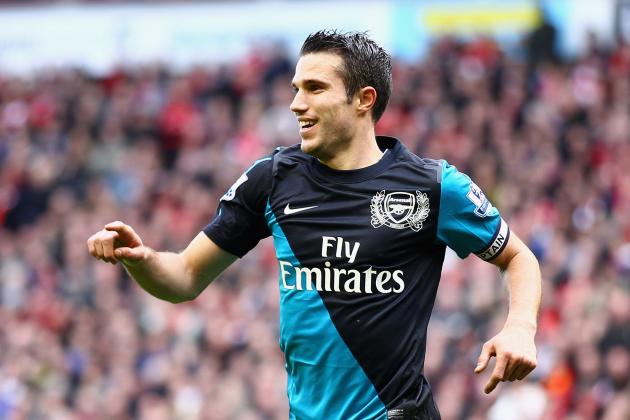 Clive Mason/Getty Images
Has any player ever been as integral to his team's fortunes?
Present points tally: 49
Next five fixtures: Newcastle (H), Everton (A), Aston Villa (H), QPR (A), Manchester City (H)
How They Will Fare
Arsenal have hit the crest of a wave with successive victories over Tottenham and Liverpool, and their next two or three games are most important.
They first face AC Milan in an almost impossible-to-win Champions League second-leg tie. I don't expect them to go through, but a strong showing in tomorrow's clash at the Emirates could really buoy Gunners' spirits.
Newcastle at home should be fairly comfortable for Arsenal. The Geordies have had a fantastic season under Alan Pardew, but I think the wheels are beginning to come off a bit.
Everton away will be tricky, but Arsenal have done well there of late. I want to be bold, but I'll stay conservative and predict a draw.
Aston Villa are having a nightmare season under Alex McLeish, and while I have no sympathy for the manager, I do feel for the players and fans. I don't think they'll trouble Arsenal at the Emirates, and I foresee an easy three points for the team in red.
QPR at Loftus Road will be a difficult fixture, as London derbies usually are, but if Arsenal go there on the back of six wins and a draw in the League, their momentum will take them to all three points.
The Champions designate will visit the Emirates Stadium in the last of the Gunners' five matches in focus. The way they play will obviously depend on their own position in the title race—they could be conservative or expansive—but I'm going for a stalemate.
Points tally on 8th April: 60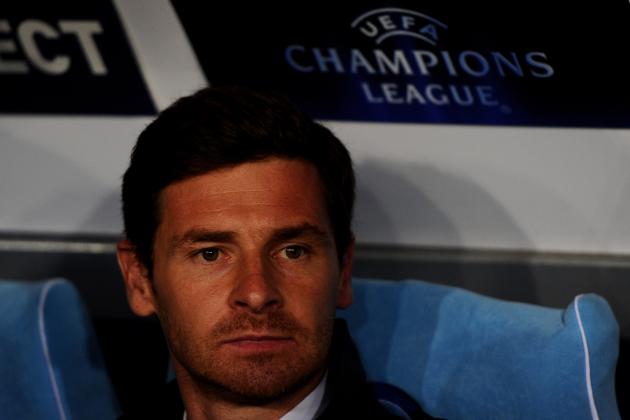 Mike Hewitt/Getty Images
A picture speaks a thousand words
Present points tally: 46
Next five fixtures: Stoke (H), Manchester City (A), Tottenham (H), Aston Villa (A), Wigan (H)
How They Will Fare
Chelsea face a tricky set of fixtures on the back of sacking their seventh manager in the Abramovich era. Lampard, Terry and Cole may have driven Andres Villas-Boas out of the club, but do they have what it takes to lead the team on and off the field? And what if Roberto de Matteo decides to exclude them from the team? If he has any say in the matter, that is.
Stoke visit the Bridge first, and the Potters will make the most of the turmoil in West London. I reckon they will take at least a point.
Chelsea then travel to the Etihad Stadium to face Manchester City. Big players normally step up for big games, but not when they have dodgy knees. An "L" for Chelsea and no points to take home from Manchester.
Spurs then visit Chelsea, and as I've already said, this game will end with honours even.
Chelsea finally face Aston Villa at Villa Park and Wigan at home. The Villa game might well be a tight contest, but Wigan should be easy meat. I can see the Blues taking six points from these two fixtures.
Points tally on 8th April: 54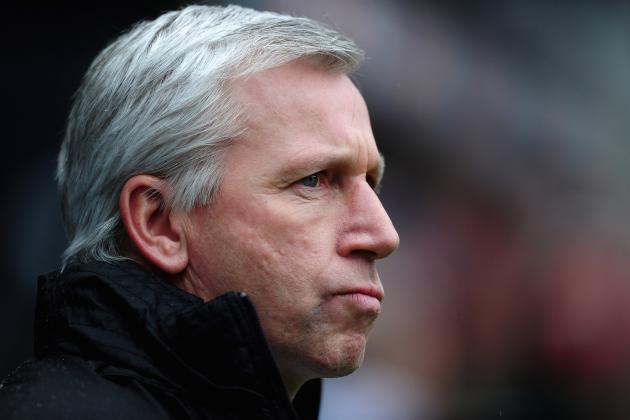 Laurence Griffiths/Getty Images
Alan Pardew: Has worked miracles this season
Present points tally: 44
Next five fixtures: Arsenal (A), Norwich (H), West Brom (A), Liverpool (H), Swansea (A)
How They Will Fare
I fear that this sequence of games will be a bridge too far for Newcastle.
I expect them to beat Norwich at home, and at best, draw with Liverpool, but they will get nothing from away days at Arsenal, West Brom and Swansea.
Points tally on 8th April: 48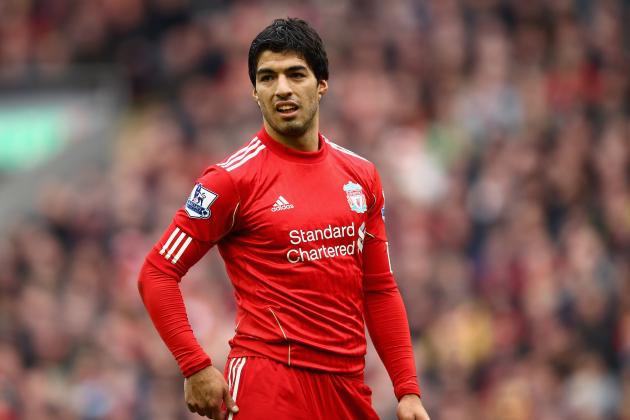 Clive Mason/Getty Images
Here's hoping we don't have to see him for much longer
Present points tally: 39
Next six fixtures: Sunderland (A), Everton (H), QPR (A), Wigan (H), Newcastle (A), Aston Villa (H)
How They Will Fare
I know that most Liverpool fans are still predicting a surge up the table, but I'm sorry, that's not going to happen.
At the end of the day, it all boils down to quality, and unfortunately, Stewart Downing, Charlie Adam, Jordan Henderson and Andy Carroll don't have much. I wrote a piece way back in August on why Liverpool won't finish better than sixth, and I received plenty of brickbats for it from Liverpool fans. I'd love to hear their thoughts now.
The next six games will bring wins at QPR and at home to Aston Villa, but I predict disappointing draws at Sunderland, Everton, Newcastle and at home to Wigan.
Liverpool just don't score enough goals, and it is telling that as of late, only five teams have scored fewer goals than the reds in the League this season.
If Kenny Dalglish doesn't deliver Champions League football next season, I don't see John Henry and his buddies keeping him on as manager. Yes, the Carling Cup is "silverware," but it doesn't really count.
Points tally on 8th April: 49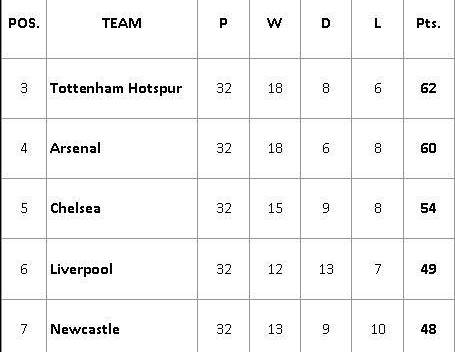 Nostradamus says....
Tottenham will still be in third place, but only just. Arsenal will be close on their heels, while Chelsea, Liverpool and Newcastle will be some distance behind.
Whatever happens, it promises to be one hell of a run-in.
Fasten your seatbelts!