UVA vs. Maryland: Mike Scott Saves Best for Last as Cavaliers Grab 4th Bye
March 5, 2012

Jeff Zelevansky/Getty Images
If you were writing a book or movie script about Virginia's men's basketball season, you'd have had the last regular-season game, with so much riding on the outcome, go into overtime, right?
And why not?  After all, this Cavaliers team had played nine of 15 conference games where the margin was three points or less in the final minute. 
Five of those nine games came down to the final shot before the outcome was decided.  But none had finished tied—until the final Sunday afternoon of the regular season.
In a game where UVA trailed just once—and that at 4-3—suspense gripped a Senior Day crowd in the Comcast Center in College Park throughout a second half in which Virginia never trailed but could never shake a determined Terrapins team.
The Cavaliers finally prevailed in overtime, 75-72.
Mike Scott, whose own senior night was spoiled by Florida State this past Thursday, had a career-high 35 points to go along with a game-high 11 rebounds.  He got major support from the Cavs' only other senior in uniform, Sammy Zeglinski, who had an ACC season-high 20 points to go along with six rebounds.  Jontel Evans added seven points, including a key driving lay-up with 19 seconds remaining in overtime that gave Virginia a four-point lead, to go along with a game-high six assists and an ACC career-high four steals.
Maryland was led by ACC leading scorer Terrell Stoglin with 25 points.  Senior Sean Mosley contributed 17 points to go with his team-high 10 rebounds and four assists.
The Cavaliers enjoyed a 31-22 advantage at halftime, and the teams played on even terms through the first 15 minutes of the second half.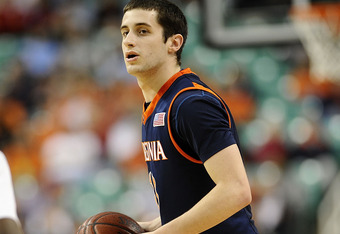 Jeff Zelevansky/Getty Images
With UVA still up by a 57-49 margin, the Terps ran off six straight points to cut the lead to two with just over three minutes remaining.
A Mike Scott jumper pushed the lead back to four with 2:25 left, but Stoglin quickly retaliated with a driving lay-up.
After Scott missed a short hook on Virginia's next possession, James Padgett had an opportunity to pull Maryland even but missed the second of two free throws.
Scott, an 82-percent foul shooter, was sent to the charity stripe with 1:03 to go and missed both opportunities.
After Mosley missed a turnaround that would have given Maryland the lead, Virginia got a long jumper from Zeglinski to make it 61-58.
But the Terps pushed the ball up the court, and Stoglin hit a game-tying three with eight seconds to go.
Virginia quickly got to front court and called time-out with 7.4 seconds left.
With everyone anticipating that the Cavs would hold for the last shot, Virginia ran a play that freed the least likely player on the floor to take that last shot for an inbounds lob right at the basket.  Unfortunately, Darion Atkins caught the pass from Joe Harris in mid-air directly under the rim.  He attempted to lay it in backwards with two hands off the glass but left it short.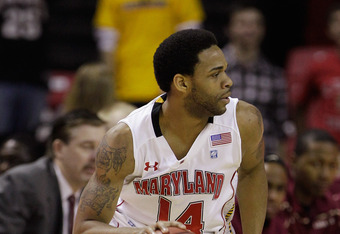 Rob Carr/Getty Images
Padgett grabbed the rebound, and Maryland called time-out with 4.4 seconds left with now their own chance to win it.
The Terps inbounded from under Virginia's basket to Stoglin, who got a pick from Alex Len at mid-court that allowed him to get off a 30-foot jump shot that bounced off the rim as time expired.
UVA controlled the overtime from the outset, jumping out quickly on an Evans lay-up off a nice pass from Scott.   
The Cavaliers would not miss from the floor in OT, going 4-of-4, and 6-of-8 from the free-throw line.
It was a herculean effort from three of the five Virginia starters.  The Cavs have had only seven scholarship players dressed for the last two games since a foot injury has sidelined sixth-man Malcolm Brogdon indefinitely.
Scott and Zeglinski each played 44 minutes and Evans played 42.  Joe Harris, who continues to play with a broken left hand, saw 37 minutes of floor time.
Both teams now head to Atlanta for the ACC tournament.  Maryland will face Wake Forest on Thursday with the winner advancing to face North Carolina.  Virginia gets the fourth-place bye, winning the tiebreaker over both Miami and NC State.  They will play the winner of the NC State-Boston College game on Friday.