Summit League Tournament: Western Illinois, Southern Utah Advance to Semis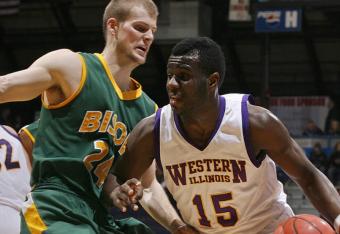 Obi Emegano (15) helped lead Western Illinois to the semis.

In the second day of action in the Summit League conference tournament from Sioux Falls, South Dakota, fans in attendance and viewers at home were treated to two intense games. Two upstart programs reached the semifinals to be held on Monday night.
No. 4 seed Western Illinois and No. 6 seeded Southern Utah broke through down the stretch of their respective games. WIU and SUU knocked off former conference champions in North Dakota State (2008) and Oakland (2010, 2011), respectively.
(4) Western Illinois 58, (5) North Dakota State 53
Pairing two teams on different streaks, Western Illinois took advantage of North Dakota State's lack of defensive presence down the stretch to take the first contest of the evening, 58-53.
NDSU spent much of the year flirting with the second spot in the conference before going on a horrible stretch to end the season, dropping nine of their last 13, including Sunday's loss to the Leathernecks.
Western Illinois, while still struggling towards the end of the season, proved to the Bison that they needed to be taken seriously on Sunday night.
In what was a back-and-forth game, the Leathernecks closed out the Bison after Ceola Clark III (13 points) converted a four-point play with 39 seconds left. That give the 'Necks a three-point lead, forcing NDSU into a corner.
Freshman Obi Emegano (19 points) and center Terrell Parks (13 points, 11 rebounds) did the dirty work for Western Illinois to allow Clark to close the game and move on to play top-seed Oral Roberts.
My take: This game turned out just how I predicted it would. WIU stepped up offensively in the clutch, while NDSU's defensive struggles cost them in the long run.
WIU presents a great obstacle for Oral Roberts, who narrowly escaped their matchup against IPFW on Saturday night, coming away with a four-point victory. While the Leathernecks don't possess the same size and athleticism that the Golden Eagles do, their ability to pack the lane on defense could cause problems for an Oral Roberts team that loves to penetrate.
The three ball may be a key factor in determining the winner of this game.
(6) Southern Utah 84, (3) Oakland 82
The first, and only, upset of the quarterfinals action came in the final game, where Southern Utah mounted an amazing comeback to knock off two-time defending conference champion Oakland, 84-82.
Far and away, this was the most exciting game of the first round.
SUU jumped out to an early lead, pushing the Grizzlies to their brink before the nation's leading scorer, Reggie Hamilton, started to put his mark on the game. After struggling to hit shots from the field in the first part of the second half, Hamilton nailed three straight three-pointers en route to 22 first half points, three shy of his season average.
At halftime, SUU held a half time lead of 43-40, using strong defense and a great offensive effort from Jackson Stevenette to maintain control.
Once the second half began, Hamilton allowed the rest of his teammates to join in on the offensive flurry, allowing the Golden Grizzlies to gain control of the game for most of the second half. Travis Bader (23 points) was the Grizzly who benefited the most from Hamilton's outburst, giving Bader open shots from the outside where he is most deadly.
However, trailing down 81-70 with 2:50 to play, Stevenette and the Thunderbirds decided to bear down on defense, shutting down Hamilton when it mattered most. The Thunderbirds got a quick basket from Stevenette, a steal and basket in the backcourt and missed jumper by Hamilton and three-point play by Ray Jones Jr. brought SUU within two with just over a minute left to play.
On the ensuing inbound, Hamilton was fouled before any time ran off the clock, sending him to the line for two shots. Except, much like his previous trip to the charity stripe, Hamilton (31 points, 10-of-18 FG, 6-8 3FG) missed the first shot, but managed to hit the second, giving Oakland a three-point lead.
SUU's Damon Heuir (23 points, 8-of-13 FG) hit a catch-and-shoot three to tie the game. Bader missed a three-point attempt of his own on the other end, giving the ball to Southern Utah with 40 seconds to play.
Enter Stevenette.
After dribbling down the clock, Jones Jr. passed to Stevenette (26 points, 16 in first half, 10-of-16 FG) at the top of the key. Then, Stevenette dribbled around Oakland's Drew Valentine to convert a difficult shot with 12 seconds left in the game. After a failed OU offensive possession, Stevenette rebounded the ball and was immediately fouled.
However, he failed to hit either free throw, giving Oakland a chance to tie or win the game with two seconds to go. An inbounds to advance the ball and a timeout later, Oakland had but six-tenths of a second left to get a shot off. On the inbounds, Hamilton took the ball near half court, and hailed a three-pointer that fell short, giving Southern Utah the upset victory.
My take: Partially, my prediction for this game was spot on.
As I stated in my preview article of the conference tournament, I mentioned that Hamilton was on a six-game 30-plus points streak, and SUU didn't possess a defender that could keep him from extending it to seven. In that aspect, I was right.
What I was wrong about was how Stevenette would play such a huge role in the game, ultimately being the deciding factor in their victory. Southern Utah showed tonight that they have the drive and that talent to win in the tournament, but face a much greater task in South Dakota State in the semifinals.
Unlike Oakland, who relies heavily on Hamilton for production on the offensive end, the Jackrabbits have a plethora of talented stars that can beat you from all angles on the court. Nate Wolters (22 points, seven rebounds, six assists vs. IUPUI on Saturday) will be a target in the Thunderbirds defensive game plan .
The last time these two teams play, Wolters was the main reason that SDSU beat SUU by 10 points. He went off for 31 points on 10-of-16 shooting.
Both contests on Monday night are sure to bring the fireworks in intensity.
Oral Roberts will be looking to prove that their game on Saturday night was a fluke and have the firepower to dominate the lower seeds in this tournament. SDSU, meanwhile, will be looking to continue the hot play that helped them to a 21-point victory against IUPUI Saturday.
Also, the Jackrabbits will be trying to avoid becoming Southern Utah's second upset victim in the tournament.
Overall, Monday night will certainly be an intense atmosphere as these four teams battle it out to see who will be going on to the conference championship game. Look for some more fireworks.
This article is
What is the duplicate article?
Why is this article offensive?
Where is this article plagiarized from?
Why is this article poorly edited?