New York Yankees: Ranking 10 Most Intriguing Spring Training Names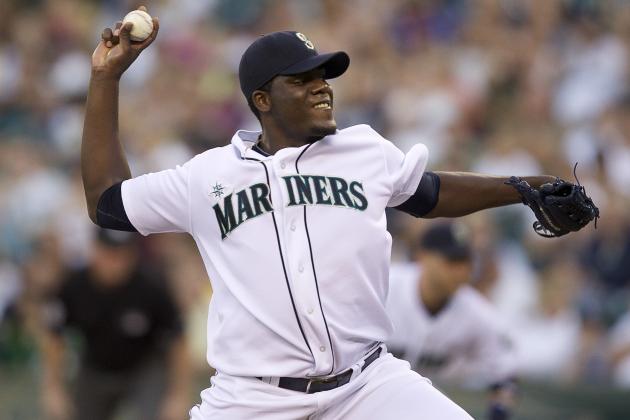 Stephen Brashear/Getty Images

Spring training is fully underway, with the first batch of games being played over the weekend. Every spring training has that surprise player that'll turn heads and get the Sportscenter guys and gals talking.
Of course, spring training isn't just about that. It's also about the guys fighting for that last spot, showing why they deserve to be a midseason or September call-up, proving they've still got what it takes to play in the majors.
The New York Yankees have new guys joining the starting rotation, a couple of kids looking to crack the rotation in a couple of years and some old guys trying to bounce back from sub-par years. There's also the guys who know they won't break camp with the team, but are still looking to impress somebody out there.
Things always get interesting during spring training, as it's the first time we're seeing these guys since last September/October. The Yankees have a couple of storylines of their own that'll play out during March. Here are the 10 most intriguing names to watch during spring training in descending order.
Begin Slideshow

»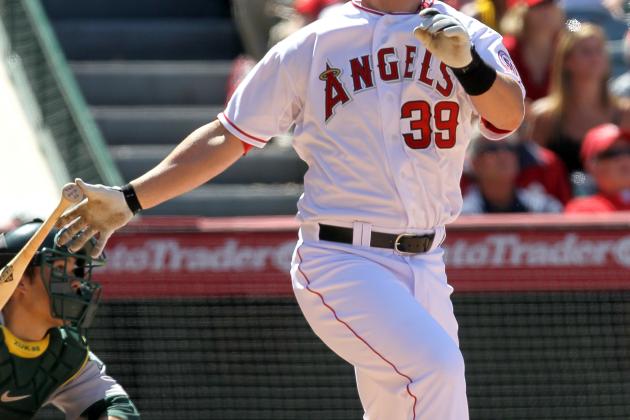 Stephen Dunn/Getty Images

Russell Branyan was given a non-roster invite to spring training. He likely won't break camp with the team, but he's got a good chance of joining them if anyone on the team gets injured.
Branyan was a candidate for the DH spot before the team signed Raul Ibanez. He's a lefty and is known for his power more than anything. Back in 2009, Branyan hit 31 homers for the Seattle Mariners.
He's intriguing only to see if he still has any of that power left. The short porch in Yankee Stadium is favorable to lefties. Branyan can easily mash a couple homers as an injury replacement throughout the season.
If anything were to happen to Ibanez or any of the infielders, expect Branyan to get a shot while those guys go on the DL. Branyan's a name to watch during spring training to see if his power returns. His power's the only reason why the New York Yankees signed him.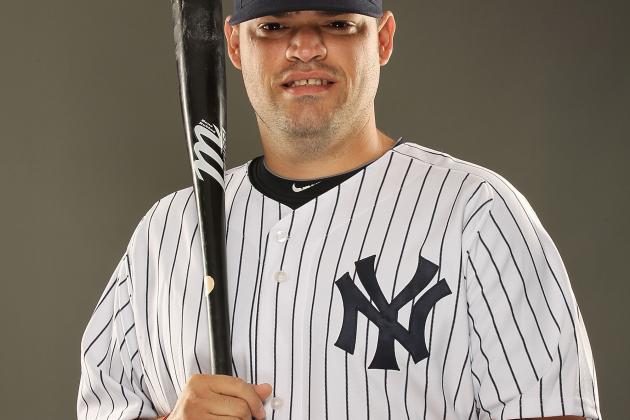 Al Bello/Getty Images

Everyone remembers when Jorge Vazquez was crushing out homers for the New York Yankees last spring training. He'll likely do more of the same this spring. Vazquez was another guy who was considered for the DH spot before the signing of Raul Ibanez.
He has a bit of a reputation for blasting balls out of the park. Vazquez's done that since he was in the Mexican League. The guy's got a major league bat, but it looks like he'll be stuck in the minors once again.
He'll be in the same boat as Russell Branyan during spring training. Neither one of them is going to see a lot of playing time at the major league level unless the Yankees get hit hard by injuries.
Vazquez is a name to watch because of those towering homers he'll hit. He'll do just about everything right offensively. His strikeout rates, however, will keep him in the minors for another season. The same goes for his shaky defense.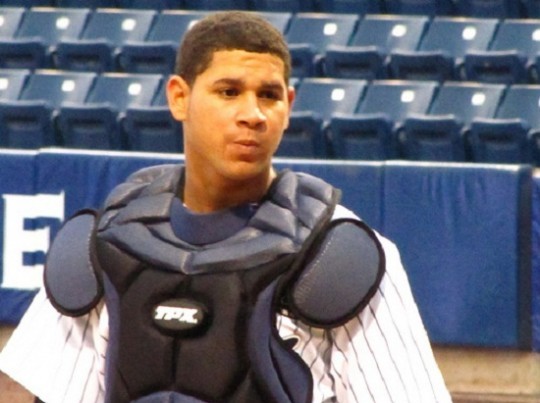 Raul Ibanez might be Jesus Montero's temporary replacement for DH, but once upon a time, Montero was supposed to be the New York Yankees' next catcher.
Gary Sanchez is now the new Jesus Montero. He might even be better because Sanchez can actually play the catcher position. At the age of 19, Sanchez is still very raw and still needs a couple more years in the minors before he's ready for the bigs.
While he might not match Montero's bat, Sanchez has the chance to be a more well-rounded catcher. Montero started getting some attention at Sanchez's age, and now that Montero's gone, expect the spotlight to be even brighter on Sanchez.
I don't expect much from Sanchez this spring training, so it'll be easy for him to surprise me. He's a guy to watch just to see if he lives up to the expectations the Yankees front office and fans are placing on him.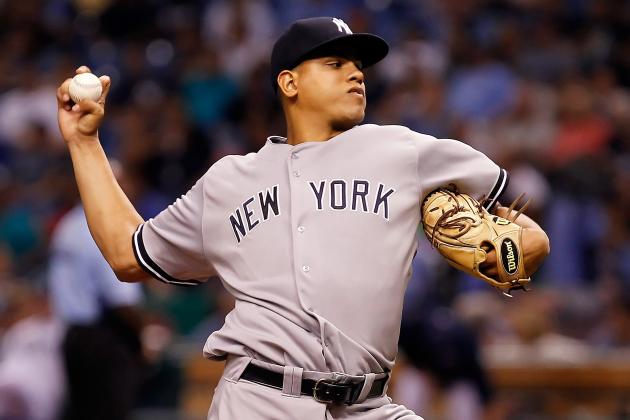 J. Meric/Getty Images

What Dellin Betances did last season in the bigs is in no way indicative of what he's capable of. Betances only pitched 2.2 innings in the majors and barely had any time to show off his stuff.
He'll get the chance this spring training. At a towering 6'8", Betances is capable of consistently hurling fastballs at 95mph. To go along with his fastball, Betances has a pretty solid curveball that'll rake up the strikeouts once he's improved it.
Betances is the New York Yankees' second best pitching prospect behind Manny Banuelos. Scouts project him to become a top-of-the-rotation type starter. Spring training is the first place where he'll get the chance to prove if he can become just that.
Pitching depth is finally one of the Yankees' strengths. Should any of their starters fall to injuries, Betances is likely the first one to be called up to take their spot.
Betances will be watched closely by manager Joe Girardi and the front office to see if he has what it takes to handle big-league hitters.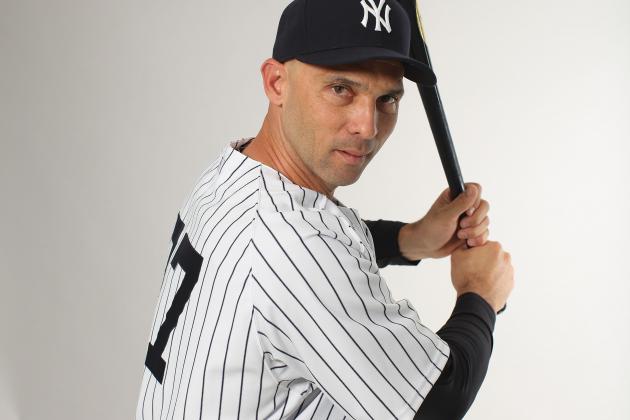 Nick Laham/Getty Images

When the year began, the New York Yankees seemed to be all set with their DH. Jesus Montero was to be the DH for the team until they figured out whether or not they could fix the problem of his virtually non-existent glove.
A trade involving the Seattle Mariners later, however, had the Yankees searching for a DH, and they eventually found one in Raul Ibanez. The Yankees signed him in the offseason, hoping his power numbers will improve in Yankee Stadium.
His numbers have dropped the past two years, but he did hit 34 homers and have 93 RBI back in 2009. The Yankees are hoping for something close to those numbers by the time October comes around.
The one thing that concerns me the most is his age. Ibanez is 39 and will be 40 be the season's end. His age might be the reason for his decline. If the trend continues, he'll hardly be an effective DH for the Yankees.
Spring training will be the first chance Ibanez will get to show that he's still got something left in the tank. If he wows during camp, expect some of those questions to go away. If he struggles, he'll be on a short leash once he gets to Yankee Stadium.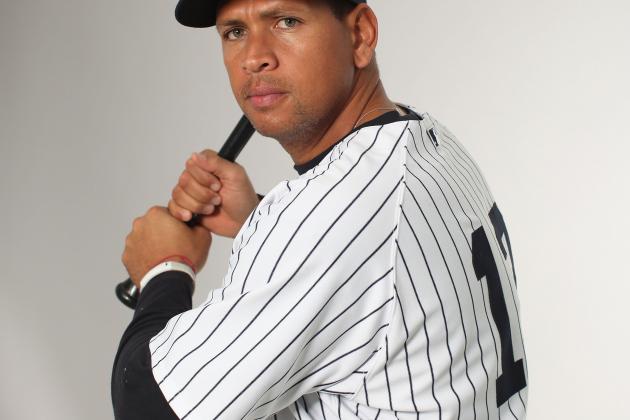 Nick Laham/Getty Images

The combination of age, coming back from injuries and going to Germany in the offseason to see the doctor who helped Kobe Bryant puts Alex Rodriguez on the list.
A-Rod missed a good chunk of last season because of his knee, and now, we get to see if all that work on his knee will pay off. The Yankees need the 30 HR, 100 RBI A-Rod back to make their lineup stand out from all the rest.
The Yankees were second in runs scored and first in homers with an injured A-Rod. If the Yankees get a healthy A-Rod back, then there'll be no question as to who has the best lineup in the league.
Spring training is where he'll get the chance to show whether or not he's over his knee troubles. Of course, I wouldn't put too much emphasis on spring training stats, but if he goes all of spring training without a home run, something may still be wrong.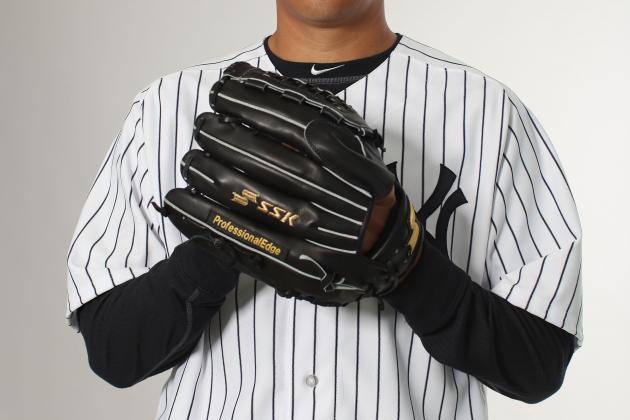 Nick Laham/Getty Images

Hiroki Kuroda was a bit of an under-the-radar signing, as the New York Yankees signed him right as the trade for Michael Pineda was announced. Everyone was focused on the Yankees trading Jesus Montero for Pineda that Kuroda was somewhat overlooked.
Well now, Kuroda will get the chance to show why the Yankees signed him.
Kuroda's been in the majors for four years now and has been posting solid numbers for the Los Angeles Dodgers. He had a career year last season with an ERA of 3.07 and a WHIP of 1.21 with 161 strikeouts. Of course, this was in the NL West, where he had to pitch against the offensive might of the San Francisco Giants and the San Diego Padres.
The switch to the AL East won't be easy. The lineups of the Boston Red Sox, Tampa Bay Rays and Toronto Blue Jays are of a different breed. He'll get his first chance to see and face these lineups this spring training, and you can bet that everyone will be watching him closely.
After all, Yankee fans remember all too well what happened the last time the Yankees signed a pitcher who got his start in the Japanese League.
Nick Laham/Getty Images

Phil Hughes pretty much has the fifth spot in the rotation locked up. It's supposed to be a competition between Hughes and Freddy Garcia, but the consensus around the New York Yankees camp is that it's Hughes' job to lose.
Hughes still has to prove that he's worth being the rotation. He was once the Yankees' best prospect and was considered to be their future ace. He's fallen far from that and has to climb his way back to that status.
My expectations on Hughes have been lowered just as the speed of his fastball has lowered. However, he still has the chance to surprise everyone with a stellar spring training. Hughes did win 18 games in 2010.
He has to bounce back from a sub-par season. Hughes got better as the year went on, and hopefully, that's a good sign he's nearer what he once was.
If he stinks it up during spring training, except the Yankees to go with Garcia as their fifth starter. But if he wows everyone, the Yankees will be that much deeper.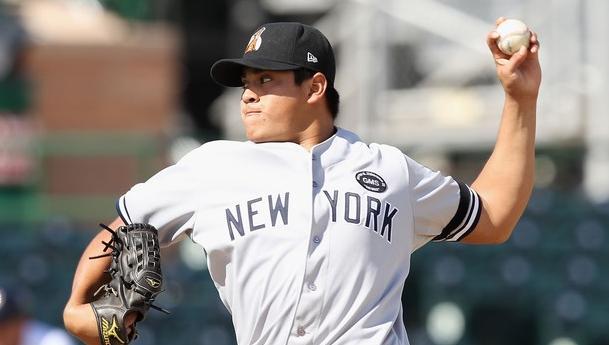 Manny Banuelos is one of the best pitching prospects in all of baseball and the New York Yankees' top prospect now that Jesus Montero is gone. He's a lefty with solid command of three pitches, including a mid-90s fastball and an above-average changeup.
At 20 years old, Banuelos is one of the younger prospects the Yankees have, but he's the closest one to being ready to make the leap to the majors in my opinion. Another year or two, and Banuelos will be ready to join the Yankees rotation full-time.
This spring training will be used to gauge how ready Banuelos is for the big leagues at this point. He's not going to break camp with the team, but he'll likely be a September call-up. If he dazzles at spring training again, he might even get called up mid-season in case there's an injury.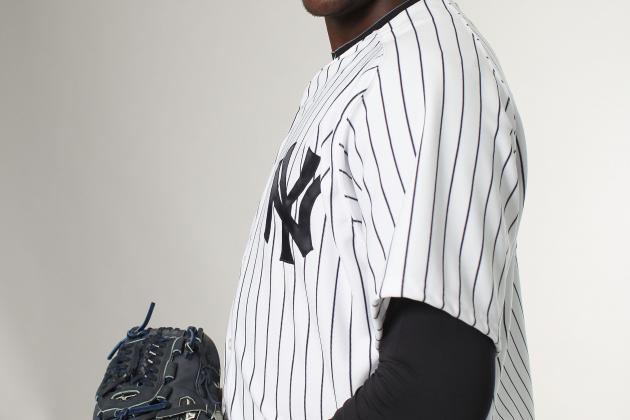 Nick Laham/Getty Images

Of course he'd be at the top of the list. You can't be traded for Jesus Montero and expect to go through spring training unnoticed.
Michael Pineda is the who the New York Yankees got in exchange for their beloved prospect, Montero. There was a bunch of hype surrounding him in the minors, and when he finally came up, he didn't disappoint.
Pineda is pretty much going to need to pitch the spring training version of a perfect game to get Yankee fans on his side and over the Montero trade. Luckily for him, he has the stuff to do so.
He has a nasty slider and a fastball that'll consistently stay in the mid-90s. His fastball has even hit 99 mph on occasion. However, he did hit a bit of a slide after the All-Star break last season. He needs to show that slump in the second half was just a fluke.
Everyone will be watching him this spring training to see if he'll get over that. They'll also be looking to see if he was worth trading Pineda for. And for that reason alone, he's at the top of this list.