WWE WrestleMania 28: CM Punk Will Prove His Mettle Against Chris Jericho
March 5, 2012

CM Punk is one of the strongest characters in the WWE, the face and heart of the company and he's going to prove he deserves the distinction against Chris Jericho at WrestleMania 28.
He certainly has the mettle to do it.
So what is mettle?
Mettle is courage. It's fortitude. It's gumption.
Look the word up and you'll find synonyms like ardor, caliber, energy, fire and force. Mettle is spirit. Mettle is stamina, valor and moxie.
It's backbone.
No one can deny CM Punk has backbone. No one can say he lacks the fire and the moxie of a champion.
On April 1 at WrestleMania, Punk is going to convince his remaining doubters of the high-quality caliber he possesses. 
Background
Those familiar with CM Punk's background recognize his character and commitment already.
For those who may not be, here is a bit of history on Punk's rise to the top.
Before taking on mainstream wrestling, Punk made a name for himself in independent leagues by participating in numerous lengthy gimmick matches. In doing so, Punk set into motion a reputation for producing enduring, high-quality bouts.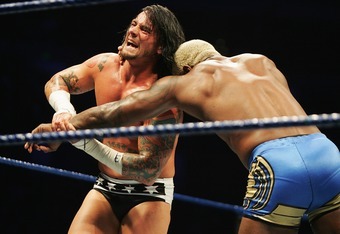 Gaye Gerard/Getty Images
CM Punk wrestled multiple times in "No Disqualification" matches, going the distance with several big names such as Raven and A.J. Styles.
He's worked incredibly hard to get to the WWE. On his way, Punk earned the Ring of Honor World Championship once and the ROH Tag Team Championship twice.
After signing with World Wrestling Entertainment, Punk reported to the developmental division, Ohio Valley Wrestling. During his year in OVW, he won every championship there was.
He continued to dazzle in the ECW, winning the its championship as well. In ECW, Punk once again demonstrated his stamina for lengthy, hardcore matches. His effort and spirit began winning many fans over immediately.
CM Punk has put in the time and work to get where he is. He's earned his position as top dog, successfully competing in feuds with major stars like Edge, John Cena, The Big Show, Triple H and Chris Jericho.
On his way to WrestleMania 28, Punk won the WWE Intercontinental Championship, the WWE Tag Team Championship, Smackdown's World Heavyweight Championship (three times) and Raw's WWE Championship (twice).
CM Punk is a back-to-back winner of the Money in the Bank competition. He's also a Triple Crown winner (Tag Team, Intercontinental and Heavyweight) and the fastest professional wrestler to obtain the achievement.
Clearly management respects him. But how has he won over the fans?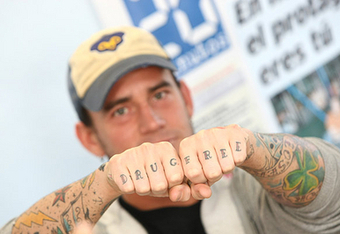 Character
There is something about CM Punk's character that really resonates with fans. Sure, he's a tattooed, uncaring "punk" on the outside. But on the inside, he embodies you and I.
He's less of a gimmick and more of a real person.
Punk preaches hard work and backs his advocacy with his own work ethic. You just read his background. He's put in the time himself and knows the successes it brings. Punk can speak to its validity.
Even when he couldn't wrestle, he stayed on to commentate ringside. The move kept him relevant. It kept him at work with his peers, in the loop. It kept him as a student of the game.
Part of his shtick is being "straight edged." He does not implore the stereotypical "sex, drugs and rock-n-roll" vices his tattoos might suggest.
It's all inspiring.
He has a tattoo of the Pepsi symbol and G.I. Joe's Cobra Commander, things the man behind the persona enjoys and desired to ink himself with these symbols simply because "he likes them." The tattoos show Punk's down to earth side, an attribute fans appreciate about their best friends in real life.
CM Punk makes it clear wrestling is his passion. Though the in-ring action may be staged, he respects the institution and the business. He continuously gives odes to his idols and fights on behalf of his co-workers.
He's even battled management, crying out for change in the WWE and its handling of superstars. Punk threatened to walk away with the championship in hand.
No saying speaks to CM Punk's fortitude more than "love him or hate him, he is what he is."
So if CM Punk already has the characteristics of a true winner and a background of dedication to his craft, what more is there to prove? What will WrestleMania 28 do for Punk?
Chris Jericho, WrestleMania 28 and the future
CM Punk has wrestled at five WrestleMania events in his career accumulating a 2-3 record. He needs a win here to even things up for himself.
Record aside, he hasn't ever headlined WrestleMania until now.
The Money in the Bank matches have been impressive, no doubt about it. But they weren't headliners. They weren't overwhelmingly dazzling.
This match will be different. It must be.
On April 1, CM Punk mixes it up with Chris Jericho, a fantastic technical wrestler with terrific promo skills. Jericho, like Punk, has worked his tail off to get where he's at. It's only fitting these two should meet once again. They're perfect for each other because of their matching history, work ethic and talent.
At WrestleMania 28, there's no gimmicks.
It's just CM Punk versus Chris Jericho, one on one.
Their WrestleMania matchup is going to be epic. It's going to rival the greatness of Randy Savage and Ricky Steamboat. It's going to be an unforgettable match.
But it's going to be more than that. CM Punk vs. Chris Jericho has the potential to go down as one of the greatest WrestleMania matches of all time.
Punk has had no problem proving he can battle it out and last through enduring matches of 45-plus minutes in independent leagues and the ECW. It's time he does it on wrestling's grandest stage.
Besides he faces the self-proclaimed "best in the world" and as they say, you have to beat the best to be the best.
Beating Jericho at WrestleMania 28 to retain his WWE Championship after a historic match for the ages should officially quiet any remaining skeptics and push Punk all the way over.
CM Punk is the new face of the WWE. After his legendary competition April 1, Punk will only grow stronger as the most notable figure in the company, possibly leading the way toward a shift in the direction of the business, similar to how Steve Austin ushered in the "Attitude Era."