Changing of the Winds: Could Drew Brees Be Moving from New Orleans?
March 4, 2012

Mike Coppola/Getty Images
As most people saw yesterday, Drew Brees got hit with the franchise tag by the New Orleans Saints. A franchise tag forces the player into a one-year contract in which he receives a top-five salary at this position.
This means he is the Saints' property for at least another year. Franchise tags are usually used when a team is either trying to work out a long-term deal or is trying to trade the player to get something back, more than a compensatory pick.
Brees has always been a team-first player with the Saints. He led the pre-game chants and became one of the faces for a rebuilding city. Then all of the pay-for-play got announced publicly.
The Saints' former defensive coordinator, Gregg Williams, and several players are being accused of having bounties on offensive players. Being that he was an offensive player, there is a chance that he didn't know that the bounties were going on.
Injuries and bounties could be a sore spot for Brees, as he tore his labrum during a contract year with the Chargers and had to go into free agency with an injury red flag on him.
Not only could Brees be opposed to signing long-term with the Saints because he thinks the bounties were morally wrong, but they will be punished with draft picks and fines because of those actions. This will most likely stall the Saints' run for a Super Bowl.
With the tag on Brees, the Saints might lose one of their best offensive lineman and wide receivers instead of promising another year to work out a contract with them. The pieces are starting to fall into place for Brees to move on.
It wouldn't have been the first time Brees would have moved on from a team that wanted him. In 2004, the Chargers tagged him and tried to work out a contract all season, and he had some extra time to talk when he tore his labrum, but they couldn't figure anything out long term.
He ended up walking away from a five-year, $50 million contract to hit free agency with major injury concerns. Brees doesn't low ball himself. He signed with the Saints in 2005 for a six-year, $60 million contract. Yes, he left team that drafted him, the team he was with for five years for an extra year on his contract at the same amount of money per year.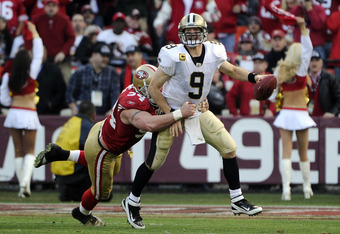 Thearon W. Henderson/Getty Images
CBSSports.com reported that the Saints tried to make Brees the highest-paid player ever, but that Brees thought they were still "$5 million per year apart." Sound familiar? At that point, he would be costing so much cap space that they couldn't even really bring back the Saints' two biggest offensive free agents this year (Carl Nicks, offensive guard and Marques Colston, wide receiver).
At this point, everything you have heard has been "Brees wants out", not "New Orleans wants a new QB", and for this to happen, it would have to be a two-sided deal, right? Right, and here might just be the "New Orleans wants a new QB" info.
Last week, Rotoworld said that the Rams would be trading the No. 2 overall pick (assumed to be the pick that will select Robert Griffin III) before the draft and that there was a mystery team that offered to move up to that selection that "you would never guess".
Upgrading at QB is a priority for any NFL team, so it would have to be a team with an elite guy for it to really have any shock factor. The Packers? No, they have a youngish QB with a backup that will probably be tagged and traded this year anyway. They are two deep.
You could say the same about the Patriots, but you throw in third-round pick Ryan Mallett and it seems even less likely. The next elite guy on the list is Brees. Oh.
Even if the Saints aren't going to get Robert Griffin, there are still other quarterbacks they could get cheaper than Brees. If I recall correctly, a certain New Orleans-raised QB whose father played for the Saints is about to get cut from the Colts. What a homecoming that would be.
As the offseason grows on, it seems that the tag placed on Brees is to buy time instead of to work out a long-term deal.