Jim Rogash/Getty Images
November 17, 2016
Clearing snow off my windshield in the shadow of Fenway Park, I listened to Jason Varitek's retirement speech on the cranked-up car radio. Tek's voice cracked at the mention of his daughters and teammates, and I felt something crack inside me as well.
At the time, I thought it was just sadness over a second two-time Red Sox champion hanging up his spikes in as many weeks. In retrospect, I realized it was something far more meaningful.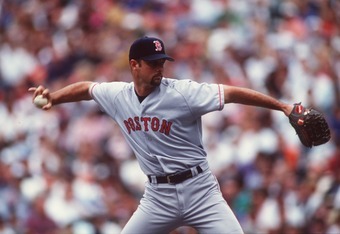 Doug Pensinger/Getty Images
Most people hoped their trips to Fenway coincided with a Pedro Martinez or Jon Lester start, and while I certainly enjoyed watching these men at work, I also loved seeing Wake take the hill. You never knew what you were going to get—nor did the batters—but his efforts were a lesson in determination.
Varitek was also a pleasure to observe, as much for his take-charge attitude behind the plate as for his clutch hitting.
Long before most people took notice of his growing victory total, I began telling my kids and anybody else who would listen that Wakefield had a chance to win more games than any other Red Sox pitcher. After all, I implored, fellow knuckleballer Hoyt Wilhelm had lobbed them up until he was nearly 50.
I also had high hopes for Varitek managing to scrape together enough homers and All-Star selections to merit Hall of Fame consideration.
Neither of them quite reached these goals, but even if they don't make it to Cooperstown, they both hold a special place on my list of all-time favorite Red Sox.
Just as Yaz defined my youth and Clemens my early adulthood, Jason Varitek and Tim Wakefield carried me through to the cusp of middle age. I have far less hair and a few more pounds than in '97, but I have plenty of great memories.
Thanks for the ride.
Saul Wisnia lives less than 7 miles from Fenway Park and works 300 yards from Yawkey Way. His latest book, Fenway Park: The Centennial, is available herehttp://amzn.to/qWjQRS and his Red Sox reflections can be found at http://saulwisnia.blogspot.com/. You can reach him at saulwizz@gmail.com or #saulwizz.
Like the new article format? Send us feedback!