4-Way Trade That Would Improve Bulls, Lakers, Timberwolves and Grizzlies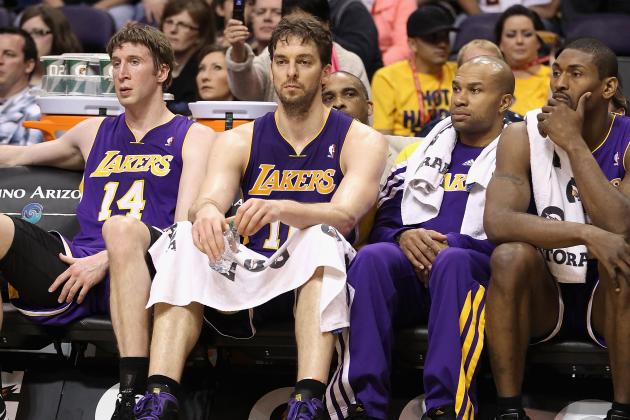 Christian Petersen/Getty Images

With the NBA trade deadline less than two weeks away and fast approaching, trade rumors are running wild throughout the Association. It is in that spirit that I propose the following four-way trade that improves the short and long term prospects for one Eastern Conference and three Western Conference teams. This proposal is focused on one player from each team who has been rumored to be on the trade block and combines them with a few other players to create a four-way mega trade that benefits every team involved.
Chicago Bulls receive Pau Gasol from Lakers and J.J. Barea from Timberwolves.
Los Angeles Lakers receive Carlos Boozer from Bulls, Mike Conley from Grizzlies and Michael Beasley from Timberwolves.
Memphis Grizzlies receive Wesley Johnson from Timberwolves, C.J. Watson and Jimmy Butler from Bulls and Lakers' 2012 first-round pick.
Minnesota Timberwolves receive O.J. Mayo from Grizzlies, Matt Barnes and Troy Murphy form Lakers and Brian Scalabrine from Chicago.
Begin Slideshow

»
Doug Pensinger/Getty Images
Pau Gasol
Bulls receive Pau Gasol ($18.7M) and J.J. Barea ($4.3M).
Bulls lose Carlos Boozer ($13.5M), C.J. Watson ($3.4M), Jimmy Butler ($1.0M) and Brian Scalabrine ($900K).
While the almost universal consensus among Bulls fans is that Chicago should not make any moves to jeopardize the great team chemistry that has them holding the best record in the NBA, a trade that lands a true No. 2 scorer behind Derrick Rose, who is also a playoff tested veteran, while simultaneously dumping Carlos Boozer's contract is worth risking team chemistry. Landing Gasol would provide Chicago with the consistent low post scoring and defensive reliability that Boozer has been unable to deliver.
The Bulls would not want to lose top reserve and bench mob leader C.J. Watson or rookie defensive ace Jimmy Butler, but to land Gasol, it would be worth it. Watson and Butler's defense would be missed, especially considering the replacement would be the somewhat overpaid J.J. Barea.
However, Barea's addition would not be all bad news since his instant offense and fearless offensive attack would be a welcome addition to the Chicago bench. Additionally, the defensive holes vacated by Watson and Butler wold be filled by Ronnie Brewer after his return to the bench when Rip Hamilton is back to full strength and by third string veteran point guard, Mike James.
Before Trade:
PG: D. Rose, SG: R. Hamilton, SF: L. Deng, PF: C. Boozer C: J. Noah
First 5 off bench: C.J. Watson, R. Brewer, K. Korver, T. Gibson and O. Asik
After Trade:
PG: D. Rose, SG: R. Hamilton, SF: L. Deng, PF: P. Gasol, C: J. Noah
First 5 off bench: J.J. Barea, R. Brewer, K. Korver, T. Gibson and O. Asik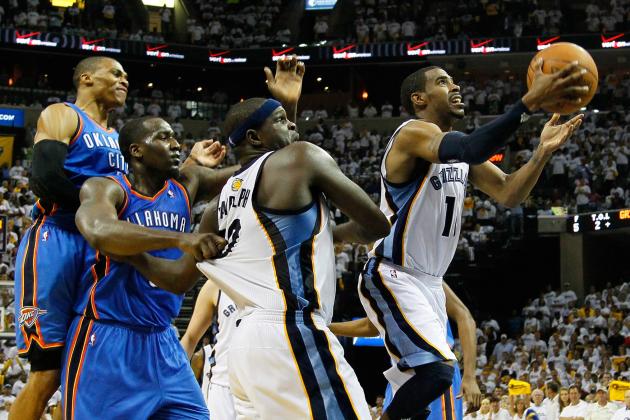 Kevin C. Cox/Getty Images
Mike Conley
Lakers receive Carlos Boozer ($13.5M), Mike Conley ($6.6M) and Michael Beasley ($6.3M).
Lakers lose Pau Gasol ($18.7M), Matt Barnes ($1.9M), Troy Murphy ($900K) and 2012 first-round pick.
Los Angeles knows that the Kobe Bryant title window is closing and that the current roster is loaded with players on the downside of their careers such as Metta World Peace, Steve Blake, Derek Fisher and Troy Murphy. Therefore, L.A. knows it needs to roll the dice and make drastic changes to reload an otherwise underwhelming roster to make the most of the Bryant window and stay an NBA powerhouse for the next few years.
Unfortunately for L.A., there are not many assets in the vault, which means any trade negotiated by Los Angeles must be very creative. The Lakers' top trade assets other than Bryant himself are Andrew Bynum and Pau Gasol, and L.A. would prefer to move Gasol over Bynum due to the latter's youth and overall ceiling. Management and Bryant would hate to lose Gasol's consistent post play, but they all know the current roster is not going to win a championship. That is why this trade would be a slam dunk for the Lakers.
Los Angeles could move Gasol and spare change for a trio of players who could immediately fill out its roster and help the team challenge in the West this year. L.A. would land a replacement power forward in Boozer who, though not nearly as reliable as Gasol, is still productive and a force on the offensive end when focused.
This trade would also land the Lakers a young point guard, which is the primary position it has been looking to upgrade for the past few years. Mike Conley would represent an immediate upgrade over any point guard on the Lakers' roster and someone Bryant could thrive with for the next couple years as back-court mates.
Los Angeles would also receive a player it has pursued in the past in the enigmatic and offensively gifted Michael Beasley. Adding Beasley would mean L.A. would amnesty World Peace at the end of the season when Beasley's contract is up and sign Beasley to a multi-year deal. Beasly is the dynamic scorer who Bryant needs as his sidekick.
A package of Boozer, Conley and Beasley would be one of the best packages Los Angeles could expect to receive in return for Gasol. Current All-Stars Bryant and Bynum would be joined in the starting lineup by Conley at the point, Beasley at small forward and Boozer at power forward. L.A. would be taking a step backward at the power forward position, but even the defensive liabilities of Boozer would be minimized by Bynum's help defense.
Before Trade:
PG: D. Fisher, SG: K. Bryant, SF: M. World Peace, PF: P. Gasol, C: A. Bynum
First 4 off bench: S. Blake, M. Barnes, T. Murphy and J. McRoberts
After Trade:
PG: M. Conley, SG: K. Bryant, SF: M. Beasley, PF: C. Boozer, C: A. Bynum
First 4 off bench: D. Fisher, M. World Peace, S. Blake and J. McRoberts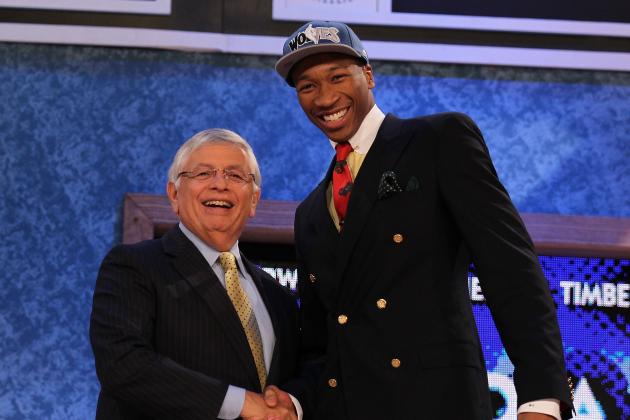 Al Bello/Getty Images

Grizzlies receive Wesley Johnson ($4.0M), C.J. Watson ($3.4M), Jimmy Butler ($1.0M) and Lakers 2012 first-round pick.
Grizzlies lose O.J. Mayo ($5.6M) and Mike Conley ($6.6M).
After re-signing All-Star center Marc Gasol to a long-term deal, Memphis has even bigger money tied up in a small group of players ($49.7M to be exact). Zach Randolph ($15.2M), Rudy Gay ($15.0M), Marc Gasol ($12.9M) and Mike Conley ($6.6M) all represent expensive long-term commitments that could be debilitating. The Grizzlies are going to find it hard to maintain the type of supporting bench necessary to be a championship contending team with all of its cap space being used on only a handful of players.
When this season concludes, Memphis will not be able to re-sign shooting guard O.J. Mayo to a long-term contract due to the deal he will command in the open market. Therefore, Mayo is a prime candidate to be traded before the trade deadline or this summer.
Management would have to strongly consider making a trade now if this scenario arose.
This four-way trade allows the Grizzlies to shed some salary by moving the slightly overpaid Mike Conley (his contract seems more bloated because of the salary situation in Memphis) for the slightly underpaid C.J. Watson. Although Watson is not a proven starter, he has shown that he can log heavy minutes and play well in Derrick Rose's absence. More importantly, his salary will save Memphis over $3M annually, which can be used to fill out the roster with quality role players behind Memphis' big three of Randolph, Gay and Gasol.
Memphis would also receive former top-five pick in shooting guard Wesley Johnson to replace the departing Mayo. Johnson has tremendous talent and is still playing under his rookie contract, which will save the Grizzlies millions annually compared to Mayo. More importantly, Johnson can be groomed to take over the starting shooting guard spot from Tony Allen while making rookie scale pay.
Finally, Jimmy Butler will serve as a defensive stopper and a quality low cost piece of the Grizzlies' bench. Butler coupled with the Lakers 2012 first-round pick gives the Grizzlies two more rookie scale players over the next couple years to help add depth behind the trio of big money stars.
Before Trade:
PG: M. Conley, SG: T. Allen, SF: R. Gay, PF. Z. Randolph, C: M. Gasol
First 4 off bench: O.J. Mayo, M. Speights, D. Arthur and D. Cunningham
After Trade:
PG: C.J. Watson, SG: T. Allen, SF: R. Gay, PF: Z. Randolph, C: M. Gasol
First 4 off bench: W. Johnson, J. Butler, M. Speights and D. Arthur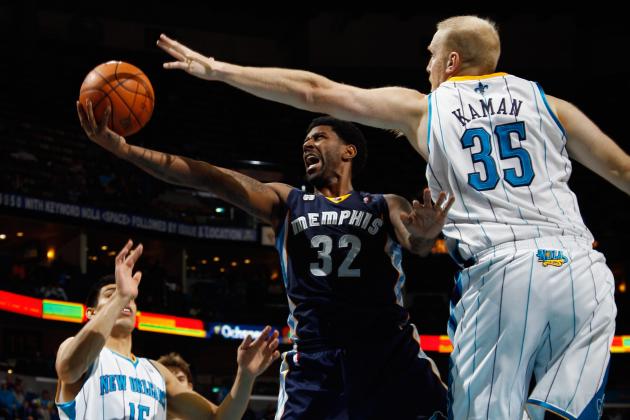 Chris Graythen/Getty Images
O.J. Mayo
Timberwolves receive O.J. Mayo ($5.6M), Matt Barnes ($1.9M), Troy Murphy ($900K) and Brian Scalabrine ($900K).
Timberwolves lose Michael Beasley ($6.3M), J.J. Barea ($4.3M) and Wesley Johnson ($4.0M).
Minnesota is the most interesting team involved in this trade. It currently has a roster filled with low cost players and budding NBA stars. However, it is not a true playoff-caliber team. Not yet, that is.
The Timberwolves have a trio of young talented players at point guard, small forward and power forward positions to build a dynasty around in Ricky Rubio, Derrick Williams and Kevin Love, respectively. What the Timberwolves need now is to use the expiring contract of Michael Beasley and former No. 4 overall pick in Wesley Johnson to solidify the shooting guard spot.
Minnesota can use Johnson as the primary bait to acquire a more established former lottery pick in O.J. Mayo from Memphis. O.J. is in the last year of his rookie deal, and it does not look like Memphis will have the money to re-sign him. Therefore, the Grizzlies' best move is to trade him now and get some value for his departure. Swapping Mayo for the younger Johnson would be a win for Memphis, but even more so for Minnesota who has the money to lock Mayo into a long term deal.
Additionally, this trade presents the Timberwolves with an opportunity to rid itself J.J. Barea's bad contract that it entered into this past off season when Rubio's arrival and transition were in question. Signing Barea seemed like a decent idea this summer given the state of Minnesota, however, it no longer seems like a good move in the long term due to the swift emergence of Rubio. With Rubio and Luke Ridnour manning the point, Barea is expendable. He becomes even more expendable after the addition of Mayo because of Mayo's offensive skills.
Picking up Mayo would set Minnesota up long term with a starting five of talented young players capable of making noise in the NBA for the next half decade. Adding O.J. to a core of Rubio, Williams and Love would give the Timberwolves four stars to pair along with one of the NBA's biggest breakout players of the year in center Nikola Pekovick.
This trade would use Beasley's expiring contract and former lottery pick Johnson to land a potential star shooting guard in Mayo while simultaneously dumping Barea's bad contact. The contracts of Matt Barnes, Troy Murphy and Brian Scalabrine, which the Timberwolves would receive in the trade all expire at the end of the year, which amounts to millions in savings and additional cap space to sign free agents this summer.
Before Trade:
PG: R. Rubio, SG: W. Johnson, SF: D. Williams, PF: K. Love, C: N. Pekovic
First 5 off bench: J.J. Barea, L. Ridnour, M. Beasley, D. Milcic and M. Webster
After Trade:
PG: R. Rubio, SG: O.J. Mayo, SF: D. Williams, PF: K. Love, C: N. Pekovic
First 5 off bench: L. Ridnour, M. Webster, M. Barnes, D. Milcic and T. Murphy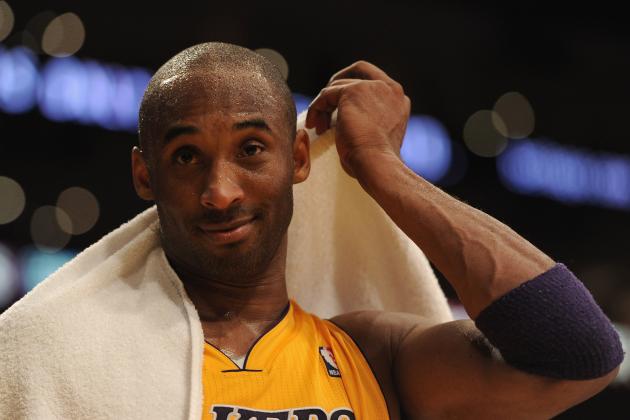 Harry How/Getty Images
Kobe Bryant is a winner in this trade
Los Angeles is currently looking to add a talented point guard and upgrade the small forward position while simultaneously getting younger in the process. Management knows that it will cost it Pau Gasol to get that done. This trade would get them all of the above and help Kobe Bryant chase a couple more championships. A review of the team's needs: Young dynamic point guard. Mike Conley. Check. Young scoring small forward. Michael Beasley. Check. Above average starting power forward replacement for Gasol. Carlos Boozer. Check. Through this trade, the Lakers would get younger, more explosive and remain a powerhouse in the West for as long as Kobe's game holds up. Grade: A+
Chicago is currently looking to add a true second fiddle to Derrick Rose offensively. This trade would add that player in Pau Gasol who is also a tested playoff veteran, while simultaneously dumping the bloated contract of Carlos Boozer. The Bulls would have to give up its outstanding back up point guard C.J. Watson, but it would replace his scoring with that of J.J. Barea. After this trade, Chicago would immediately leapfrog the Miami Heat as the favorite in the East. Grade: A+
Memphis is not looking to do much with its roster other than survive until returning to full strength. However, it would be willing to make a deal for Mayo if the right trade presents itself. This trade may just be that right deal. The Grizzlies would shed the slightly overpaid Mike Conley and get a decent return for Mayo's services at the same time. C.J. Watson would provide almost the same level of point guard play as Conley for half the price. Memphis would also receive former No. 4 overall pick Wesley Johnson to replace Mayo on a rookie scale contract. The icing on the cake for the Grizzlies would be adding rookie Jimmy Butler and the Lakers 2012 first-round pick who represent low cost-high reward players to help fill out the bench. Grade: A
Minnesota is only looking to continue building on the very strong core of young players it has already compiled. Adding O.J. Mayo to a starting four of Ricky Rubio, Derrick Williams, Kevin Love and Nicola Pekovic would give the Timberwolves a young and talented starting five to be reckoned with in the West for years to come. Of its goals, Minnesota accomplishes all of them through this trade. Get value for Beasley's expiring contract. Check. Obtain an All-Star caliber shooting guard. Check. Dump J.J. Barea's bad contract and obtain more cap space to sign free agents this summer. Check. This trade would help Minnesota take the final step to transform from NBA laughing stock to true NBA contender. Grade: A