Fantasy Baseball 2012: 5 Keys to Drafting a Winning Team
March 4, 2012
Rob Tringali/Getty Images
2012 fantasy baseball drafts are the foundation for having a winning season. The seasoned fantasy baseball owners have been preparing for months and if you haven't been there is no need to panic...yet. Follow these simple tips and the next thing you'll need to do is practice your trash talk.
1. Know the Players
This point seems very self-explanatory, yet many people enter a draft not knowing who the projected starting third basemen for a team like the Kansas City Royals is going to be.
There are two things one needs to do in order to know the players:
Get a copy of any top 200 players list. It doesn't matter who it was written by because they are all going to be very consistent.
Once you have your top 200 list handy, either print the projected starting lineup for every MLB team or buy a publication that has them listed. Nothing makes getting to know the players better than having multiple lists to compare.
Note: If you are playing in a National League only or American League only fantasy league, all you need is the top player list and projected starting lineup list for that league. This also might seem pretty obvious, but too much preparation by the beginner can be just as bad as not enough.
2. Know the Rules
There are so many variations to the rules of fantasy baseball that it is very possible to be playing a league with different rules than from the year before. Or maybe you just haven't played before and need to study up on the rules. Whatever the case, study the rules. 
The number of stat categories for scoring is staggering, so knowing which ones your league is using is a must. 
Two rules to definitely take note of are with regards to roster size and lineup changes. 
Does the league require two catchers? How many starting pitchers are needed? These are important factors in how to draft. 
The lineup changes are also important because a league with weekly set rosters plays extremely different than a league with daily set rosters. 
Weekly set rosters mean that it is much more risky to have injury-prone players and it is typically a sound draft strategy to target multiple position catchers. 
The top-tier catchers are Mike Napoli, Brian McCann and Carlos Santana, but in a weekly roster set league Santana and Napoli are probably a better bet because when they need a day off from behind the plate they can slide into the DH spot for their American League teams.
3. The First Three Rounds Don't Win a League
It is crucial in the first three rounds to draft players who are four-stat category studs, but unless one of these players has an absolute monster of a season don't expect them to win a league for you.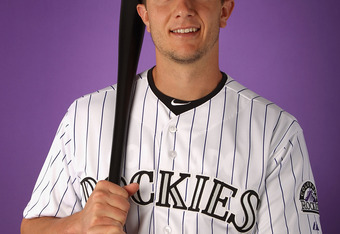 Christian Petersen/Getty Images
It is the players taken later in the draft who determine a winning season. 
Go into the first three rounds with a plan, but don't panic if you get Troy Tulowitzki, Jacoby Ellsbury and Ian Kinsler instead of Matt Kemp, Jose Reyes and Giancarlo Stanton.
4. Forget the Team You Love
Many fantasy owners have been doomed by being loyal to the hometown team. 
Naming your team after the New York Yankees is fine, but the second you start drafting their entire lineup you are in trouble. 
Maybe the first two rounds will work with Robinson Cano and Mark Teixeira—both being highly productive—but what happens when you take Brett Gardner with your third pick? You just put yourself in a huge hole. 
Cheer for the hometown team when they play against your fantasy players, but don't draft your fantasy team with a bias towards them.
5. As Soon as You Make a Pick, Start Planning the Next One
Flexibility is important when drafting, but so is planning. As soon as your take a player, start working on your next pick.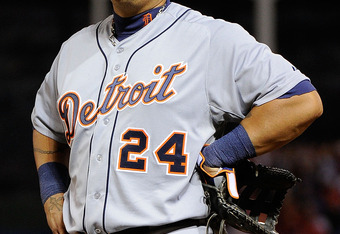 Kevork Djansezian/Getty Images
In most live drafts there isn't a lot of time to make each pick, so you could have anywhere from six minutes to 18 minutes between picks.
Take a look at the board. See who you like and throw them into a miniature draft list. If only one of them falls to your pick it is an easy choice, but if multiple do, do a quick risk/reward on them.
Don't be afraid to take a little time to make your pick either. If you have a minute to make your choice and you are debating who to take, then take your full minute. Don't let someone in the league annoy you into making a bad pick because they are whining about how long you are taking.
Note: If you do your homework before the draft, there will be no need to do a risk/reward during the draft. Ever. Between having a top 200 list, projected starting rosters and some time spent going through it all, you should have done a fairly good risk/reward on most of the options.
Conclusion
If you follow these tips your draft will go much smoother and will be immensely more satisfying than going into a draft unprepared and shooting from the hip. 
Every fantasy player has their own style, be it the super slugger team, the dominant pitcher lineup or the extreme balance. Over time it is important to develop a style unless you always play with the same people every year. 
One of the best draft day tricks is if you know someone is keying on a player, snag that player from them. Even if you don't want them. It is amazing how many fantasy owners still don't show enough flexibility in drafting and get all out of whack over missing out on one player.
There are many more in-depth ways to prep for the perfect fantasy draft, but it takes years to cover that. Enjoy these simple tips that great fantasy owners have been practicing for years and enjoy your draft.