MLB: 2012 Fantasy Baseball Sleepers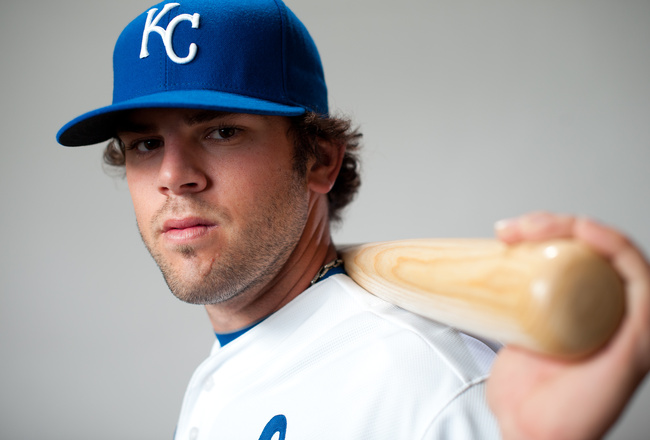 Rob Tringali/Getty Images
The 2012 MLB season is right around the corner and that means that fantasy baseball is back in session. With fans everywhere thoroughly thrilled for the boys of summer, the most excitement comes from scouting this year's fantasy squad.
With this excitement comes the anxiety of proving your baseball knowledge. This is a chance to make your mark amongst your friends or simply continue your dominance from previous years.
We all know that the Matt Kemp's, Jose Bautista's and Justin Verlander's of the world will put up numbers. It's the sleepers though, that will show off your baseball smarts and put you over the top in production.
As you mull over stats searching for a winner, keep these players in mind.
*The author of this article selected two players from each position.
The One Everyone Expects to Make an Instant Impact—but When?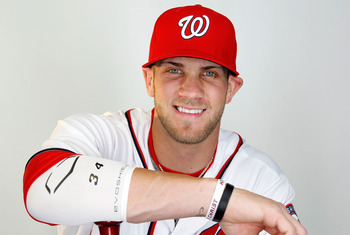 Mike Ehrmann/Getty Images
No surprise here, Bryce Harper is baseball's biggest phenom just waiting to get his call-up.
He'll undoubtedly get his chance this season, the only question is when?
The 19-year-old is just that—19.
That doesn't mean he's not a man though. At 6'3", 225 lbs., Harper is physically ready to conquer the baseball world.
Harper now leaves fantasy players everywhere with a bold decision to make—when to draft him. There's a strong chance he won't crack the opening day lineup, but he's too good to go undrafted.
Do yourself a favor and draft him after you've selected your Opening Day roster, even if you have to sit on him for most of the season.
This Year's Super-Utility Sleeper: Emilio Bonifacio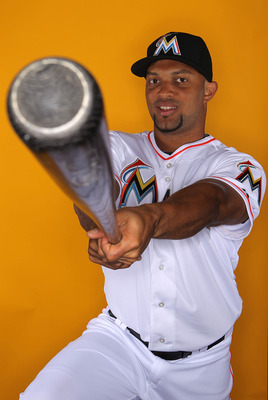 Marc Serota/Getty Images
Miami Marlins utility player Emilio Bonifacio just may be the steal of the draft.
He's 26 years old heading into the season, can play multiple positions and his team got a whole lot better in the offseason.
Bonifacio is now scheduled to hit between Jose Reyes and Hanley Ramirez. With Mike Stanton batting clean-up, Bonifacio will score plenty of runs.
He batted .296 in 2011 for a team that only won 72 games. He'll undoubtedly see more pitches to hit this season as the Marlins now have a bolstered lineup.
An added bonus is that Bonifacio stole 40 bases in 2011, which is to be expected again.
Don't forget about Bonifacio for too long.
Jhoulys Chacin Will Win 15-Plus Games in 2012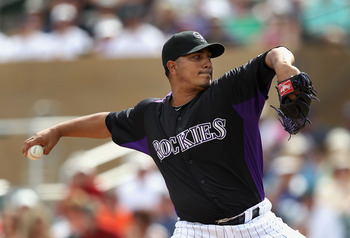 Christian Petersen/Getty Images
The Colorado Rockies are sitting on a goldmine in 24-year-old pitcher Jhoulys Chacin.
Chacin went 11-14 with a 3.62 ERA but struggled in the second half, going just 3-7 with a 4.31.
He now has the experience of a full MLB season and knows what it takes to go the distance.
Behind Chacin, the Rockies will look to improve on their 73-89 record of 2011. He'll most likely break camp as their No. 1 starter.
Don't hesitate when selecting him in the later rounds. He'll record around 175 strikeouts in 2012.
Trevor Cahill Will Heat Up in the Desert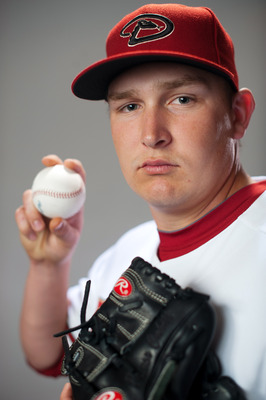 Rob Tringali/Getty Images
Trevor Cahill won 18 games in 2010, before taking a step back to just 12 in 2011 for the Oakland Athletics.
Thanks to a surprising trade, Cahill now finds himself in an Arizona Diamondbacks jersey.
The D'Backs pitching staff is loaded from top to bottom and Cahill will do nothing but have success in the desert.
He's only 24 years old, and should feel some relief with a strong Diamondbacks offense.
He threw 200-plus innings in 2011, and fantasy owners shouldn't expect anything less in 2012.
Carlos Ruiz May Be 33 Years Old, but He's Too Solid to Pass Up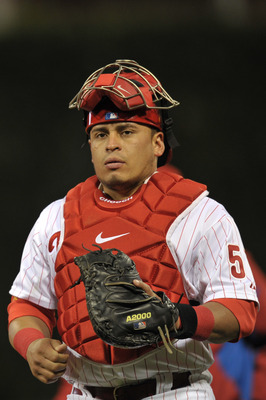 Drew Hallowell/Getty Images
Carlos Ruiz is a highly underrated catcher. The 33-year-old catcher always seems to come through in the clutch and get the job done.
Ruiz batted .283 in 201,1 and will bat above .275 in 2012.
The Philadelphia Phillies have plenty of men capable of reaching base before Ruiz reaches the plate.
Good catching production is often times hard to come by once the top-tier guys are taken, but don't pass on Ruiz when you have the chance.
Wilson Ramos Is a Catch for the Washington Nationals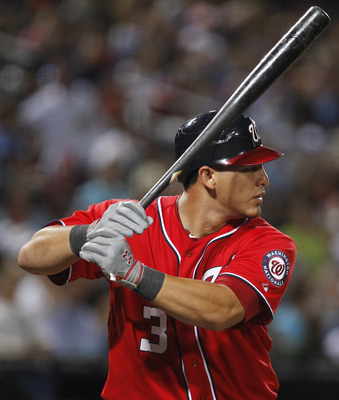 Daniel Shirey/Getty Images
Wilson Ramos batted .267 in 2011 in his full big-league season.
In 113 games, Ramos belted 15 homers and knocked in 52 RBI.
This season the Washington Nationals are young and dangerous on paper, and Ramos is part of that equation.
With a continuously improving team, Ramos' numbers will do the same.
Fantasy owners should expect around a .270 average and 75 RBI.
Ike Davis Looks to Pick Up Where He Left off Before Injury in 2011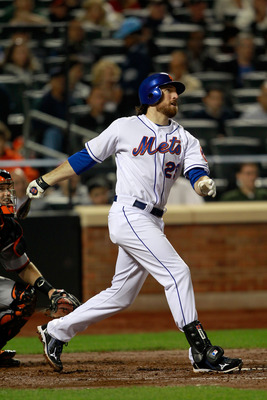 Chris Trotman/Getty Images
New York Mets first baseman Ike Davis batted .302 in 36 games in 2011 before suffering an ankle injury that put him on the shelf until season's end.
Davis is only 25 years old, and the Mets need him to produce in 2012. Thanks to the new dimensions at Citi Field, Davis' numbers should surge in 2012.
Given his health, he'll play 150-plus games this season and will bat in the middle of the Mets' lineup.
Thanks to his injury in 2011, his fantasy draft stock will drop, and you should be there to pick him up.
Paul Goldschmidt Is the Prototypical First Baseman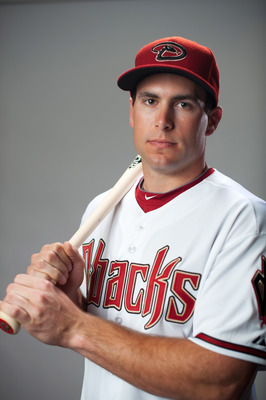 Rob Tringali/Getty Images
Arizona Diamondbacks first baseman Paul Goldschmidt is in the majors to stay.
The 24 year old Goldschmidt is big, strong and powerful. With the Diamondbacks carrying confidence into 2012, Goldschmidt will be in the thick of their lineup.
He batted .250 in 48 games in 2011, and the experience will only boost his 2012 numbers.
While Goldschmidt may not be a complete sleeper, he'll be taken later than he should be in fantasy drafts.
Expect 30-35 homers and around 90 RBI's from Goldschmidt in 2012.
Jose Altuve Will Be Known by All by Season's End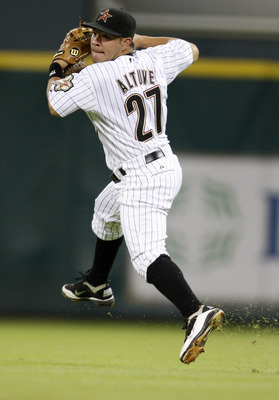 Eric Christian Smith/Getty Images
The Houston Astros have something special in second baseman Jose Altuve.
In 57 games in 2011, Altuve hit .276 on a woeful Astros team.
He's slated to bat near the top of the lineup for an Astros team that has nothing to lose.
He may lack in size at 5'7", but he makes up for it by giving it his all every day.
With growing patience at the plate, Altuve will have a breakout season in 2012.
Jemile Weeks Is a Safe Bet at Second Base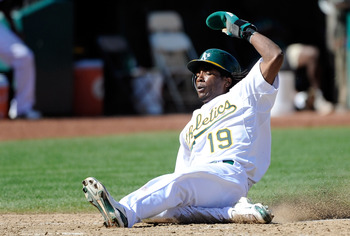 Thearon W. Henderson/Getty Images
Jemile Weeks has a bright future at second base for the Oakland Athletics.
In 97 games in 2011, Weeks batted .303, stole 22 bases and scored 50 runs.
Given an entire season in the big leagues, Weeks will shine for the A's.
He may not bat .300 for entire season, but fantasy owners would be more than happy with a .285 average and 35-plus stolen bases.
The A's play in a tough AL West, but thanks to the likes of Weeks, they'll be a pleasant surprise in 2012.
Alberto Callaspo Is a Low-Risk, High-Reward Kind of Guy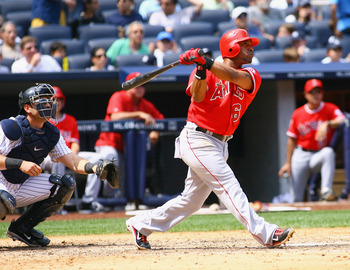 Andy Marlin/Getty Images
In his first full season as a member of the Los Angeles Angels of Anaheim, Alberto Callaspo hit .288 with 46 RBI in 2011.
Callaspo will crack the lineup everyday this season at third base and most fantasy players will be able to get him in the latter rounds.
Playing on a loaded Angels' lineup, Callaspo will thrive at the bottom of the lineup.
Expect him to hit nearly .300 and score 75-plus runs.
Make No Mistake, Mike Moustakas Is the Real Deal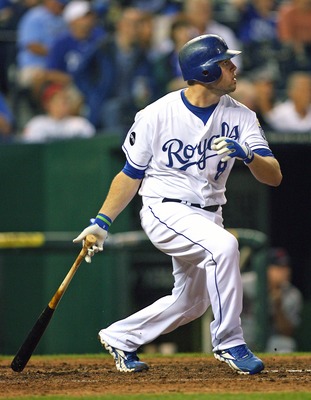 Tim Umphrey/Getty Images
Third baseman Mike Moustakas is one of the many reasons why the Kansas City Royals are stuffed with young talent.
In 89 games in his rookie season of 2011, Moustakas struggled early, but finished strong. He ended with a .263 batting average but batted .352 in September.
Moustakas will pick up in 2012 where he left off in 2011. In total, he'll bat at least .280 with 80 RBIs this upcoming season.
With the All-Star game being played in Kansas City this season, Moustakas will make a case for himself to be among the games best players at the mid-summer classic.
Zack Cozart Is Ready to Make a Name for Himself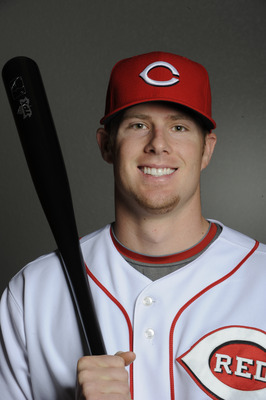 Rob Tringali/Getty Images
Zack Cozart is a 26-year-old shortstop whose time is now for the Cincinnati Reds.
In just 11 games in 2011, Cozart batted .326, which is promising for his 2012 season.
The Reds are a definite playoff contender who will need Cozart to shine this season.
He's coming off a hyper-extended elbow injury, which should be completely healed by the time Opening Day arrives.
Cozart is scheduled to bat behind Brandon Phillips and ahead of Joey Votto, which means he'll make fantasy owners happy.
His Name Is Dee Gordon—Don't Forget It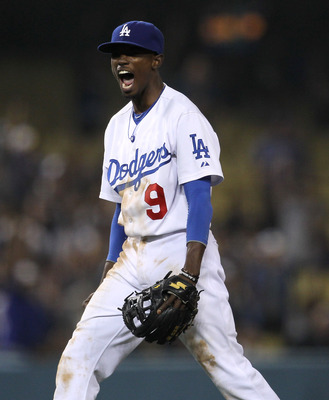 Stephen Dunn/Getty Images
Dee Gordon is one of the most exciting shortstops in all of Major League Baseball.
The 23-year-old Los Angeles Dodger will be the Opening Day starter at shortstop, and will amaze all season long.
In 56 games in 2011, Gordon stole 24 bases, including 12 in September alone. He also hit .304 with nine doubles and two triples.
The slight downside to his 2011 season was the fact that he had 10 errors, but those should diminish as Gordon sees more time.
Gordon will be great this season—don't be afraid to draft him.
Austin Jackson Will Have a Bounce-Back 2012 Season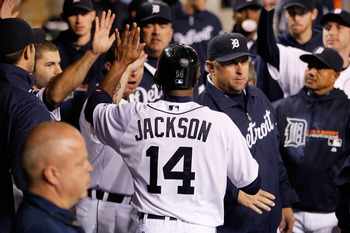 Gregory Shamus/Getty Images
Detroit Tigers center fielder Austin Jackson struggled in 2011 after a strong rookie season in 2010.
Jackson batted .249 and struck out 181 times, but fans should expect those numbers to dissipate in 2012.
Jackson knows that he's the fuel to the high-powered Tigers engine.
He's a Gold Glove contender in center field, so he'll be an everyday player. Now all he has to do is make his plate appearances count.
With a new swing and confidence heading into the season, don't be afraid to draft Jackson.
John Mayberry Is in Stride to Succeed in 2012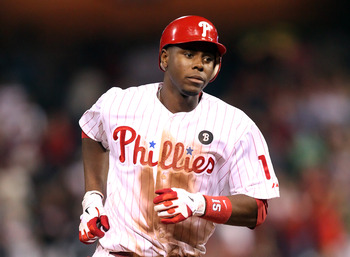 Hunter Martin/Getty Images
With Ryan Howard out due to injury, John Mayberry will get increased playing time with the Philadelphia Phillies in 2012.
The 28-year-old Mayberry is a late-bloomer but has the athleticism to make a splash in the big leagues.
He'll play some first base while Howard is sidelined and in the outfield.
Being a multi-positional player, Mayberry is a good fit on any fantasy team.
He hit .273 in 267 at-bats with 49 RBIs in 2011, and his numbers will only increase with a full-time job in 2012.
When Mayberry is still available in the later rounds, be sure to pick him up.
Eric Thames Is a Fine-Tuned Machine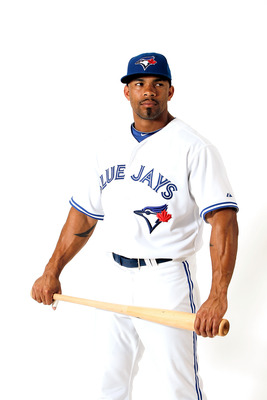 Jonathan Ferrey/Getty Images
Eric Thames hit .262 in 95 games as a rookie, but that doesn't tell the whole story.
Thames' numbers could have been better had he not run out of gas in 2011. September was tough for Thames, as he only hit .211.
He's a well-informed workout freak, and he's ready to make a difference in 2012.
Expect Thames to be the X-Factor in the Toronto Blue Jays offense.
Mike Trout Is Too Good for the Angels to Watch Him Sit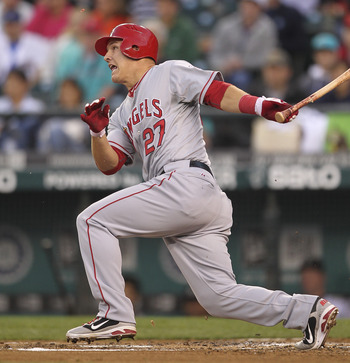 Otto Greule Jr/Getty Images
The Los Angeles Angels of Anaheim have a slight problem on their hands. They have four corner outfielders for two positions.
Three of the players: Torii Hunter, Bobby Abreu and Vernon Wells are highly paid veterans.
The other is 20-year-old, five-tool stud Mike Trout.
The fact that Trout is one of the highest rated prospects in all of baseball means that the Angels have a good problem on their hands, but a problem nonetheless.
Trout batted .220 in a 40-game sample size from 2011, but those numbers will only go up.
If one of the aforementioned veterans struggles out of the gate, expect Trout to take their place.
He's simply a sleeper because his playing time may be minimal at the beginning of 2012.
Cameron Maybin Is Slowly Living Up to the Hype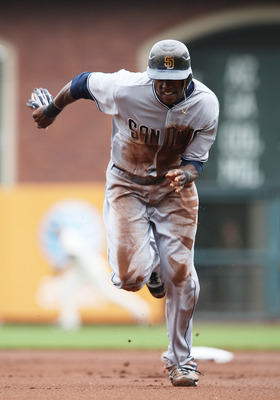 Tony Medina/Getty Images
Cameron Maybin may only be 25 years old, but he's already an MLB veteran.
Now a member of the San Diego Padres, Maybin is with his third MLB team.
In his first season with the Padres in 2011, Maybin made his mark, scoring 82 runs swiping 40 bases.
He only batted .264 in 2011 but his newly instilled confidence only means that he'll be even better at the plate in 2012.
This kid was once involved in a trade for Miguel Cabrera, and now he's living up to the hype.
Don't think twice when debating on drafting Maybin.
Carl Crawford's Forgettable 2011 Season Makes Him a Sleeper in 2012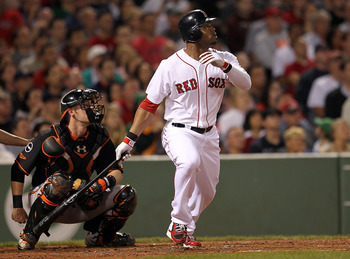 Jim Rogash/Getty Images
Carl Crawford had a dismal debut season with the Boston Red Sox in 2011.
After signing a $142 million dollar deal before the 2011 season, everyone had high expectations for Crawford in 2011.
After batting .255 with only 18 stolen bases in 2011, everyone was disappointed in Crawford.
Now recovering from a wrist injury, Crawford will most likely miss Opening Day, and his fantasy draft stock will reflect this.
Truth be told, Crawford won't struggle forever.
He'll be a steal for anyone willing to be content with a slow start from Crawford in 2012.
Closer Jordan Walden Will Avoid the Sophomore Slump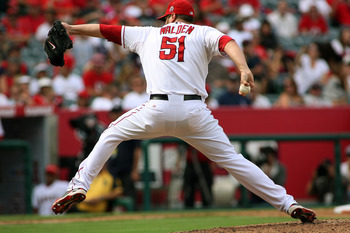 Jeff Golden/Getty Images
Yes, Los Angeles Angels of Anaheim's closer Jordan Walden was an All-Star in 2011.
That doesn't mean he's not a sleeper in 2012.
Fantasy junkies know that one can never have enough closers, and Walden shouldn't be overlooked.
He finished 2012 with 32 saves, but blew 10 as he stumbled down the stretch. In 60.1 innings pitched, he walked 26 batters.
This year he'll be better as he's added a changeup to his menu of pitches.
Thanks to Walden, the Angels have a strong chance to make a deep run in the playoffs.
Ryan Madson Will Win Respect in Cincinnati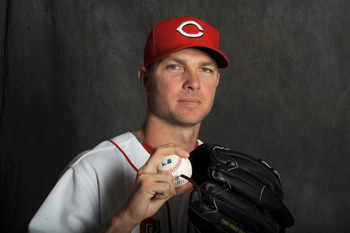 Rich Pilling/Getty Images
Ryan Madson saved 32 games in 34 tries for the Philadelphia Phillies in 2011 before becoming a free agent.
Madson ultimately signed with the Cincinnati Reds in the offseason, and will undoubtedly play with a chip on his shoulder.
In 2011, Madson proved he can be a premier closer in the majors, but the Philadelphia Phillies opted to sign closer Jonathon Papelbon instead.
Madson picked the right team to sign with. The Reds will be a playoff team in 2012 and fans will take to liking him quickly.
Look for Madson to have at least 38 saves in Queen City this season.
Keep Reading