Georgia Bulldogs Spring Football 2012: 8 Players with All-American Potential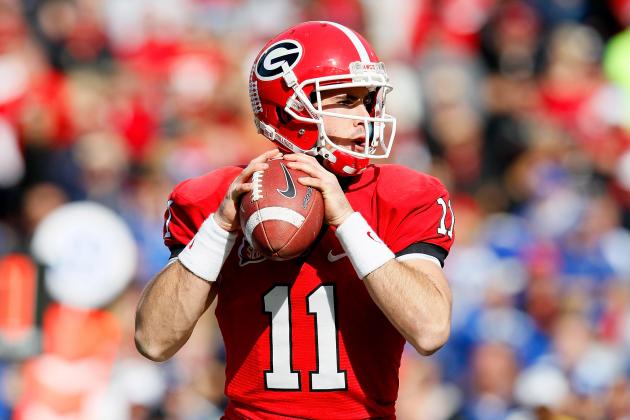 Kevin C. Cox/Getty Images

Georgia's football team finished with two AP All-Americans in 2011. Red-shirt sophomore Jarvis Jones and junior safety Bacarri Rambo landed the honors.
Heading into 2012's spring season, Georgia is riding high expectations thanks to the return of quarterback Aaron Murray, who will play his third straight year as the team's starting quarterback, and nine starters from a defense that finished as one of the top-five units in the country.
Georgia is considered to be the third team in the SEC's 14-team league that will contend for a national championship in the fall, with LSU and Alabama heading the charge.
But, the Bulldogs are primed, with a softer schedule, to run the table. Top recruiting classes by Mark Richt and the rest of the coaching staff has ensured a bright future, but many returning upperclassmen have emerged as top names and contenders for All-American spots.
Here's a list of eight players on Georgia's roster who could be considered the nation's best at their respective positions before their careers are over.
Begin Slideshow

»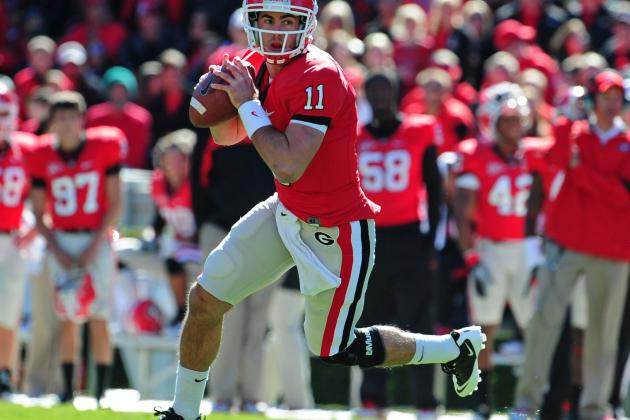 Scott Cunningham/Getty Images

Fall Class: Red-shirt Junior
Notable 2011 Statistics: 59.1 percent completion rate, 3,149 yards passing, 35 touchdown passes
Competition: Matt Barkley (Southern California), Tyler Wilson (Arkansas)
Aaron Murray broke a school record for touchdown passes in 2011 with 35, shattering the previous record set by Matthew Stafford (25) in 2008. The rising junior has started 27 straight games for the Bulldogs, starting all the way back to the 2010 season-opener.
Murray has always impressed with toughness and his ability to make impact plays, but his efficiency began to emerge midway through the 2011 year. His interception total (14) wasn't terrible, but fans want to see a more accurate Murray in the fall.
If Murray can clean up a few mechanical issues, he will no doubt justify his ranking as one of college football's best quarterbacks.
With the departure of Andrew Luck (Stanford) and Heisman winner Robert Griffin III (Baylor), Murray slips from an afterthought to a favorite in the college football landscape.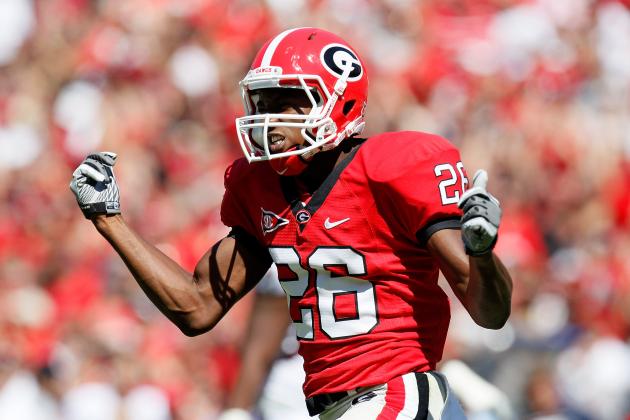 Kevin C. Cox/Getty Images

Fall Class: Sophomore
Notable 2011 Statistics: 45 catches, 665 yards, four touchdowns
Competition: Robert Woods (Southern California), Sammy Watkins (Clemson), Marquess Wilson (Washington State)
Malcolm Mitchell played in 11 games as a true freshman, starting just nine. He arrived at Georgia as a defensive back, but was converted to receiver by coach preference before the spring even began.
That move proved to be a smart one as the youngster, from Valdosta, GA, climbed the receiving depth chart, jumping over top receivers like Rantavious Wooten (who missed most of the season with a head injury) and Marlon Brown.
Mitchell missed significant time with a hamstring injury, but still managed to finish second on the team in receptions in yards.
Although Tavarres King will likely head the lineup again in the fall, Mitchell is undoubtedly the most athletic member of Georgia's deep and dangerous receiving corps.
His upper-frame and blazing speed makes him an absolute nightmare for opposing defenses. Just ask the Auburn defensive backs. If Mitchell doesn't crack All-SEC status this year, he is sure to do so before he leaves Athens.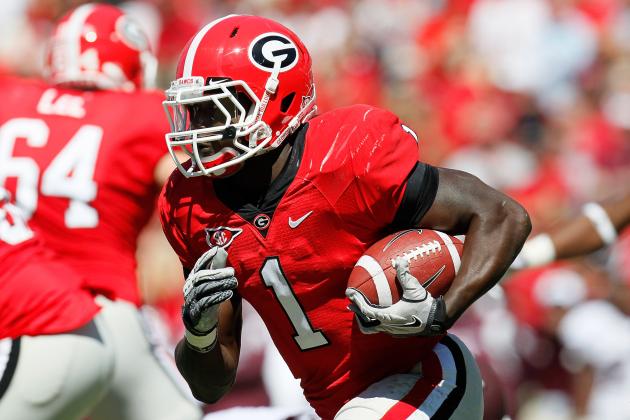 Kevin C. Cox/Getty Images

Fall Class: Sophomore
Notable 2011 Statistics: 185 carries, 850 yards, five touchdowns
Competition: Montee Ball (Wisconsin), Terrance Ganaway (Baylor), De'Anthony Thomas (Oregon), Joseph Randall (Oklahoma State), Marcus Lattimore (South Carolina), Knile Davis (Arkansas)
Isaiah Crowell is undoubtedly the wild card on this list. Crowell, a former 5-star and top recruit from Columbus, GA, received harsh criticism in 2011 for seemingly cocky interviews, a nagging ankle injury and discipline in the wake of alleged marijuana usage.
While Crowell's success has been overshadowed by multiple issues and the arrival of arguably the top tailback recruit in the nation, Keith Marshall, he still heads into the spring as the SEC Freshman of the Year.
Crowell's highlights from his freshman year prove that he's one of the most talented tailbacks in the country, and his athleticism and new-found work ethic has been defended by his teammate Artie Lynch.
Crowell combines great acceleration and speed with elusiveness and an underrated toughness. A healthy Crowell will be one that should fend off the serious tailback competition that Georgia will have at its disposal with Marshall, fellow freshman Todd Gurley, and returners Richard Samuel IV, Carlton Thomas and Ken "Boo" Malcome.
Worst case scenario, Crowell continues to hamper himself with injuries and conduct. Best case scenario, he will blossom into the best running back in the country before his career is over.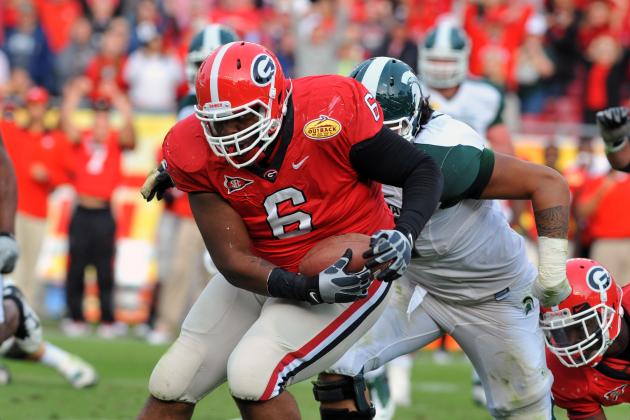 Al Messerschmidt/Getty Images

Fall Class: Red-shirt Senior
Notable 2011 Statistics: 28 tackles, six tackles for a loss, three sacks
Competition: Kawann Short (Purdue), among others...
John Jenkins is another wild card, simply because he's expected to continue to share playing time with Kwame Geathers (who had a wonderful spring last year).
Jenkins' 351-pound frame and dominating run defense definitely will put him in the spotlight in the SEC in the fall, but will it be enough to earn him All-American respect?
Luckily, seemingly all of the nation's top defensive tackles scooted early for the NFL Draft, and most of the other big names on the defensive line are ends.
Nobody can come to a general consensus on who's included in the next top crop of tackles in college football, but Jenkins will surely be in the picture. Georgia fans see Jenkins growing into his role much like Alabama's Terrence Cody did a few years ago.
Jenkins was very quiet last year, according to the rest of the nation, but Georgia fans know he can perform at an elite level.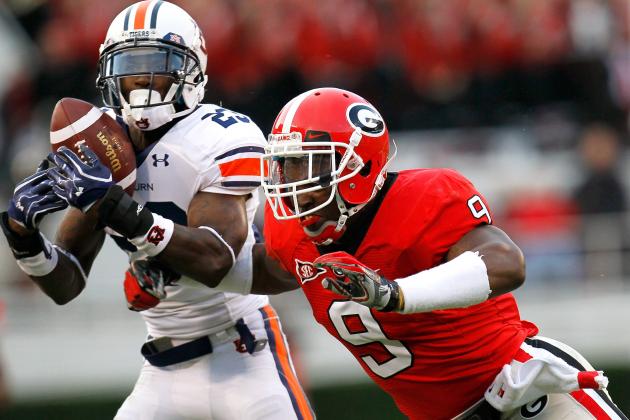 Kevin C. Cox/Getty Images

Fall Class: Junior
Notable 2011 Statistics: 52 tackles, 7.5 tackles for a loss, three sacks
Competition: Monti Te'o (Notre Dame), C.J. Mosley (Alabama), Jake Knott (Iowa State), among others...
Alec Ogletree is probably the third most likely player on this defense to earn major accolades in the fall. The third-year linebacker was Georgia's prized recruit in 2009, and he finally became a premier player last season after switching from safety to middle linebacker.
Ogletree's season was hampered by a foot injury that kept him out of the first half of the season, but he returned and finished seventh on the team in tackles despite starting only eight games.
The athletic linebacker has bullet-in-the-backfield ability, and can also be relied on to defend the pass. He's also, probably, Georgia's best NFL prospect on the defensive roster.
His name isn't coming up on preseason lists because of his lack of playing time, but he's sure to turn up the heat and gain plenty of attention before his college tenure ends.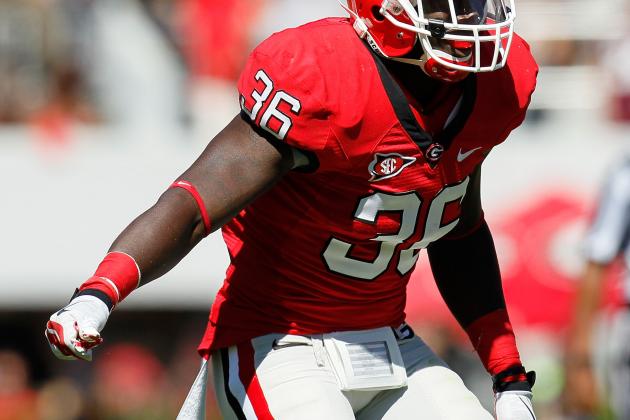 Kevin C. Cox/Getty Images

Fall Class: Senior
Notable 2011 Statistics: 72 tackles, five tackles for a loss, six pass break ups, four interceptions
Competition: Bacarri Rambo (Georgia), Robert Lester (Alabama), among others...
Bacarri Rambo may have finished second in the nation in interceptions in 2011, but Shawn Williams might have been Georgia's best defensive player.
After all, the incoming senior led the team in tackles and made a number of impact plays in big moments. While he only had four interceptions, his picks came at more crucial moments and showed off his serious athleticism.
Not only is Williams built like a linebacker, but he's one of the defenses fastest players—and that's saying something.
He's a fantastic all-around player who can chase receivers like a corner and dart into the backfield like a linebacker. Expect Williams to solidify his name as one of Georgia's best draft prospects in next year's draft.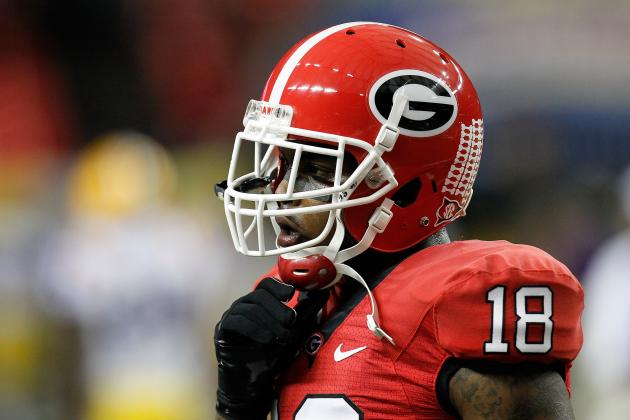 Kevin C. Cox/Getty Images

Fall Class: Senior
Notable 2011 Statistics: 55 tackles, eight interceptions
Competition: Shawn Williams (Georgia), Robert Lester (Alabama), among others...
Bacarri Rambo's performance in 2011 may have been inflated by the number of lucky interceptions that were thrown his way, but there's no doubt he has great talent and is a perfect player for his position.
Rambo gained a lot of premature popularity at Georgia after making a game-saving hit against Auburn in 2009 (not to mention he has the coolest name in the SEC).
He justified his popularity this season though, cleaning up a formerly sloppy game and becoming one of Georgia's most reliable defenders.
Rambo's story of playing through the season despite the stillborn death of his own child captured even more attention. He dedicated the game against Ole Miss to his son before kickoff and finished with two interceptions.
Many Georgia fans believe Williams will eventually overshadow Rambo on Georgia's defense in the fall, but that doesn't mean Rambo can't earn his second straight All-American honor.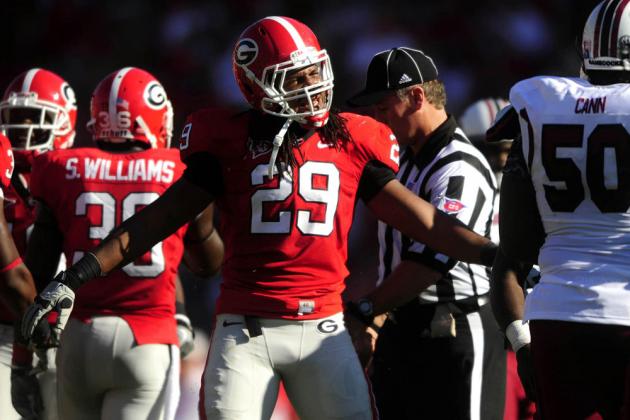 Fall Class: Red-shirt Junior
Notable 2011 Statistics: 70 tackles, 19.5 tackles for a loss, 13.5 sacks
Competition: Kevin Reddick (North Carolina), Christian Jones (Florida State), Chase Thomas (Stanford), among others...
Jarvis Jones' statistics say it all, and there's no doubt he's the front-runner to take All-American honors at outside linebacker for a second year in 2012.
He was a relative unknown by the nation last summer, transferring in and sitting for a year after starting as a freshman at Southern California.
Jones was a relentless pass-rusher last season, and recorded five sacks in one game against Florida.
His rise to stardom could be echoed by similar performances from Jenkins, Williams and Ogletree this fall.