Forgotten New York Yankees of the Past 4 Decades: "K"
March 3, 2012

Ezra Shaw/Getty Images
Ruth, Gehrig, Mantle and Jeter are some of the greatest names in New York Yankees history. However, Juden, Parker and Clay are the names of some of the forgotten Yankees.
This series will focus on the less remembered players to wear pinstripes over the last four decades (1970s-2000s).
Today's letter of the day is "K."
Randy Keisler (2000-2001)

Randy Keisler was selected by New York in the second round of the 1998 amateur draft. By 2000 he was pitching out of the bullpen for the parent club.
Keisler pitched for AA Norwich (Conn.) and AAA Columbus and was named the 2000 Yankees Minor League Player of the Year after posting a 14-5 record. 
He made his major league debut with a start on Sept. 10 at Boston. Keisler limited the Red Sox to one run on four hits over five innings in a 6-2 win. He later pitched out of the bullpen but allowed at least three runs in each of his three outings. After an impressive start, Keisler finished with a 11.81 ERA.
Keisler's struggles continued into the 2001 season. He allowed a combined seven earned runs and 11 walks over his first 7.1 innings and was sent down to AAA.
Keisler returned to New York in June and despite allowing five runs to Montreal, he earned his first win of the season in a 9-6 win over the Expos. He started seven more games in 2001 but only received a decision in a 7-1 loss to Detroit on June 19. In 50.2 innings, Keisler was 1-2 with a 6.22 ERA.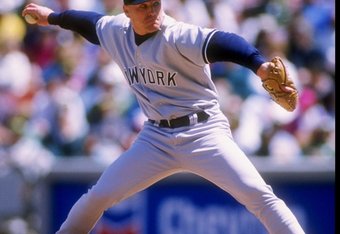 Otto Greule Jr/Getty Images
During the off season, Keisler underwent shoulder surgery and was expected to miss the 2002 season. However, he made headlines in May 2002 by suffering a strange injury.
While cleaning the patio at his Tampa home, Keisler was bitten on the left pinkie by a pygmy rattlesnake. Already recuperating from the surgery, Keisler was ordered not to pick up a ball for a month.
New York released Keisler on Feb. 5, 2003, and 11 days later he was signed by San Diego. He would pitch in 41 more major league games from 2003 to 2007.  
Scott Kamieniecki (1991-1996)

Pitcher Scott Kamieniecki experienced a roller coaster of emotions during his six-year Yankee career.
As a rookie in 1991, Kamieniecki won his first two starts against that season's division winners, Toronto and Minnesota.
He underwent cervical-disk surgery after the season and was not in the starting rotation until May 3. He allowed at least four earned runs in nine of his first 16 starts as his record fell to 2-9. While he defeated Texas with a three-hitter on Sept. 6, Kamieniecki struggled to a 6-14 record.
As the Yankees fortunes improved in 1993, so did Kamieniecki. He moved to the bullpen after two starts, but returned to the rotation. In his first start since going to the bullpen, Kamieniecki held Boston to only three hits over eight innings in a 4-0 win.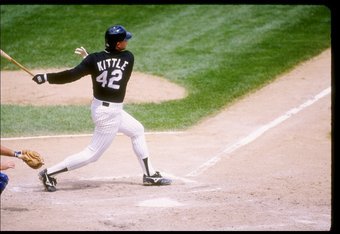 Jonathan Daniel/Getty Images
In a stretch from July 5 to Aug. 21, Kamieniecki won seven of nine decisions, including 8.1 innings of three-hit ball in a 1-0 win over Baltimore. He finished the season with a career-best 10-7 record.
Despite his success in 1993, Kamieniecki started 1994 in the bullpen as newly acquired Bob Ojeda was named the fifth starter.
After Ojeda's ERA of 24.00 in two starts, Kamieniecki returned to the rotation by the end of April. He pitched effectively and finished with an 8-6 mark and a 3.76 ERA in the strike-shortened season.
Sixteen of Kamieniecki's 17 appearances in 1995 were starts. He endured an August stretch when he allowed a combined 14 earned runs in three consecutive starts. He rebounded to win three of his last four starts and only allowed four earned runs over his final 29.1 innings.
After a 7-6 regular season record, Kamieniecki earned his first postseason start in Game 4 of the ALDS against Seattle. He allowed five runs on nine hits over five innings in the Mariners 11-8 win.
The 1996 season proved to be Kamieniecki's most frustrating. As a starting pitcher, he allowed 18 earned runs over a three-game stretch in May. On May 27, Kamieniecki was sent to AAA Columbus and did not return to the Bronx during the Yankees championship season. 
Kamieniecki was signed as a free agent by Baltimore after the season. He won 10 games for the Orioles in 1997. 
Ron Kittle (1986-1987)

Outfielder Ron Kittle was the talk of baseball in 1983. During the Chicago White Sox run to a division title, Kittle earned A.L. Rookie of the Year honors with 35 home runs and 100 RBI.
When he arrived in New York in 1986, Kittle's power and production numbers had steadily declined.
On July 30, Kittle, catcher Joel Skinner and infielder Wayne Tolleson were traded from Chicago to New York for catcher Ron Hassey, infielder Carlos Martinez and a player to be named later (Bill Lindsey).
Kittle's batting average when he was traded was .211 and it only improved slightly with the Yankees. Used primarily as a DH, Kittle started 0-for-8 with five strikeouts in his first five games. His September was better with home runs in both games of a doubleheader sweep at Toronto. His best game of the season was a three-hit performance with a home run and three RBI in a 5-2 win over Detroit.
After hitting .238 in 30 games for New York in 1986, his numbers improved in an injury plagued 1987 season. Despite missing most of July and having his season end prematurely in mid-September, Kittle finished at .277 with 12 home runs and 28 RBI. He recorded a pair of three hit games in April and batted .500 (7-14) with a home run and three RBI against Milwaukee from June 4-6.
Kittle was released by the Yankees after the season and was signed by Cleveland prior to the 1988 campaign. He hit 63 home runs over the next three seasons before retiring after the 1991 season.
Dave Kingman (1977)
The New York Yankees were Dave Kingman's last of four teams in 1977.
Kingman started the season with the Mets before he was traded to San Diego. After only 10 games with California, he was traded to New York for pitcher Randy Stein on Sept. 15.
Kingman was impressive in only eight games with the Yankees. In his first game in pinstripes on Sept. 17, Kingman went 2-for-5 with a double, home run and two RBI in a 9-4 win over Detroit. He followed with a home run in three of his next four games. Kingman batted .250 with four home runs and seven RBI with New York.
Since Kingman was acquired after July 31, he was ineligible for the Yankees postseason run to a World Series title. After the season, he signed a free agent contract with the Cubs.