Bubble Popped: Northwestern Will Not Receive a Ticket to the 'Big Dance'
March 3, 2012

Chris Chambers/Getty Images
Wildcat fans, it's time to receive a reality check. The Northwestern Wildcats will not appear in the NCAA Tournament this year.
Northwestern started the season off with an impressive 11-3 record with the three losses coming against ranked opponents in Baylor, Ohio State and Creighton. Since, the Wildcats have fallen to a 6-9 record pushing them to the bottom of the Big Ten standings.
Yes, the 'Cats beat the No. 7 ranked Spartans of Michigan State away 81-74 on Jan. 14 and went down to the wire with No. 13 Michigan twice (Jan 11 loss 66-64 OT and Feb 21 loss 67-55 OT) and contested No. 11 Ohio State for 39:53 before Buckeye Jared Sullinger got the game-winning lay-up in a 75-73 loss, but it's not good enough.
According to ESPN Bracketologist Joe Lunardi, Northwestern is one of the last four in the tournament with Xavier, VCU, Oregon, N.C. State, Miami, St. Joseph's, St. Louis and Colorado getting their bubbles popped.
Sitting here at my computer I am shocked the Wildcats are even considered a bubble team. Are the 'Cats getting a sympathy vote because they've never been to the dance? Let's compare the Wildcats with the three teams I have above them.
Team                                    RPI               SOS                 Record (conference record)
Northwestern Wildcats           51 (.5777)       10                   17-12 (7-10 Big Ten)
Key Wins: Nov. 17 LSU 88-82, Nov 20 Seton Hall 80-73, Jan 14 #7 Michigan State 81-74
Bad Losses: Jan 4 Illinois 57-56, Jan 22 Minnesota 75-52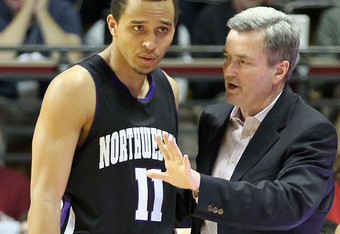 Andy Lyons/Getty Images
Against Top 50 RPI: 2-10
Miami Hurricanes                  52 (.5776)       32                    17-11 (8-7 ACC)
Key Wins: Feb 4 Duke 78-74, Feb 26 Florida State 78-62
Bad Losses: Nov 25 Ole Miss 64-61, Feb 21 Maryland 75-70
Against Top 50 RPI: 2-6
St. Louis Billikens            30 (.5991)       97                     23-6 (11-4 A-10)
Key Wins: Nov 20 Washington 77-64, Feb 8 St. Josephs 72-60, Feb 28 Xavier 70-59
Bad Losses: Dec 31 New Mexico 64-60, Jan 11 Temple 72-67
Against Top 50 RPI: 1-2
St. Joseph's Hawks              55 (.5762)       44                    19-12 (9-7 A-10)
Key Wins: Dec 10 Creighton 80-71, Jan 25 Dayton 77-63, Feb 25 Temple 82-72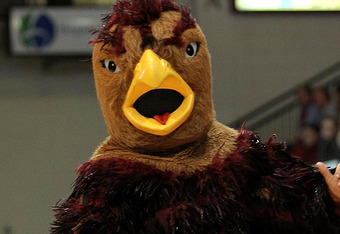 Chris Chambers/Getty Images
Bad Losses: Jan 7 Charlotte 57-52, Jan 28 Temple 78-60, Feb 8 St. Louis 72-60
Against Top 50 RPI: 2-5
I firmly believe these three teams I've mentioned are a better fit for the "big dance" rather than the 'Cats. In all likelihood, the Wildcats MUST win against Iowa and make a solid run through the Big Ten tournament.
Let's say Northwestern wins against Iowa. The victory will put Northwestern as a seven seed in the Big Ten tournament. As the Big Ten stands right now, the seventh-seeded Wildcats will square off against 10th-seeded Minnesota (if they beat Nebraska).
The Wildcats have had their struggles against the Golden Gophers this season. If the Wildcats win, they will be pitted against the No. 2 seed in the Big Ten, which will be either #10 Ohio State or #13 Michigan. Most likely. the Wildcats will lose this game.
With a projected record of 19-13 (wins against Iowa and Minnesota, loss to Ohio State or Michigan) the Wildcats will find themselves with a high seed in the NIT.
Yes, I have taken the account that the Wildcats play in the toughest conference in the NCAA and their strength of schedule (SOS) is 10th in the nation, but their play of late has been miserable. 
The 'Cats choked again, and heartbreak will once again present itself in Evanston, Ill., as the Wildcats just miss getting a ticket to the "big dance."  
All stats are from CBS sports.com http://www.cbssports.com/collegebasketball/bracketology/nitty-gritty-report